The great thing about using the Ikonart Stencil films and products is that you aren't restricted to using one brand of paint or paste. You can use a wide variety of paints, pastes, inks and more with our stencils. As long as the medium is water-based and can be washed out of the stencil mesh, you can use it with Ikonart.
That being said, which medium you choose will depend on the type of surface you are using your stencil on. Here are some of the recommendations for what paints, chalk pastes, and creams to use on different surfaces.
Recommendations are based on our own experience and also on comments from our Ikonart Crafters Facebook Group.
---

Stencil on Fabric
Our Ikonart Textile Film is perfect for DIY screen printing on fabric. If you are just getting started, then also check out our Ikonart Textile Add-on Bundle, which includes textile film, a tacky mat, Speedball screen printing ink and a squeegee. The Tacky Textile Mat holds your shirt or fabric in place while printing and makes the whole process easier. If you want to print multiple shirts in a row without needing to washout your stencils, then mounting our original blue Ikonart Stencil Film in a Speedball frame works great as well. Here are some screen printing inks that we have found work good with our stencils.
---

Stencil on Ceramic
When stenciling on ceramic you want to make sure you let the ink properly cure in order to ensure it is top rack dishwasher safe. For most multi-surface paints that means baking it in an oven according to the directions on the bottle. Here are a few paints that we have tested that work well. When painting on ceramic, we recommend using our blue Ikonart Stencil Film.
DecoArt Multi-Surface Satin: bake to cure
DecoArt Gloss Enamels: bake to cure
DecoArt Pearls: Can be air cured or baked; leaves a pearly finish
---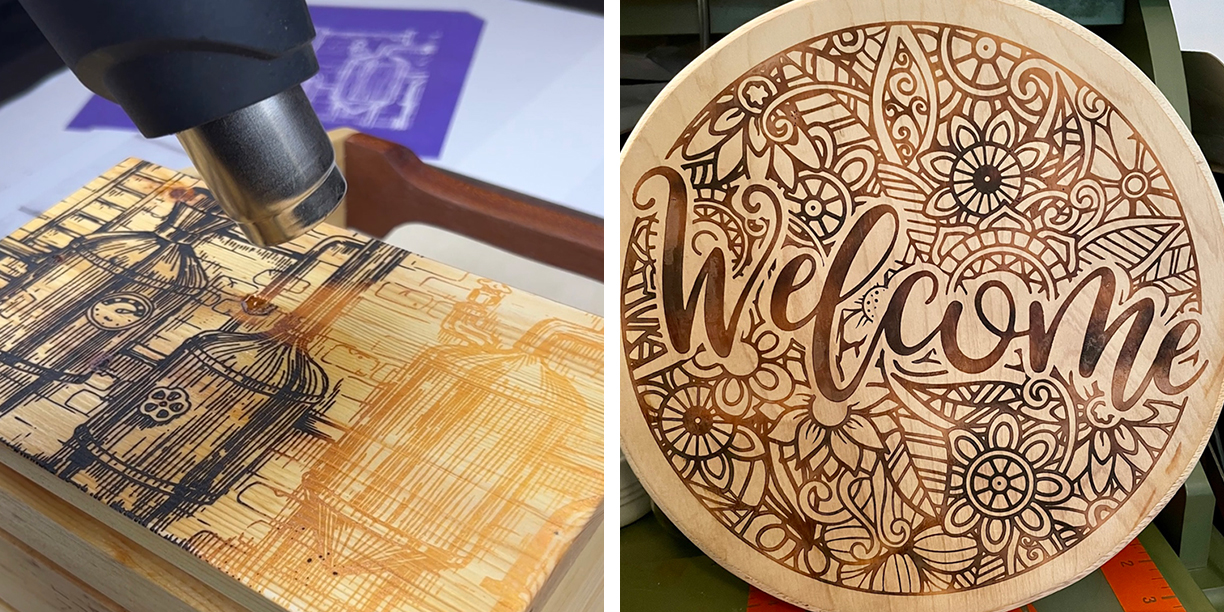 Stencil on Wood
Stenciling on wood can be tricky because there are so many different types of wood surfaces. In general, the smoother the better, so if you are able to sand your wood to a smooth finish that is ideal. If your wood is textured, you can try sealing with with a finishing wax or spray sealer first in order to help your paint go on better and get crisper lines with your stencil. If I have any texture at all on my wood, I find that chalk paste works the best to give me nice crisp edges without bleeding.
Depending on your surface type and desired finished look, you may need to do some testing to find out what works best for you. We recommend our purple stencil film for wood because it is stickier than our original blue stencil film, however we do have a lot of crafters that prefer to use the blue stencil film on wood. Which stencil film you use will depend on your personal preference and what type of wood you are using. You can heat up your wood first with a heat gun to help the stencil stick better to it.
If you are interested in using Ikonart mostly for wood, we strongly recommend that you join Jessica's Shine Designs Facebook Group. She does video tutorials and gives tips on how to use Ikonart on wood. Jessica uses Rustoleum Chalked Paint for her wood backgrounds and Folk Art Chalk Paint for her designs. She seals her wood signs with Rustoleum 2X Matte Clear Spray.
Here are some recommendations for sealers and paints to use on wood.
Minwax Finishing Wax: Use to level the surface of the wood before painting
Plaid Waverly Wax Sealer: Use to seal and protect wood before painting
Chalk Paste: If you have textured wood, chalk pastes work great to avoid bleed; see list below for some recommendations
Speedball Acrylic Ink: If you have smooth wood, a screen printing ink like Speedball Acrylic Ink works great (make sure it says acrylic, not fabric!)
Miss Lillian's No Wax Chock Paint: Get nice crisp lines when used on smooth wood surfaces
Folk Art Chalk Paint: This is Jessica's go-to paint for all her wood signs
Rustoleum Spray Sealer: Finish your signs with a spray sealer if needed
Torch Paste: Use Torch Paste if you want a wood burned look
Food-safe Oil: You can use a food-safe oil like Mineral Oil or Odie's Oil on top of Torch Paste for cutting boards
---

Stencil on Cookies
You can make Ikonart stencils safe for food contact by applying Ikonart Stencil Glaze to both sides of the stencil. After the stencil dries you can add your stenciled designs to cookies or cakes by airbrushing or using royal icing.
Ikonart Stencil Glaze: Use to make stencils food safe
Royal Icing: Make your own or buy pre-made royal icing
Food-safe Airbrush Liquid: Use this liquid with an airbrush machine to apply your design
---

Stencil with Chalk Paste
Chalk paste is a great option for using with our silk screen stencils. Since it is thicker than regular paint it gives nice crisp lines when stenciling and you are less likely to get bleed. When using chalk paste you have to work quickly so the chalk paste doesn't dry in the mesh and lift up with your stencil. We love making our own chalk paste so we have control over the consistency and amount. Here are some chalk paste brands that work well with our stencils.
---

Etch Glass with Ikonart Stencils
Etching glass using Ikonart Stencils is super easy. We have tested a few different etching cream brands and have found that Etchall Etching Creme gives the best finish with crisp edges. We recommend our blue stencil film for glass. The purple stencil film is too sticky and can distort when you try to lift up your stencil. If your blue stencil film is still too sticky you can "fuzz" it by dabbing the adhesive side with a cloth.
Etchall Etching Creme: Reusable cream that produces a permanent etch on glass, mirror, ceramic, porcelain, marble and slate
---

Foiling with Ikonart Stencils
Another fun technique to do using your Ikonart Stencils is foiling. You just stencil on a foil adhesive, let it dry down until it's tacky, then add foil over the top. The result is truly satisfying.
---
No matter what surface you are stenciling on, always remember that practice makes perfect!! If possible, always test a small area with a small stencil first, and if it doesn't work on the first try... don't give up! Our Ikonart Crafters Facebook Group is full of Ikonart crafters willing to help you out with suggestions and advice for all sorts of different surfaces and paint applications. Just post a question or a photo of what you are trying to do, and odds are someone else has tried it too and can help!
If you have any additional questions about our Ikonart Stencil Films or the Ikonart Custom Stencil Making Kit, please contact Ikonart today.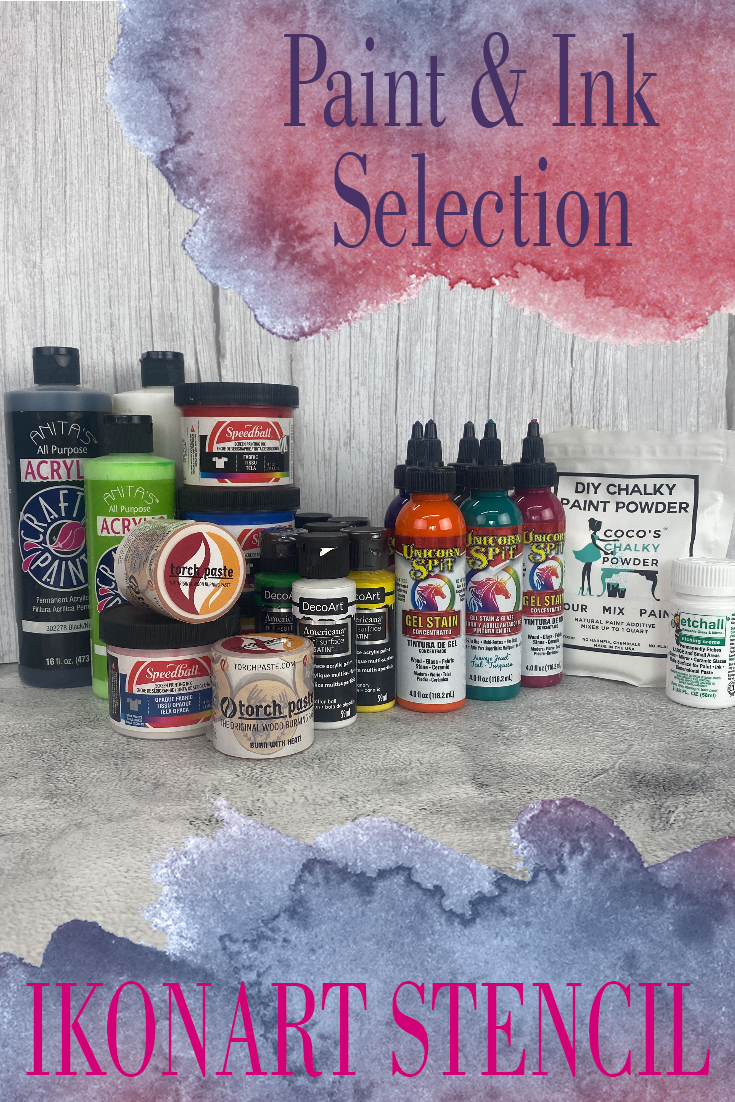 ---