There's something incredibly nostalgic and heartwarming about a handwritten recipe. It carries with it the essence of tradition, love, and personal touch. Imagine turning a cherished recipe into a work of art and sharing it with your loved ones in the form of beautifully crafted, customized gifts.
Thanks to the Ikonart Custom Stencil Kit, this creative endeavor has become not only possible but also delightfully easy. Just print your recipe, expose it, and washout your stencil. No weeding vinyl neccessary! Let's explore some heartwarming gift ideas that use a handwritten recipe and the Ikonart Custom Stencil Kit.
---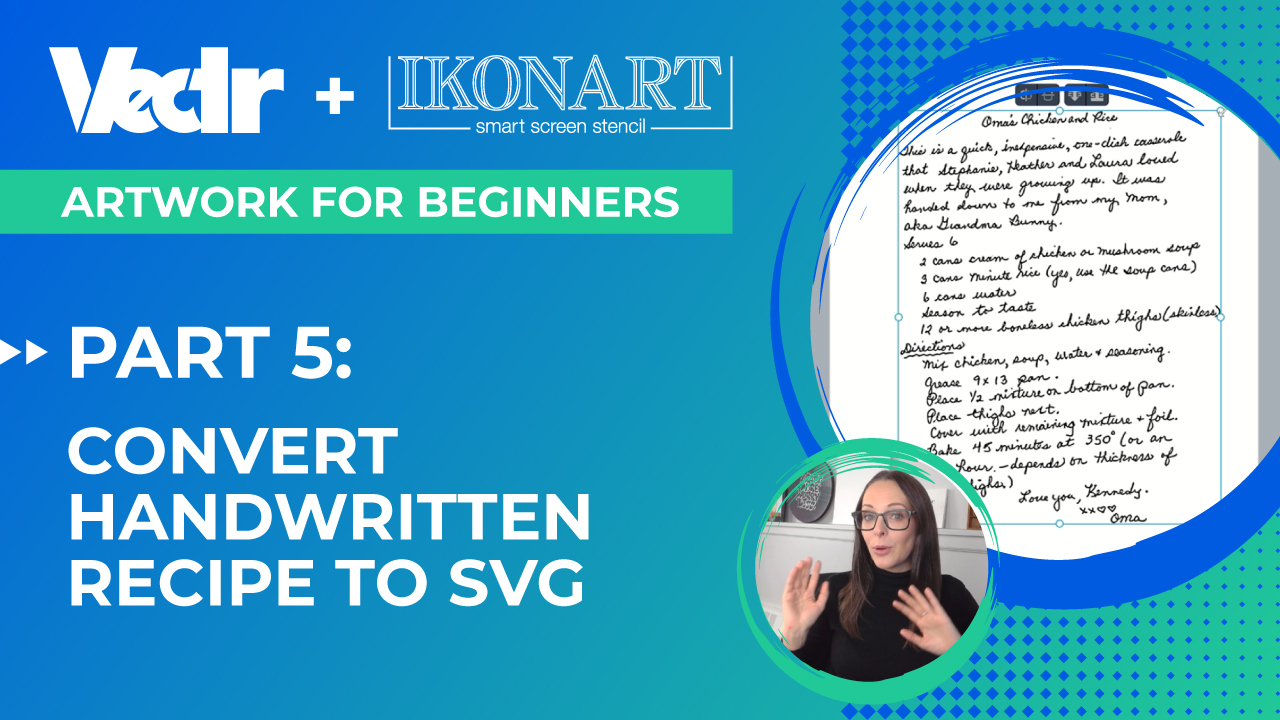 How To Make A Handwritten Recipe Stencil
The first step in making your Ikonart stencil is getting the artwork ready. There are a few different ways you can do this. One option is to simply trace your recipe onto the clear Ikonart printer film with a sharpie marker. Another option is to turn your recipe into an SVG so you can resize it to fit the item you want to put it on. Here are the basic steps using some free online tools. You can also watch our YouTube video, How To Convert A Handwritten Recipe Into An SVG Using Vectr, if you prefer to watch your tutorials.
The first step is to take a picture of your recipe. Take the photo as straight on as possible in good lighting.
Use the website picsvg.com to convert your photo into vector artwork. Choose "Detail Strong" and then play around with the Filters dropdown to see which traced option looks best. Download the SVG.
Use the free vector graphics editor Vectr to adjust and print your recipe.
After you have your design printed you can make your Ikonart stencil according to Quick Start Guide found inside the Ikonart Custom Stencil Kit. Watch our YouTube video, How To Make Your First Ikonart Stencil, to see exactly how to make a stencil.
NOTE: If you would like to practice with one of our recipes, you can use this picture of the Dumplings recipe card (below). Or download the free Handwritten Recipes SVG if you want to play around.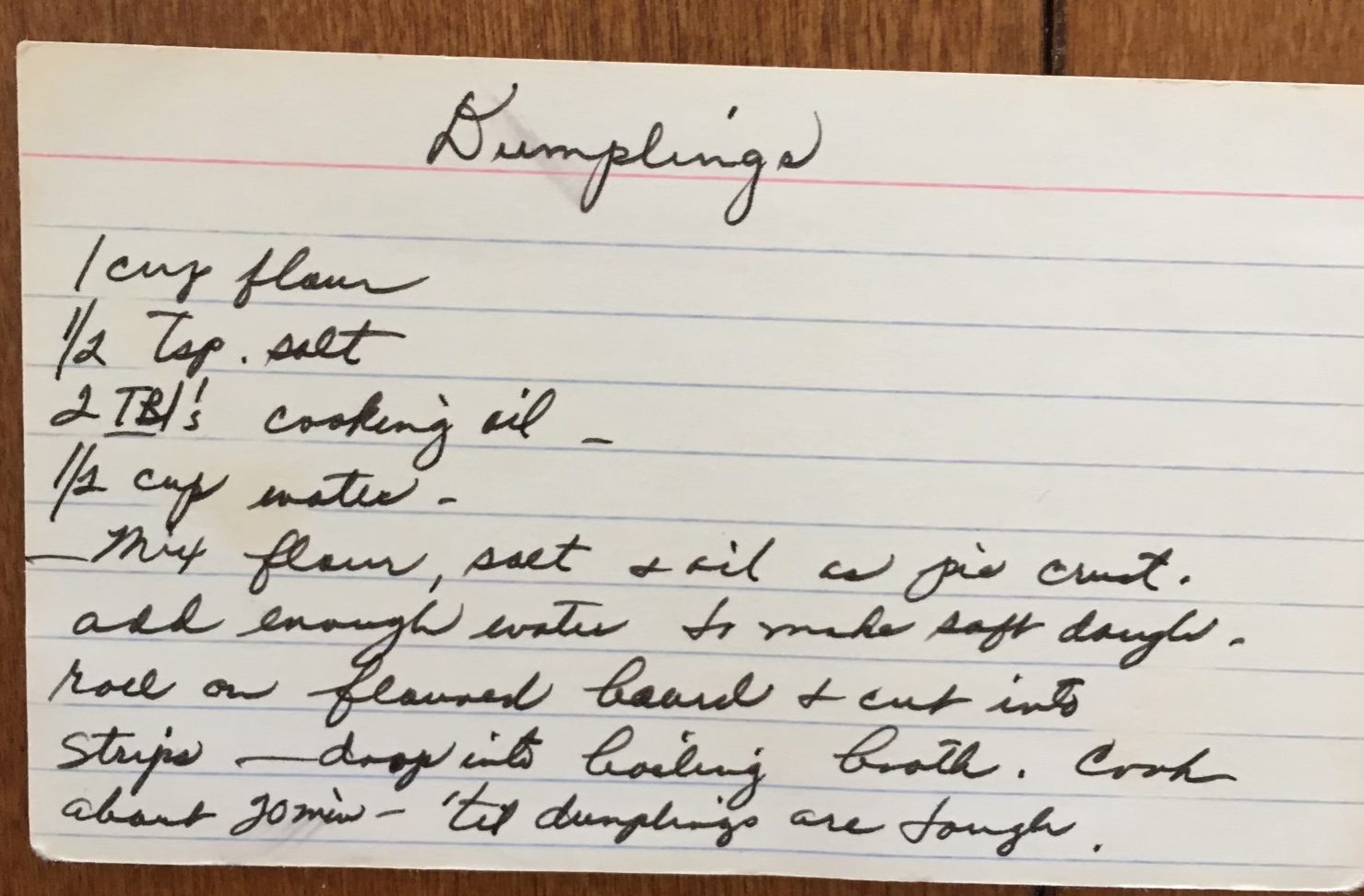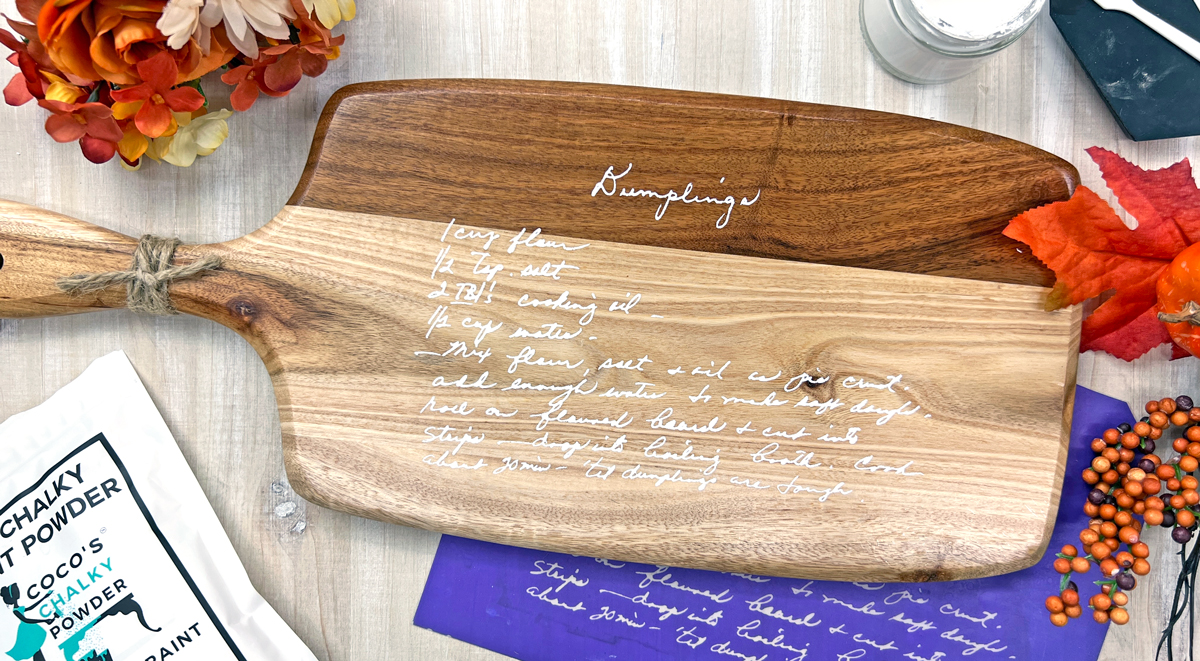 ---
9 Gifts To Make With Your Handwritten Recipe and Ikonart Stencils
In a world dominated by mass-produced items, these gift ideas provide a refreshing change. By using the Ikonart Custom Stencil Kit to turn a handwritten recipe into a silkscreen stencil, you're not only creating unique and personalized gifts but also preserving cherished memories and traditions. These gifts speak volumes about the love and thought you've put into selecting them, and they are bound to evoke a range of emotions in the recipients.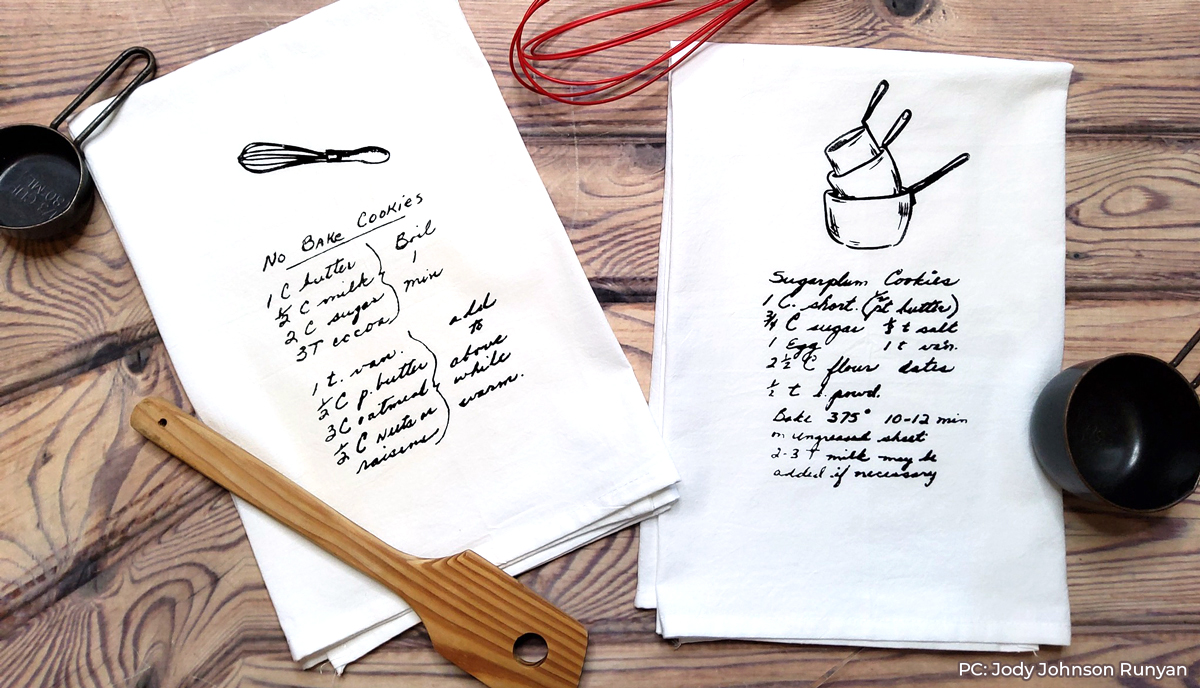 1. Personalized Tea Towels: Transform a plain tea towel into a sentimental masterpiece like Jody did in the example above. Whether it's your grandma's famous chocolate chip cookies or your dad's secret BBQ sauce, every time the recipient uses the towel, they'll be reminded of the love and memories associated with the recipe. We recommend the Ikonart Textile Film and Speedball Fabric Ink for tea towels.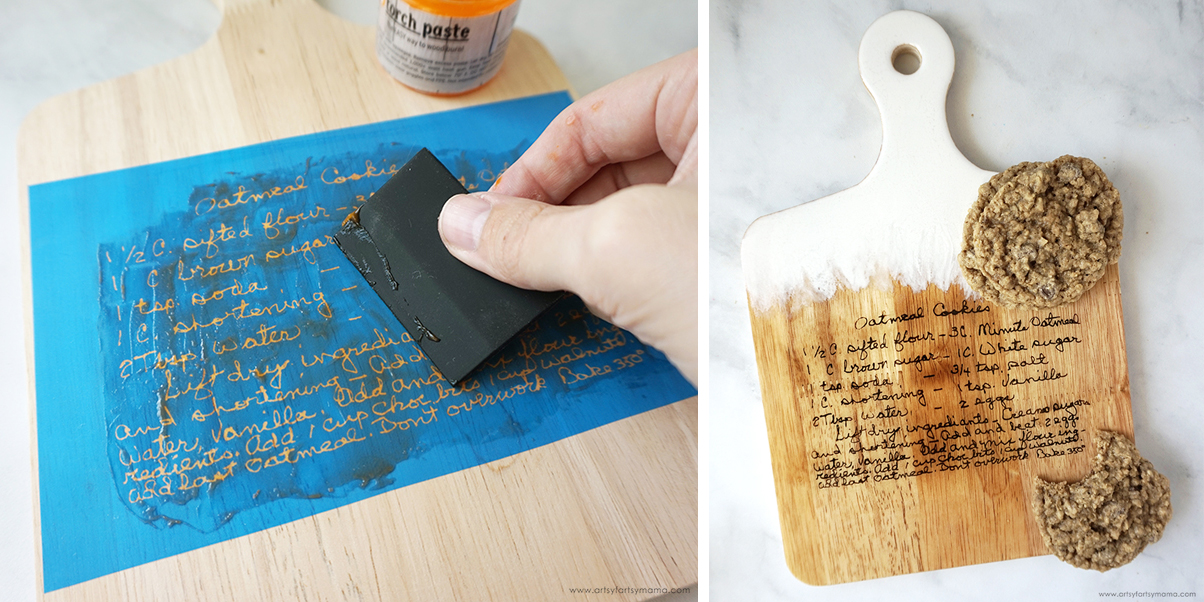 2. Wood Burned Cutting Board: For a rustic touch, use your Ikonart stencil to transfer the recipe onto a wooden cutting board, and then use Torch Paste and a heat gun to wood burn the recipe permanently. You can make it food safe by finishing with mineral oil. This functional art piece will not only be a useful kitchen tool but also a sentimental decoration that adds warmth to any kitchen. To see exactly how Artsy-Fartsy Mama made the cutting board shown above, check out her blog post, Handwritten Recipe Cutting Board.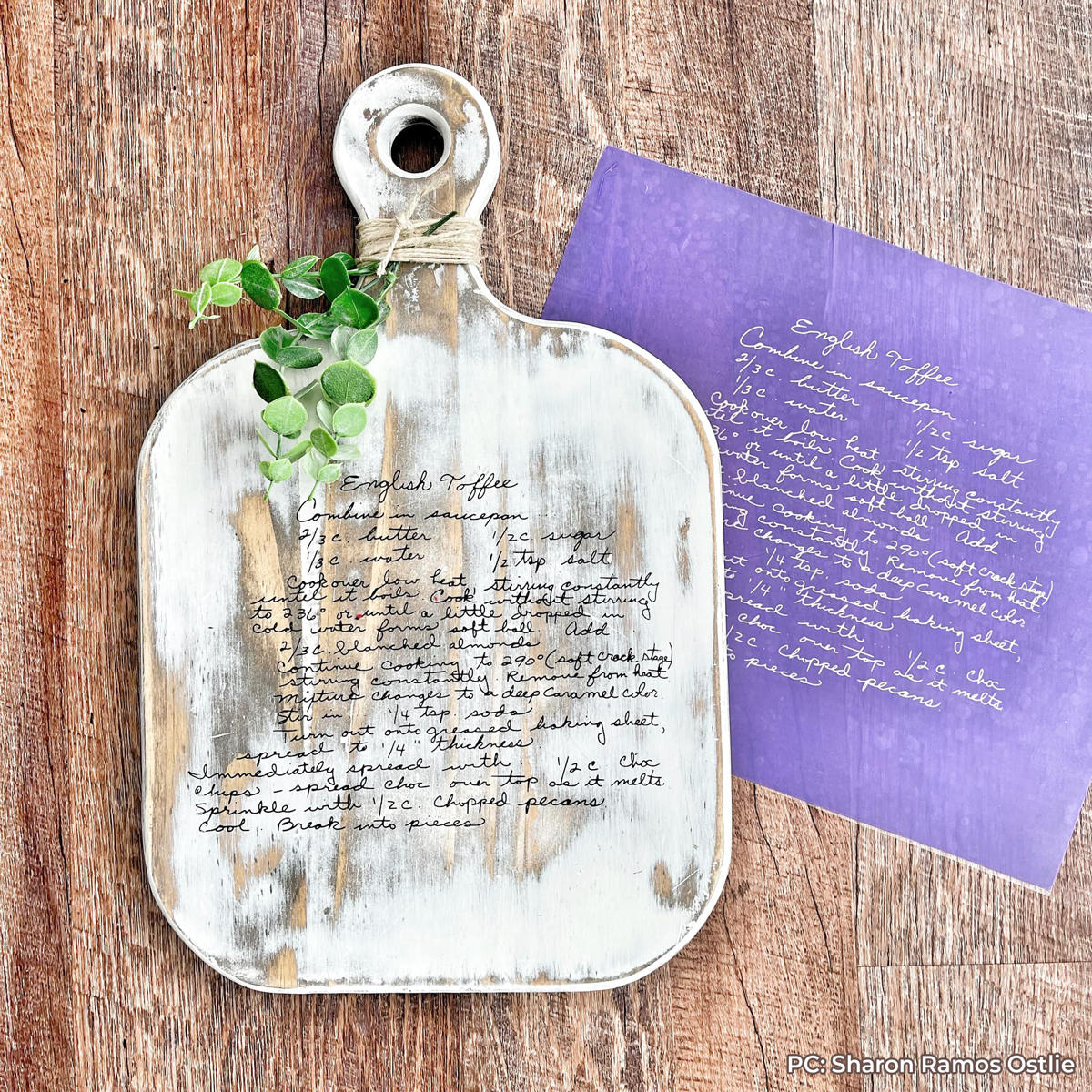 3. Screen Printed or Painted Cutting Board: If you prefer a more contemporary look, try screen printing the handwritten recipe onto a cutting board using your Ikonart stencil and acrylic paint like Sharon did in the example above. This sleek and modern approach will showcase the recipe in a unique way, adding a touch of elegance to the kitchen. If you have an issue with your paint bleeding because your paint is too thin or the board is textured, try thickening your paint with Coco's Chalky Powder to give you those nice crisp lines.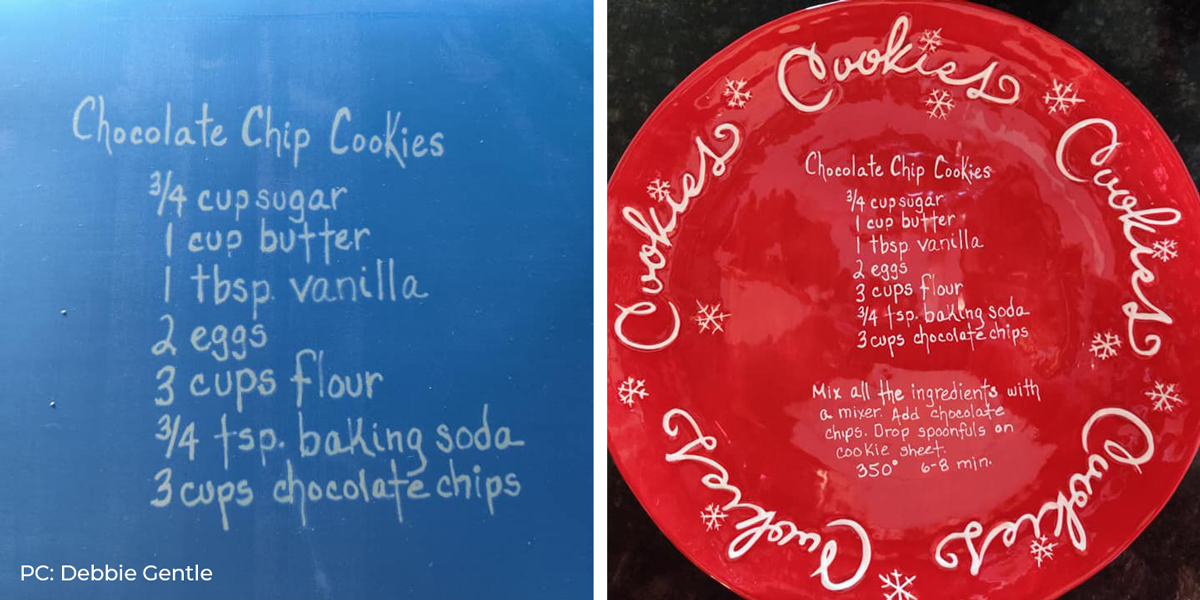 4. Ceramic Platter: For special occasions and family gatherings, consider putting the handwritten recipe on display with a ceramic platter like Debbie did in the example above. The Ikonart stencil kit allows you to effortlessly transfer the recipe onto the platter, creating a beautiful and functional piece of art that can be used during meals and celebrations. You can use DecoArt Multi Surface Paint if it is a display-only piece, or use a food safe glaze over the top.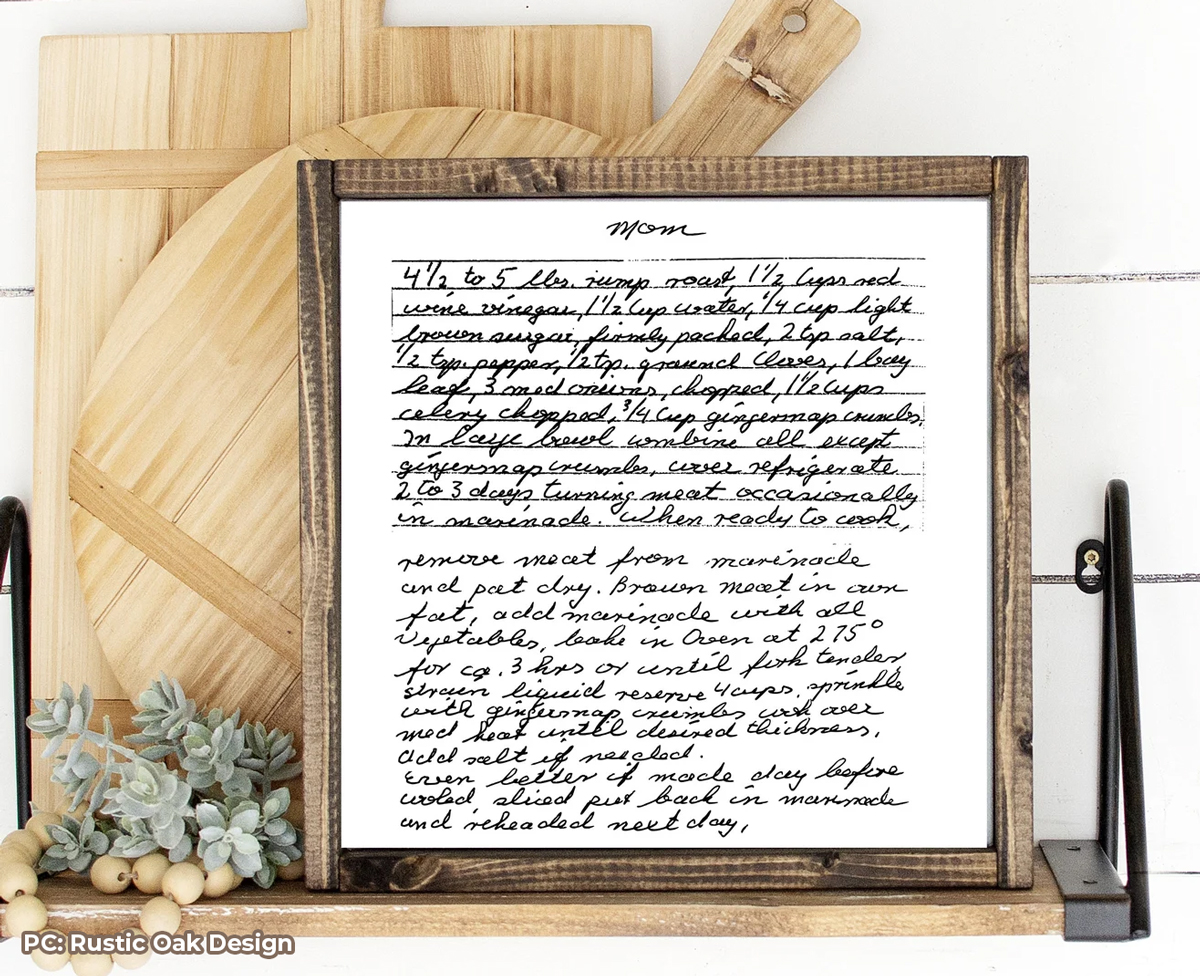 5. Framed Sign: Give your kitchen a personalized touch with a framed sign featuring the handwritten recipe. The Ikonart stencil kit enables you to transfer the recipe onto a wooden or canvas surface, which can then be framed and hung as a delightful decoration.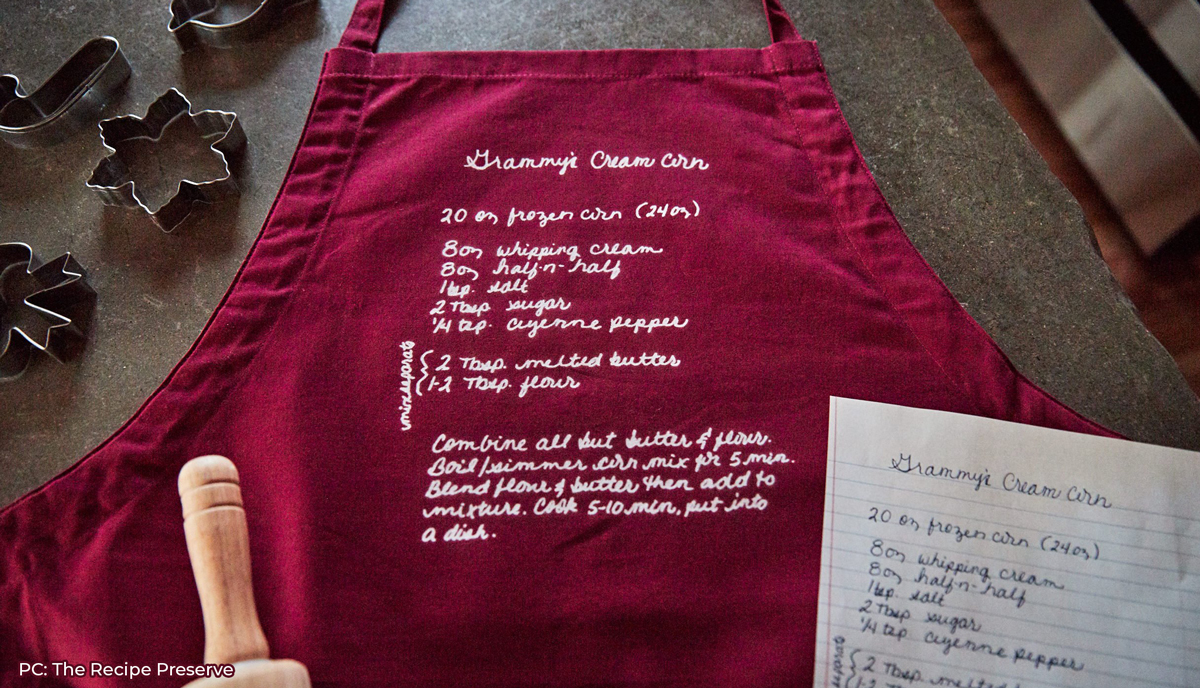 6. Custom Apron: Turn a simple apron into a sentimental cooking companion. By combining the Ikonart Custom Stencil Kit with the Textile Add-on Bundle you can transfer your handwritten recipe onto the fabric, creating a one-of-a-kind apron that's not only practical but also meaningful.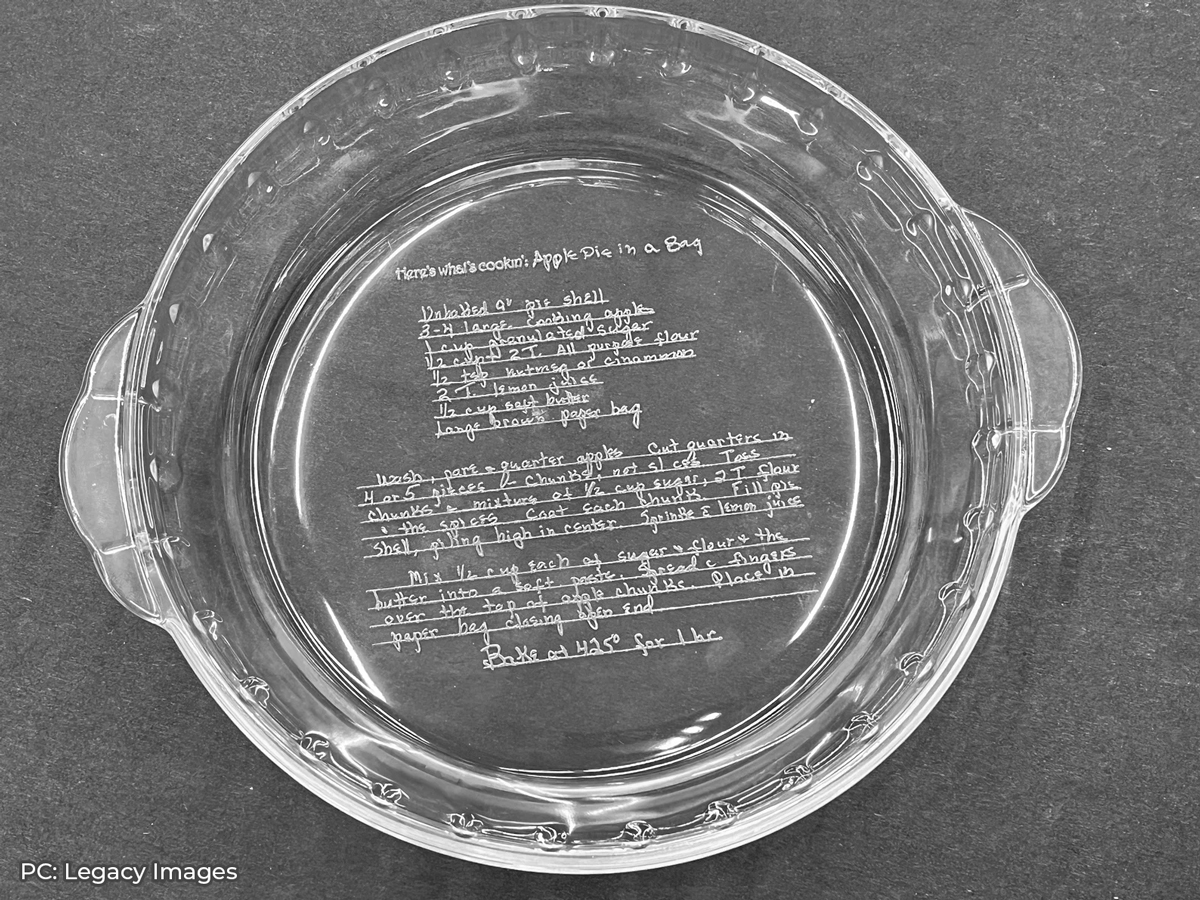 7. Etched Glass Plate or Dish: For a touch of sophistication, use your Ikonart stencil and Etchall Etching Crème to etch your handwritten recipe onto a glass baking dish, glass pie dish, or glass plate. This elegant gift idea blends functionality with sentimentality, making it a cherished addition to any kitchen. Just make sure to test your glass first, as not all glass can be etched with etching cream.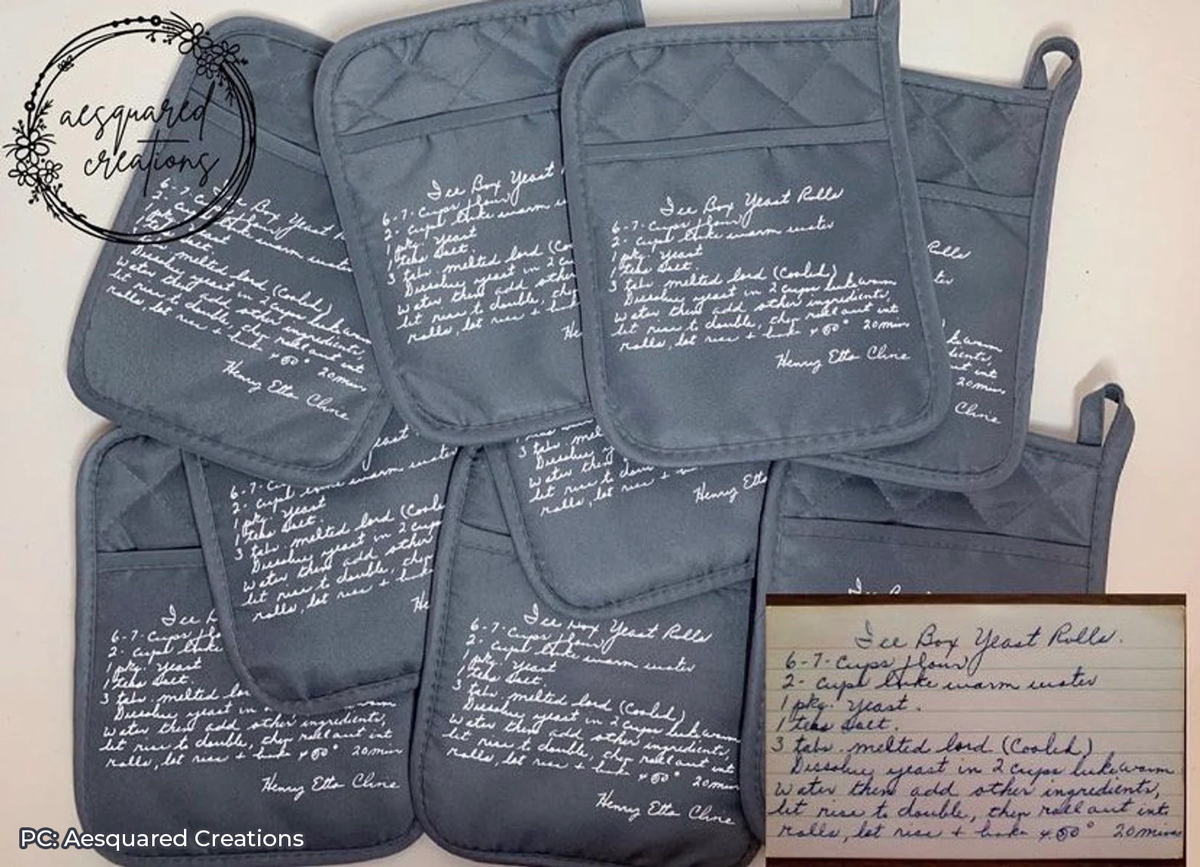 8. Pot Holders: Cooking becomes even more enjoyable when you have a pot holder that holds a special meaning. Transfer your handwritten recipe onto a pot holder to create a useful and sentimental kitchen accessory.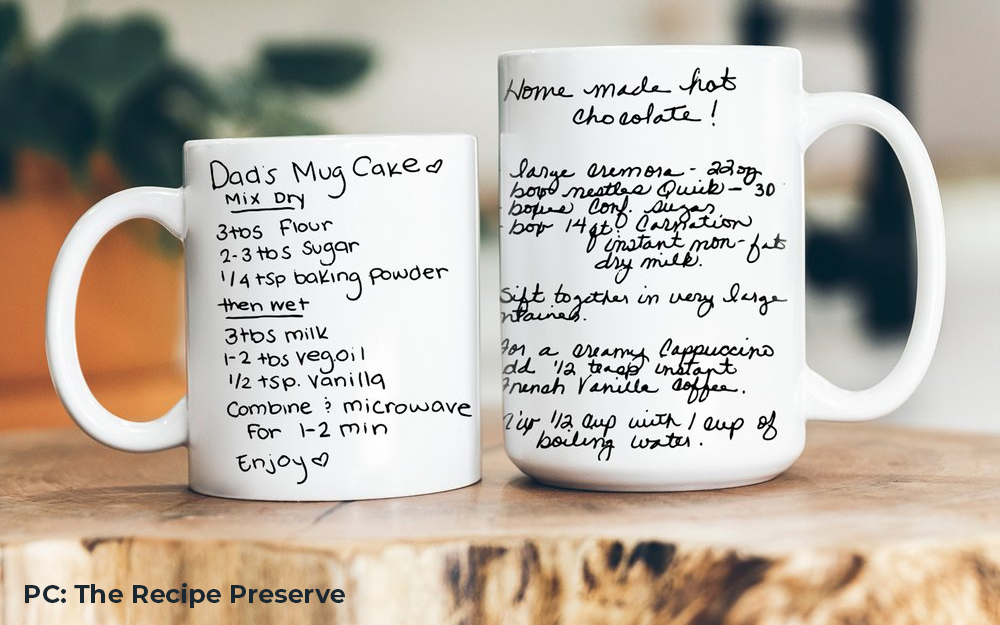 9. Ceramic Mug: Personalize ceramic mugs with a touch of nostalgia. Start your mornings with heartwarming memories by sipping your favorite beverage from a ceramic mug featuring a handwritten recipe. We recommend using the blue Ikonart Stencil Film on ceramic. You can use DecoArt Multi Surface paint and then bake it in the oven to make it top rack dishwasher safe.
---
So, the next time you're thinking of gifting something truly special, consider the magic of transforming a handwritten recipe into a keepsake that will be cherished for years to come. If you have any additional questions about turning your handwritten recipe into an Ikonart stencil you can contact us directly anytime, or join our Ikonart Crafters Group on Facebook for more tips and examples from other Ikonart crafters. If you learned something here be sure to pin this post!