Nothing says "I Love You Mom" quite like a handmade gift. With the Ikonart Custom Stencil Kit you can create a high quality DIY Mother's Day gift that will make your mom feel extra special. The best part is, these gift ideas are super easy to make and will save you a ton of money by not having to buy from someone else.
We've collected twenty of our favorite Ikonart gift ideas from our Ikonart Crafters Facebook group, Ikonart Stencil Instagram page, and Ikonart Stencil YouTube channel for the perfect handmade Mother's Day present. Whether you are making a last minute Mother's Day gift or you have a little more time, there is an idea for everyone.
---
20 Handmade Mother's Day DIY Gift Ideas
Get ready to show your mom how much you appreciate all that she does by creating a thoughtful handmade gift just for her. Most of these craft projects can be created in less than an hour, so they are perfect for a last minute Mother's Day gifts. Or if you have a crafty mom skip right to number 20 for easiest Mother's Day gift of them all!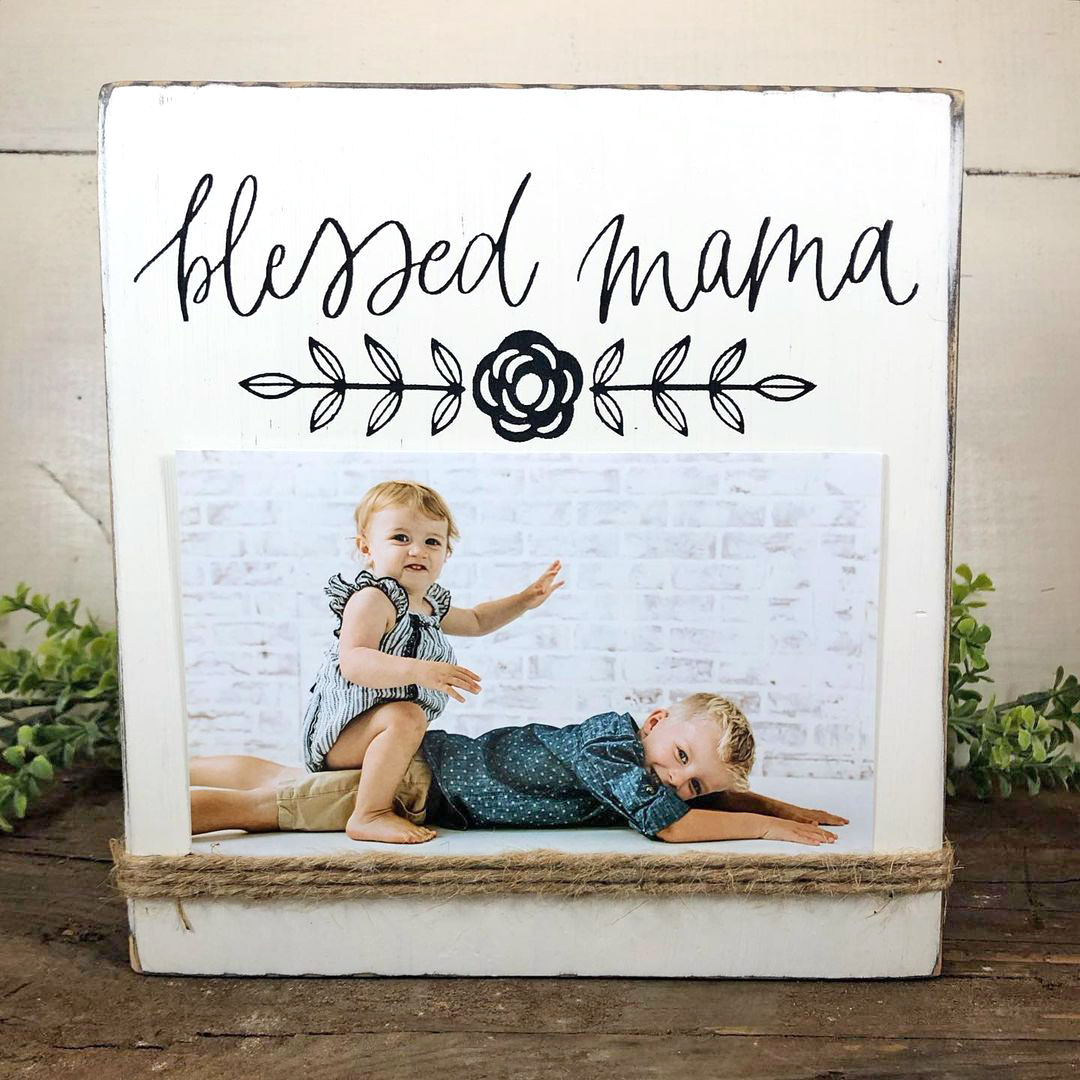 1. DIY Picture Frame for Mom
As every momma knows, you can never have too many pictures of your sweet little babe on display. I love the wood block picture frames that @nicihandmade makes using Ikonart, like the Blessed Mama picture frame shown above. She also makes another version where she adds a raised picture frame on a wood block and I love those too!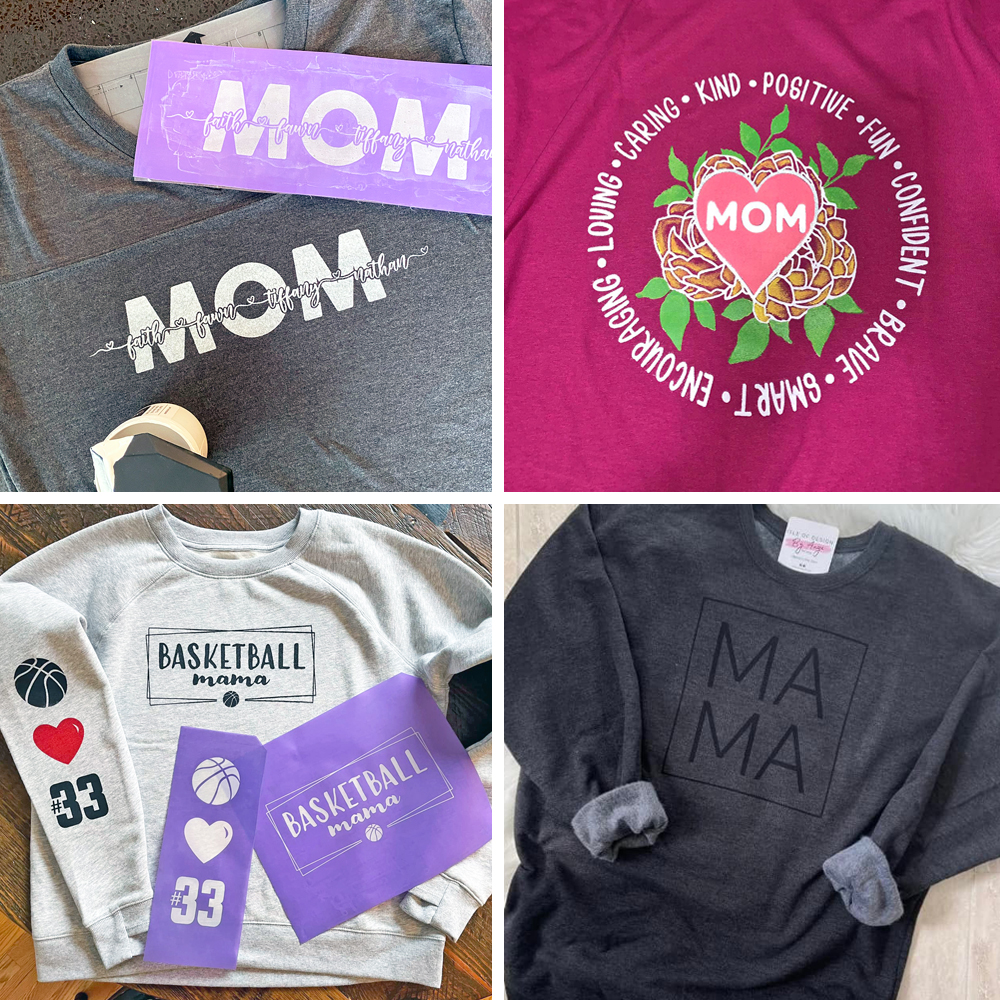 2. DIY Screen Printed Mother's Day Shirt
Mom's do it all and they deserve a shirt to let the world know how hard they work at being a great mama! Whether you want to personalize a tshirt with kids names (top left), add hand painting to your shirt like Louisa (top right), create a custom sports mom sweatshirt like Jana (bottom left), or create a modern Mama shirt like Ange (bottom right), Ikonart can help. Check out our screen printing blog post, Tips For Screen Printing With Ikonart Stencils, for more info on how to screen print shirts using the Ikonart Custom Stencil Kit.
If you want to learn how to make the Mom artwork with kids names over the top like we created for the shirt pictured above (top left), we have the Mom artwork tutorial on our YouTube channel.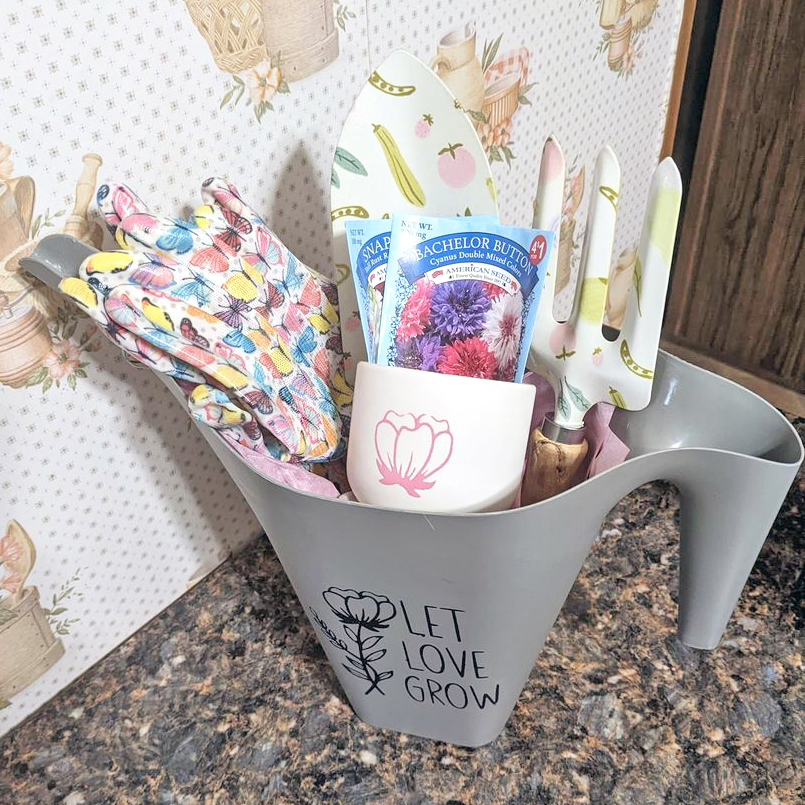 3. DIY Mother's Day Gift Basket
Take one of your mom's favorite hobbies and put together a cute gift basket like Sarah did for the garden themed Mother's Day gift basket shown above. She used Ikonart to customize the watering can and the little planter inside. There are so many options for themed gift baskets and gift box sets that you could customize with Ikonart. Let your imagination run wild!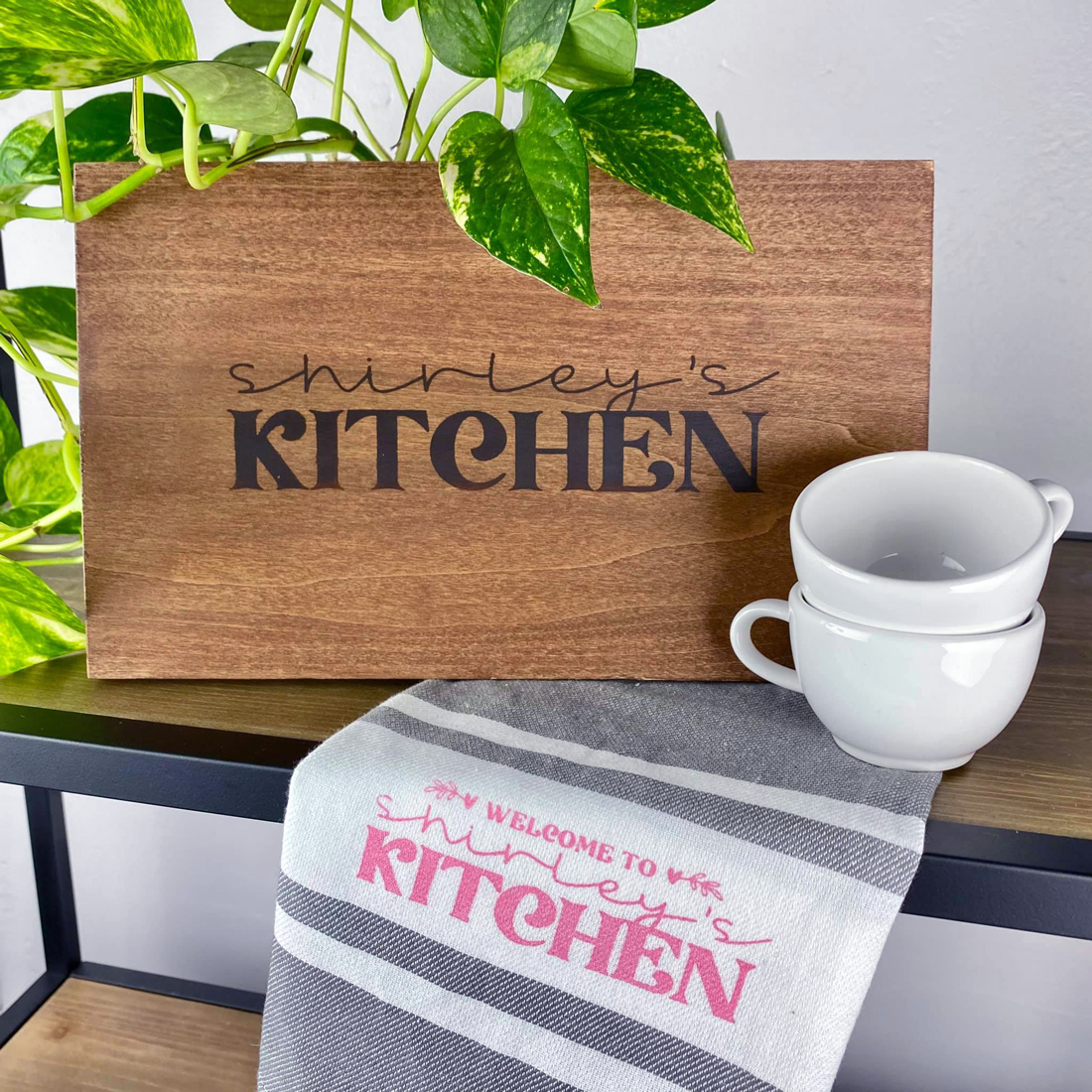 4. DIY Kitchen Sign for Mom
When I think of my mom I think of her in the kitchen cooking an amazing meal or baking a tasty dessert. My mom is always in the kitchen cooking and baking for her family, friends, church, people who are sick, birthday treats to bring to work, and anything else she can find an excuse to make food for. So I couldn't think of a more perfect gift for my mom than something she could have in the kitchen, which is why I used Torch Paste to make her this custom wood burned kitchen sign. I love you Mom!!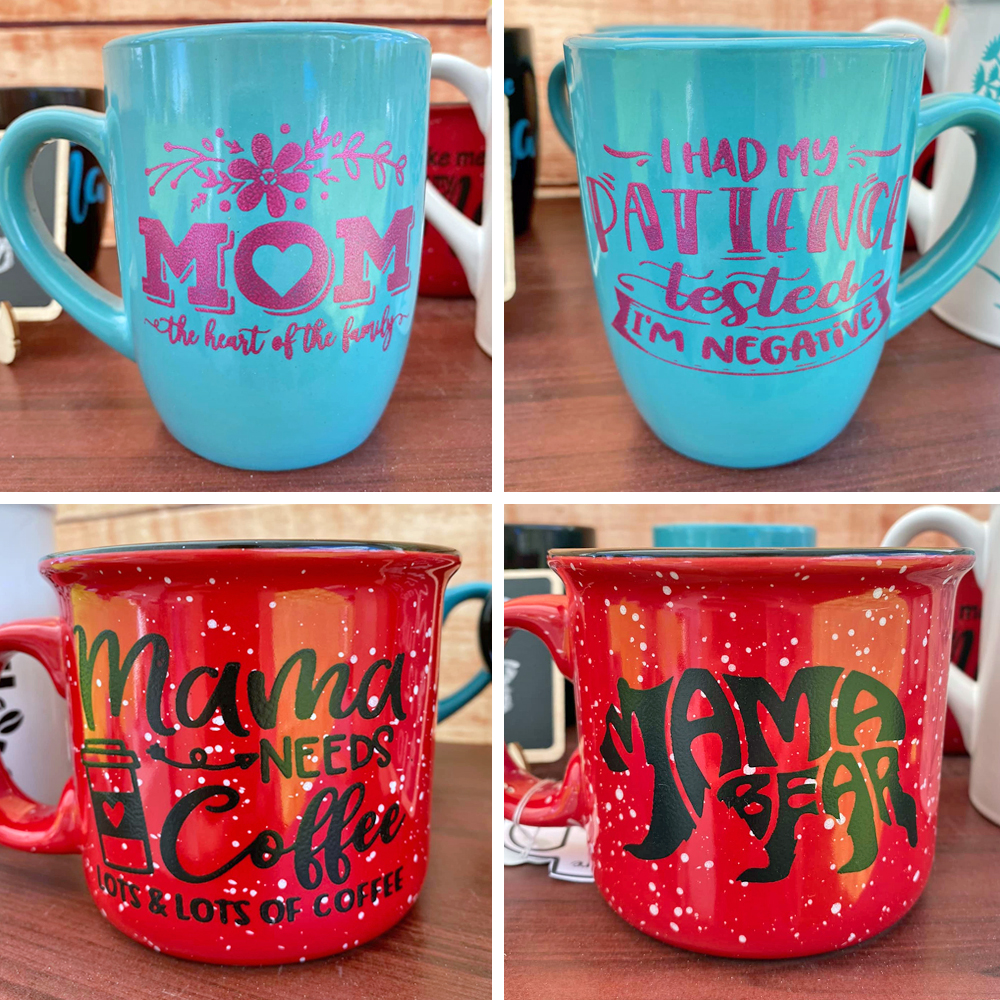 5a. DIY Ceramic Mug for Mom with Paint
Ceramic mugs make a great gift and with Ikonart you can personalize your ceramic mug to say anything you want. Add an inside joke, funny mom saying, her favorite quote, bible verse, lyrics, or the tried and true "World's Best Mom" and get ready to see her smile when she opens her gift. Lee screen printed the ceramic Mom mugs and enamel camping Mama mugs shown above using DecoArt Multi-Surface Paint, then baked the mugs in the oven to cure the paint and make it safe for the dishwasher.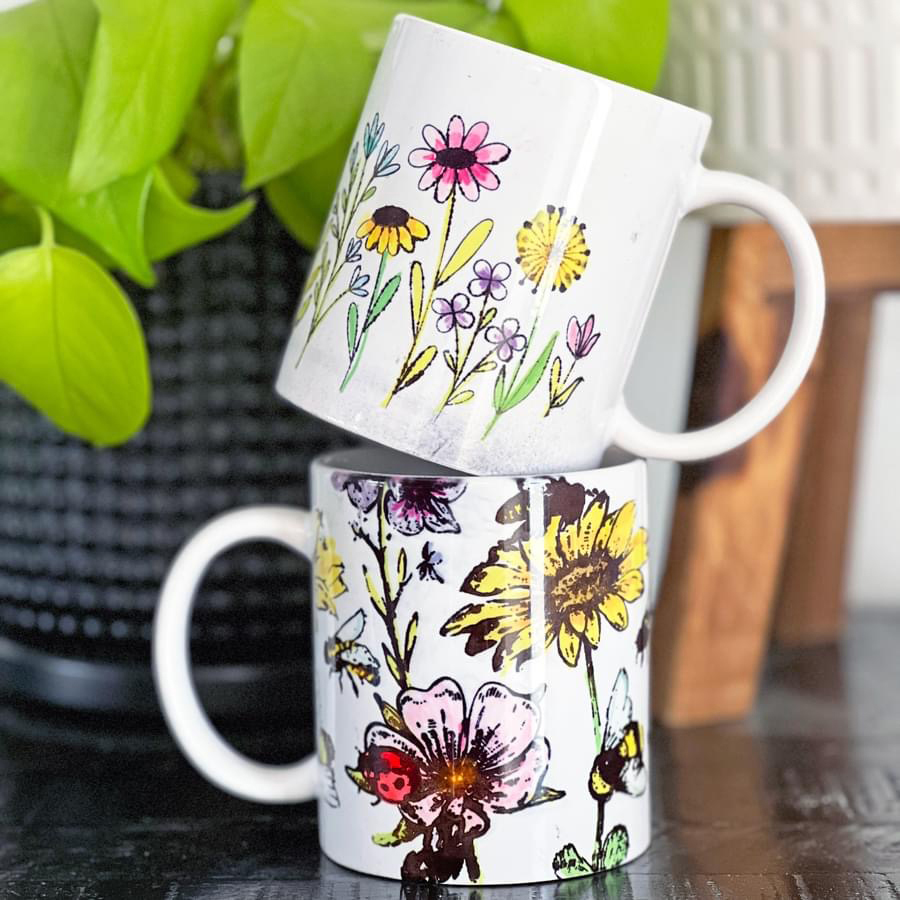 5b. DIY ceramic Mug for Mom with Sublimation
If you want to make a ceramic mug for mom with more colors, then try sublimation! This fun technique from Nancy uses Ikonart stencils and hand painting to add sublimation inks to a ceramic sublimation mug instead of using a sublimation printer. You can check out our YouTube video, How To Sublimate Mugs Without A Sublimation Printer, for more details.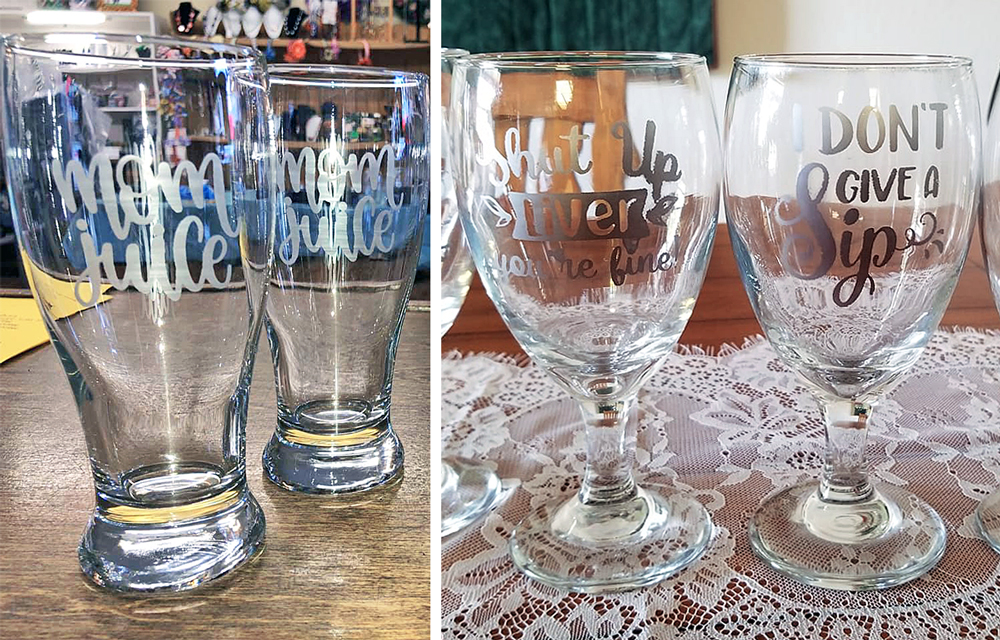 6. DIY Etched Glasses for Mother's Day
You're not limited to ceramic mugs for Mother's Day drinkware gifts. You can also use Ikonart and Etchall Etching Crème for custom etched glasses like Monica did for these Mom Juice etched glasses (above left). If you want to add color to your etched glass your can add a wax product, such as Rub n' Buff, like Carol did for these funny etched wine glasses (above right). Note: etched glass is notoriously difficult to photograph, but in person etched glass looks so beautiful.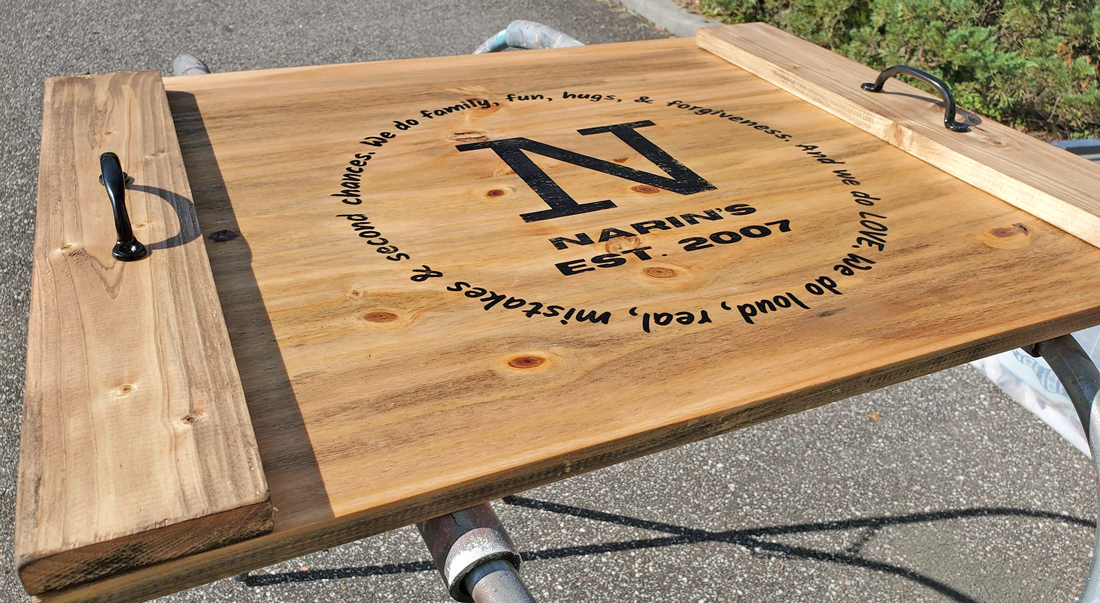 7. Family Noodle Board
Ikonart Stencil Films come in 10x12 and 12x18 sheets, but you can combine multiple stencils to make any size design you want. Jennifer uses multiple stencils to make her custom noodle boards like the one shown above, which would make the perfect Mother's Day gift.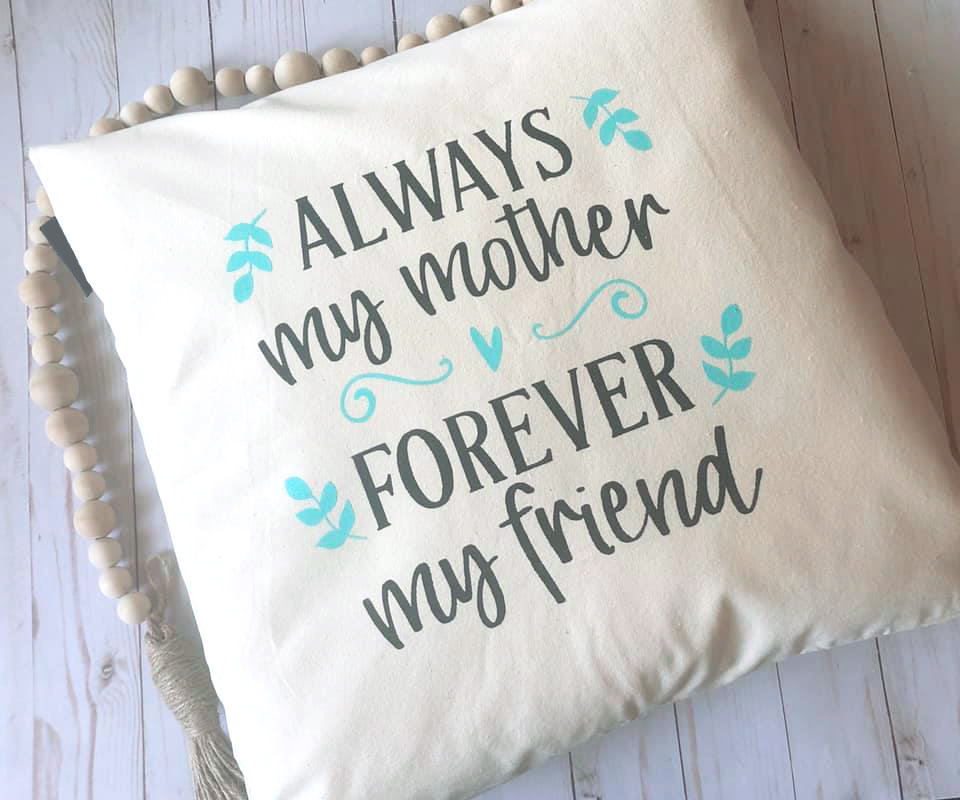 8. DIY Throw Pillow for Mom
Give your mom a constant daily reminder of just how much you care about her with a Mother's Day gift she will see every day, like this Mother's Day throw pillow that Penny screen printed using Ikonart (shown above). You can sew your own throw pillow cover or buy a blank throw pillow cover.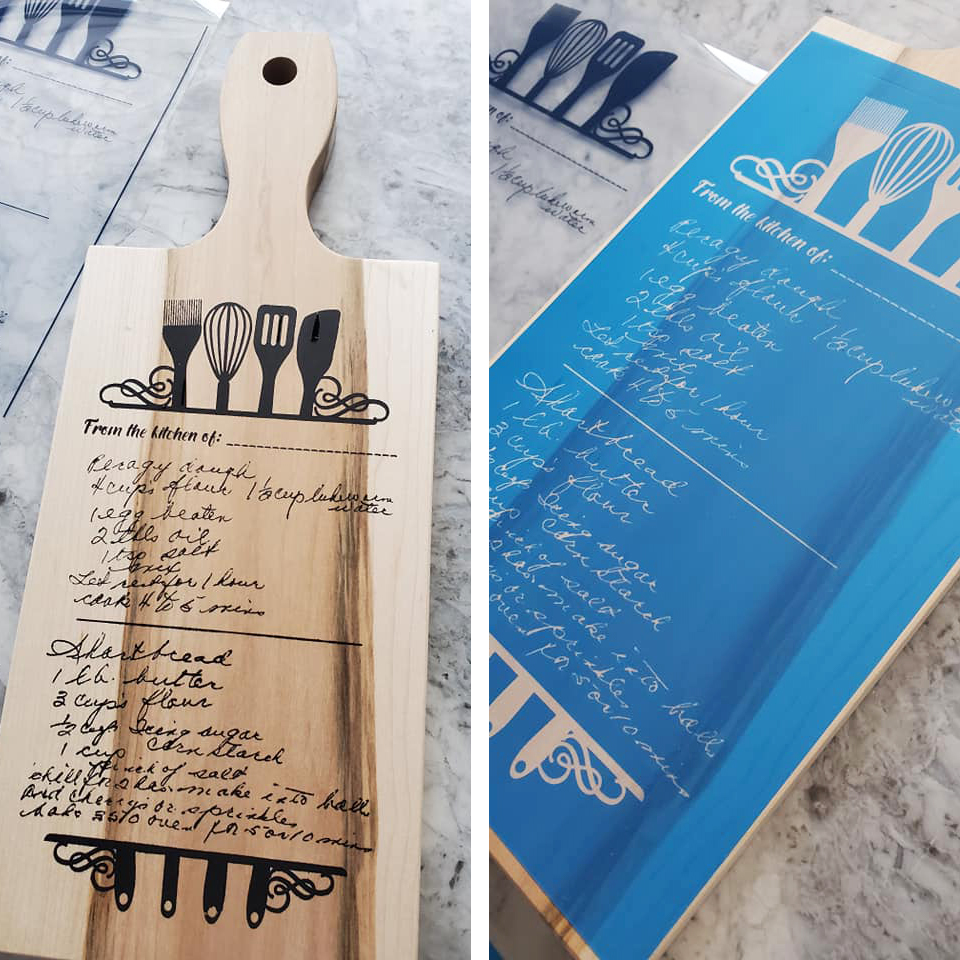 9. Hand Written Recipe Cutting Board
One of the major benefits of Ikonart is that our mesh stencil films can hold a TON of detail. This works great for hand drawn and hand written designs. Turn your mom's favorite hand written recipe into a stencil and then screen print or wood burn that hand written recipe onto a cutting board like Candace did (shown above) for a truly special one-of-a-kind gift. Check out this blog post for tips on wood burning with Torch Paste and how to make your cutting boards food safe.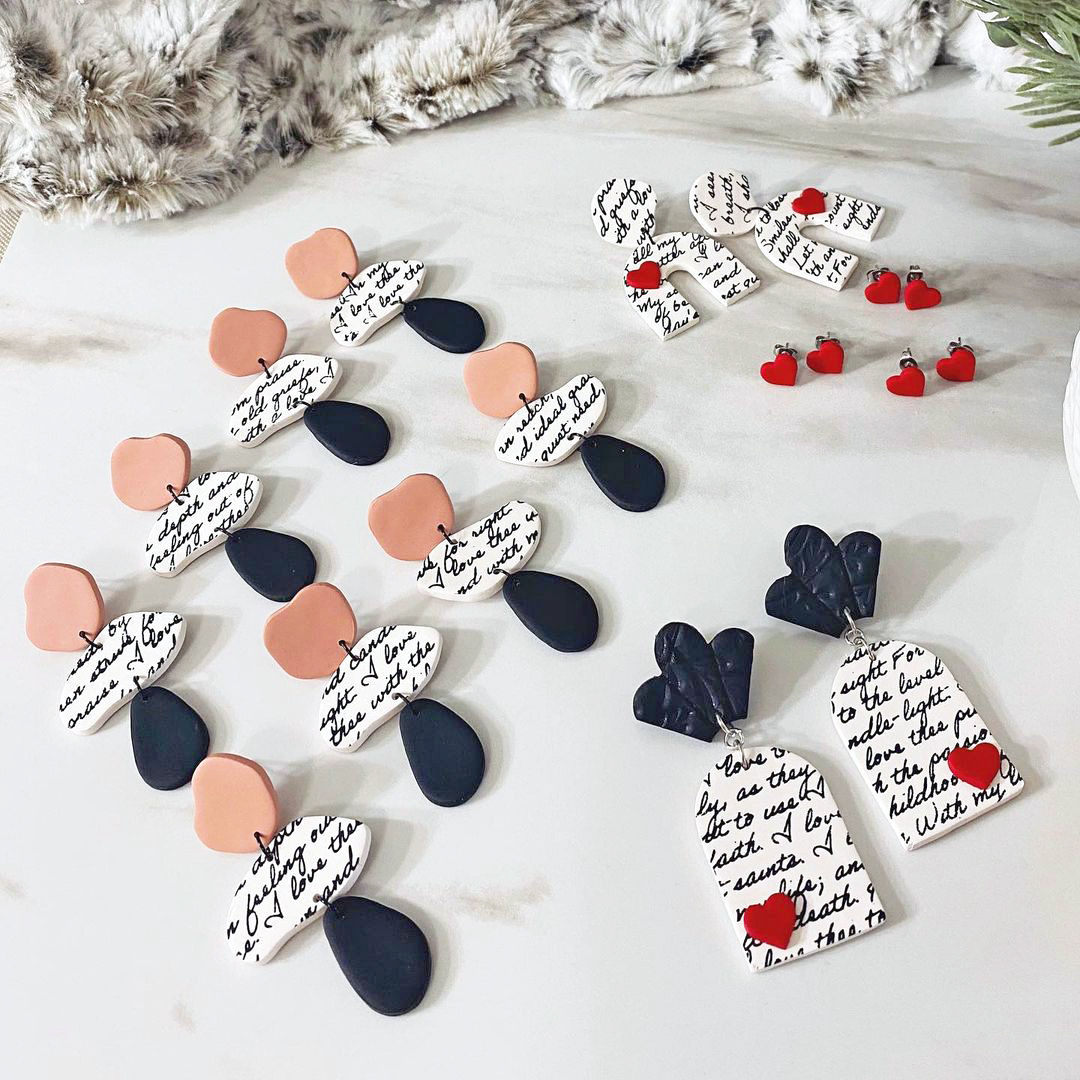 10. DIY Polymer Clay Earrings for Mother's Day
Another cute way to use a hand written stencil is for custom polymer clay earrings like the ones shown above that Catherine made. If you've never made polymer clay jewelry before check out this clay earrings blog post with tips from Catherine on how to get started.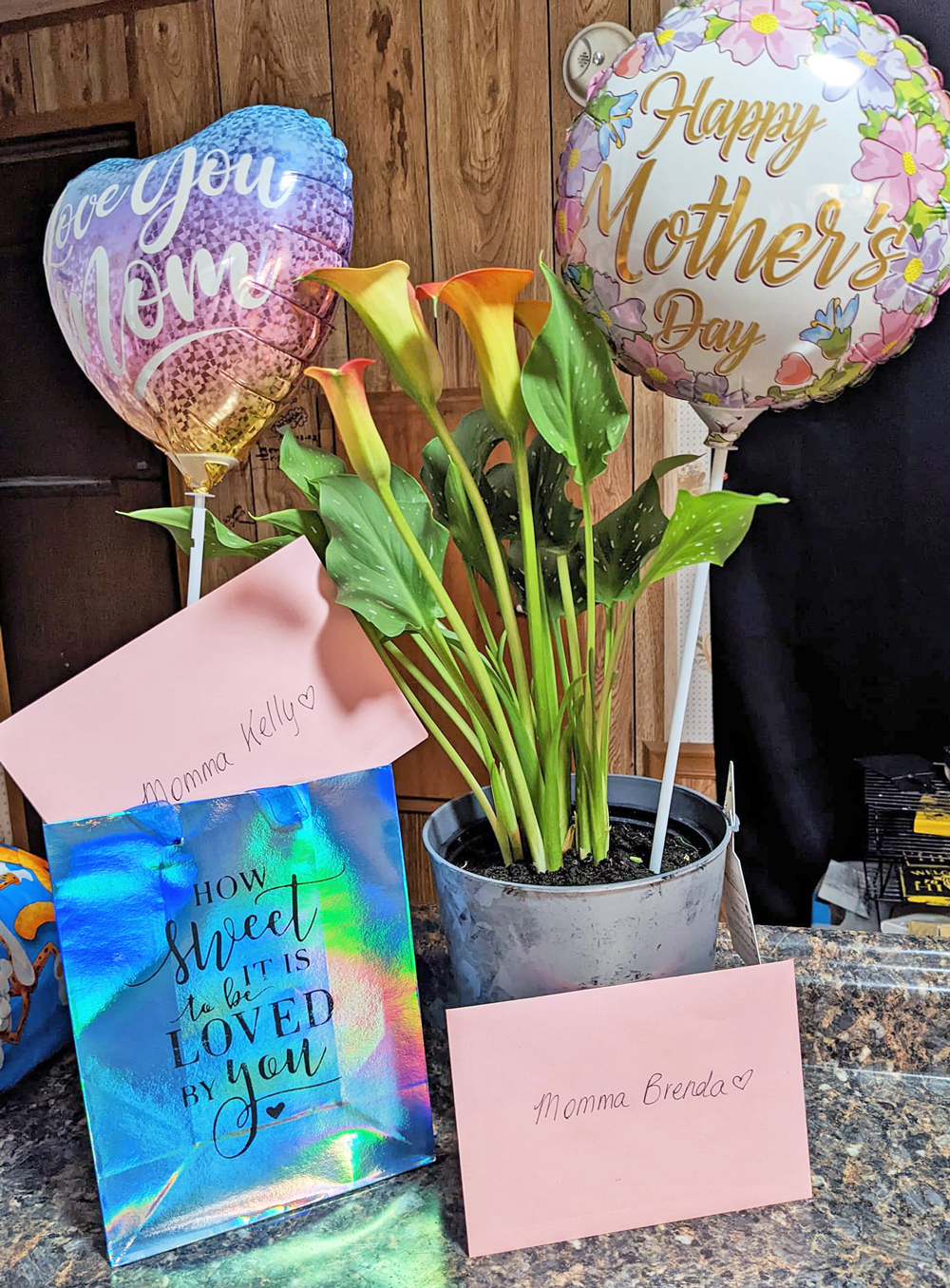 11. DIY Gift Bags and Gift Wrap with Ikonart
Don't forget about the packaging! Sarah used a custom stencil that she made using her Ikonart Kit to screen print a custom gift bag for her mother-in-law's Mother's Day gift. This would also work to customize a gift box, or you could use a pattern stencil to create your own gift wrapping paper or custom tissue paper.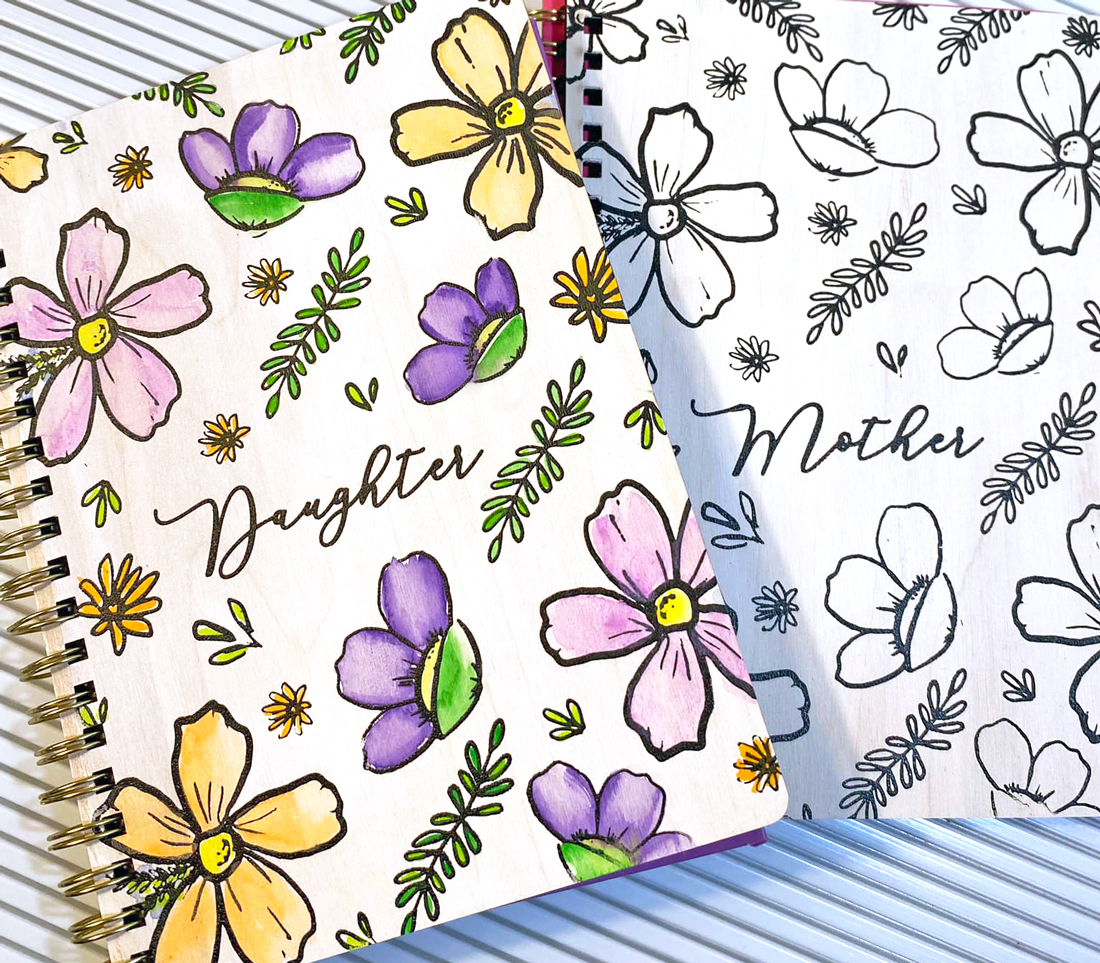 12. DIY Mother Daugher Matching Journals
Does your mom like to journal? Stephanie screen printed this adorable matching Mother Daughter journal gift set using Ikonart, then used watercolors to hand paint the flowers. If you would like to see exactly how Stephanie creates her wood covered journals, head to our Facebook group to watch her live video tutorial, How To Use Ikonart Stencils For Journals. If you would like to make your own similar journals, download this free Hand Drawn Flowers SVG from our Free Artwork page.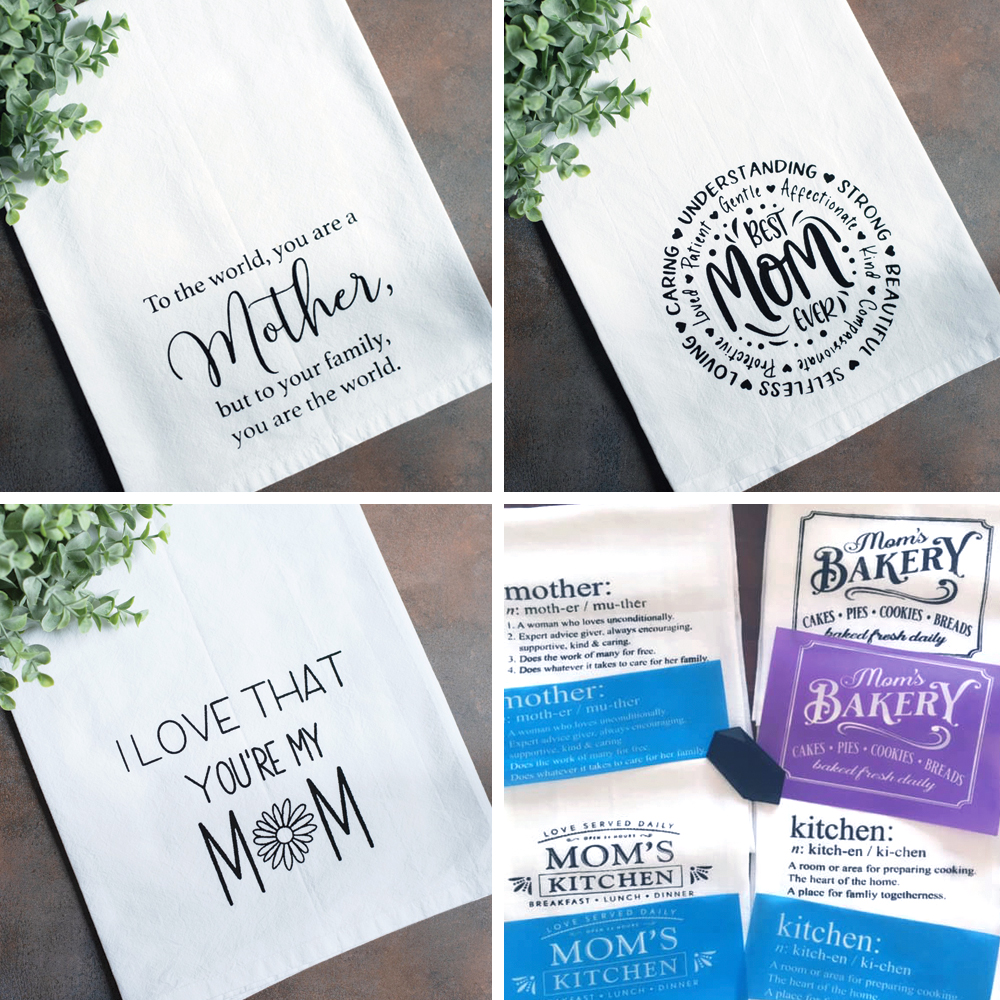 13. Mother's Day Tea Towels
Handmade Mother's Day tea towels like the ones pictured above (bottom right) that Marla made are one of the quickest and easiest Mother's Day gifts you can make. Combine custom tea towels like these from Lori with a few kitchen related items for a quick and easy gift that feels extra special.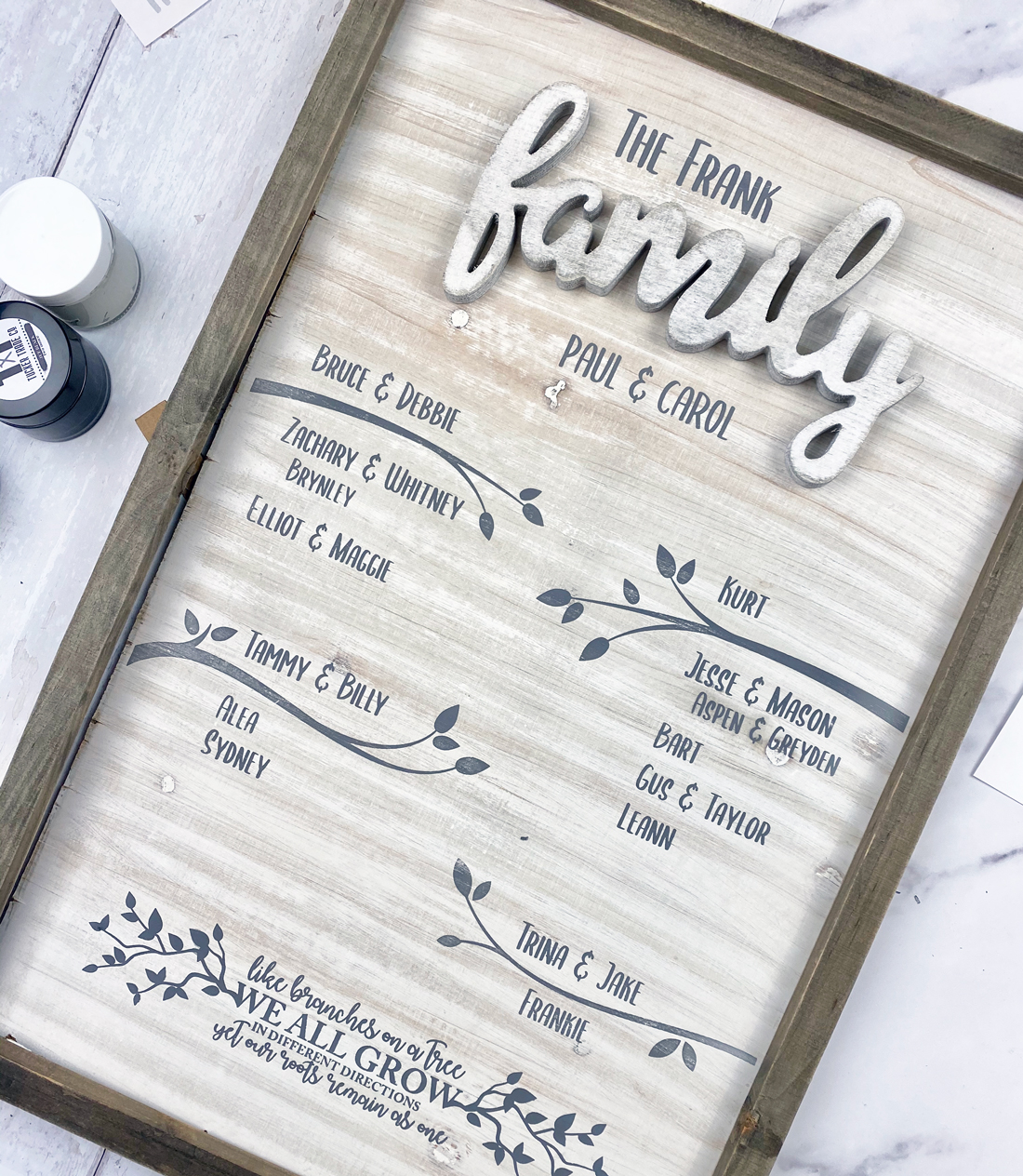 14. DIY Family Tree Sign for Mother's Day
I made this custom family tree sign shown above for a family friend, but this would make the cutest Mother's Day gift. Ikonart makes the process super easy and saves a ton of time compared to weeding a vinyl stencil. And even with the cost of the stencil the sign was still WAY less expensive than if I would have purchased this on Etsy from someone else. Win win!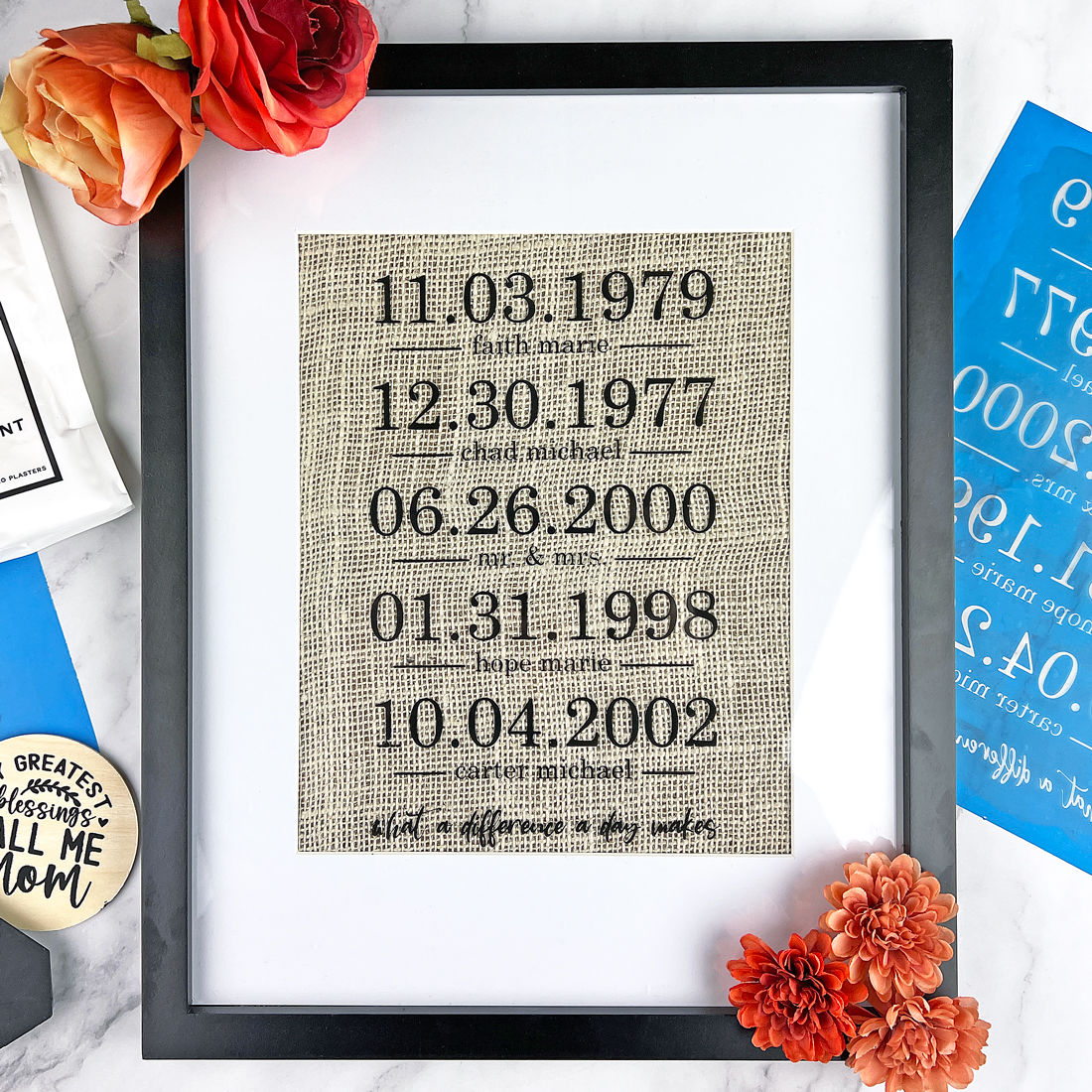 15. Mother's Day Family Dates Picture Frame
This Mother's Day project is one of those craft projects that looks like it took way more time than it did. With just an empty picture frame, a piece of burlap and an Ikonart stencil you can have a custom family dates piece of art that will remind your mom of all the special days in her life. You can watch me make this family dates picture frame (pictured above) live in our Ikonart Crafters Facebook group.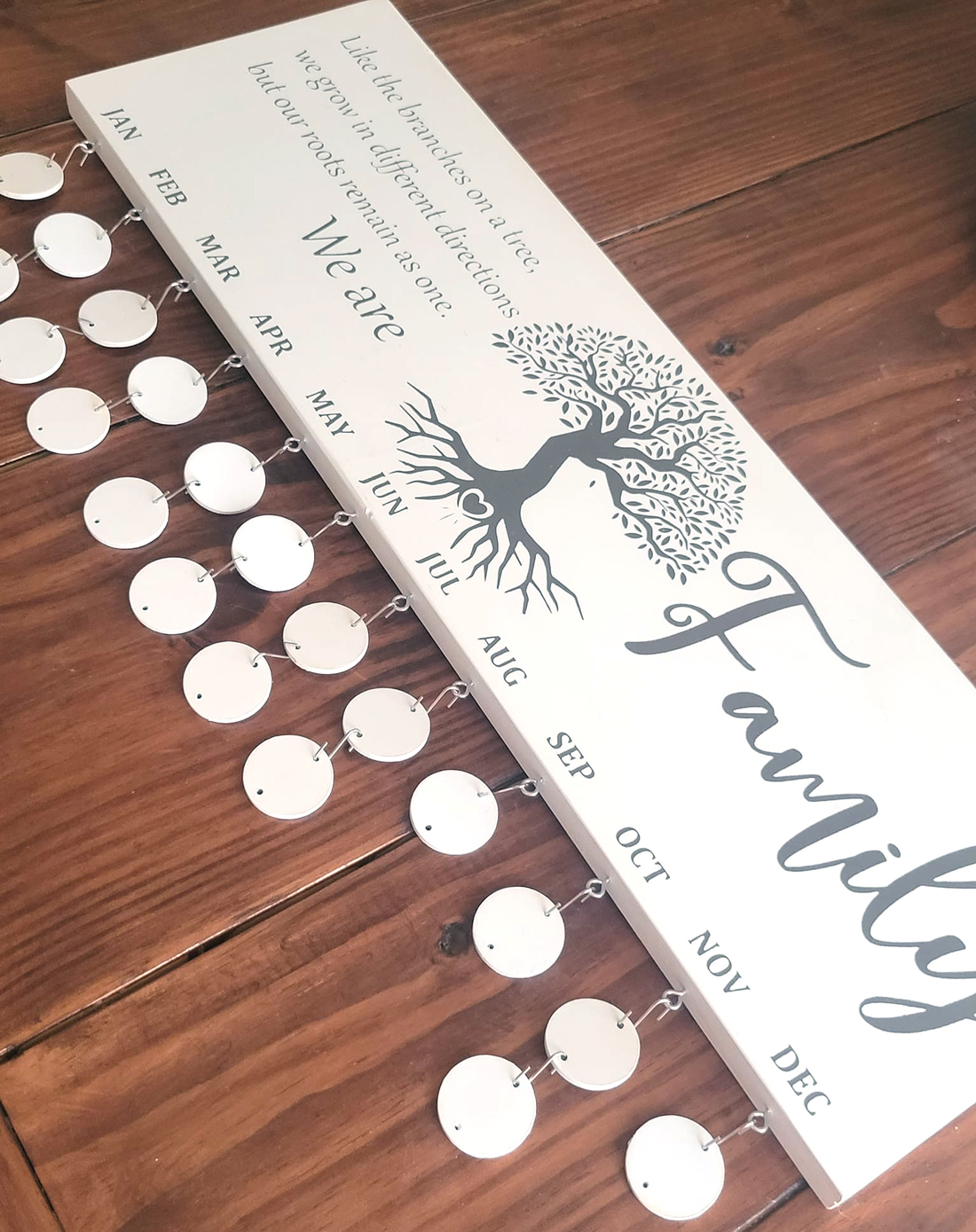 16. DIY Family Tree Calendar Sign
Another great example of a family sign is this custom Family Birthday Calendar sign that Debbie made using Ikonart (shown above). You can add special dates to the calendar using the little round discs, which makes it easier to add additional events and names as your family grows.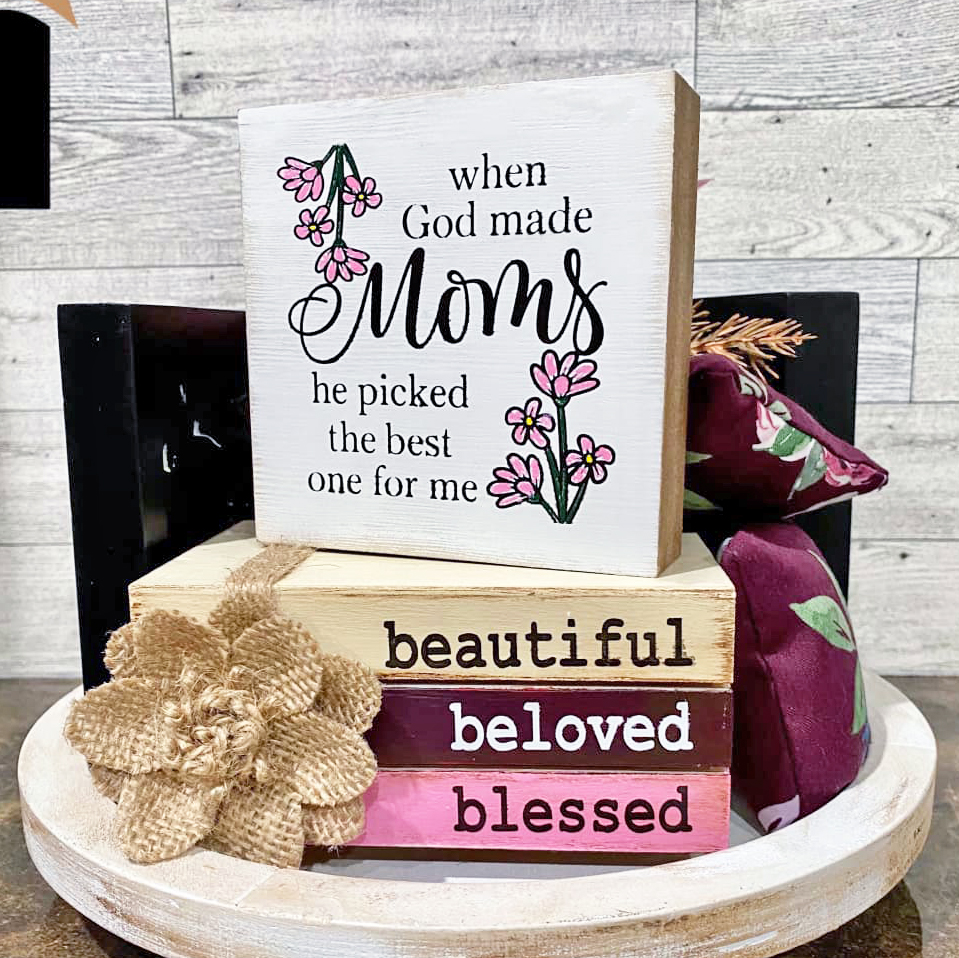 17. DIY Family Book Stack
A DIY family book stack is super easy to make with Ikonart. You can add family dates, birthdays, a family quote, names, or whatever words you would like to the "spine" of the books. With a few pieces of scrap wood, some paint and some Ikonart stencils you can make a custom book stack for a quick and easy last minute Mother's Day gift, like the one pictured above that Sheena made.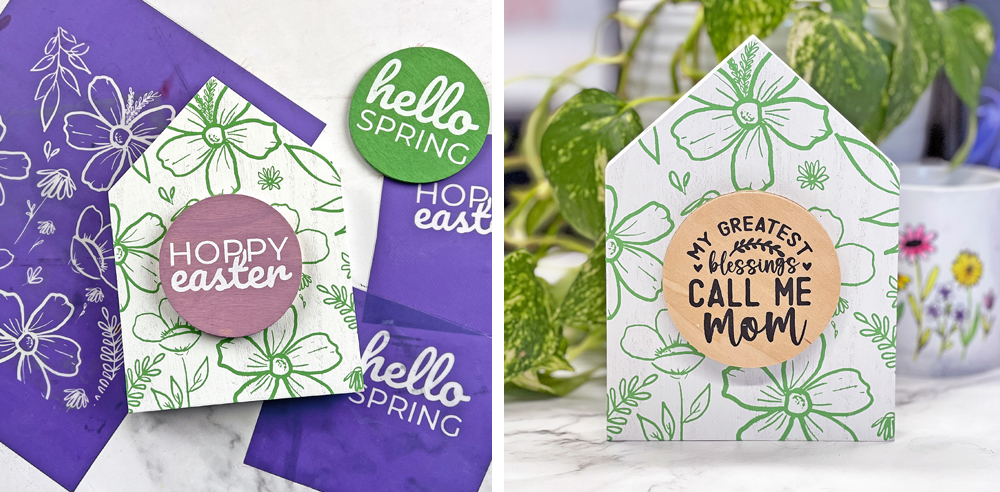 18. Interchangeable Sign for Mother's Day Gift
Here's another fun idea for a DIY Mother's Day Gift. Use our free Flowers Janabstra SVG and Coco's Chalky Powder to stencil on the background, then make a bunch of discs with different sayings on them. Add a magnet to each one and you have a fun interchangeable sign that can be used all year for different holidays and seasons. Check out our YouTube video, Ikonart Project Start To Finish - Hello Spring Sign, to see exactly how we did this.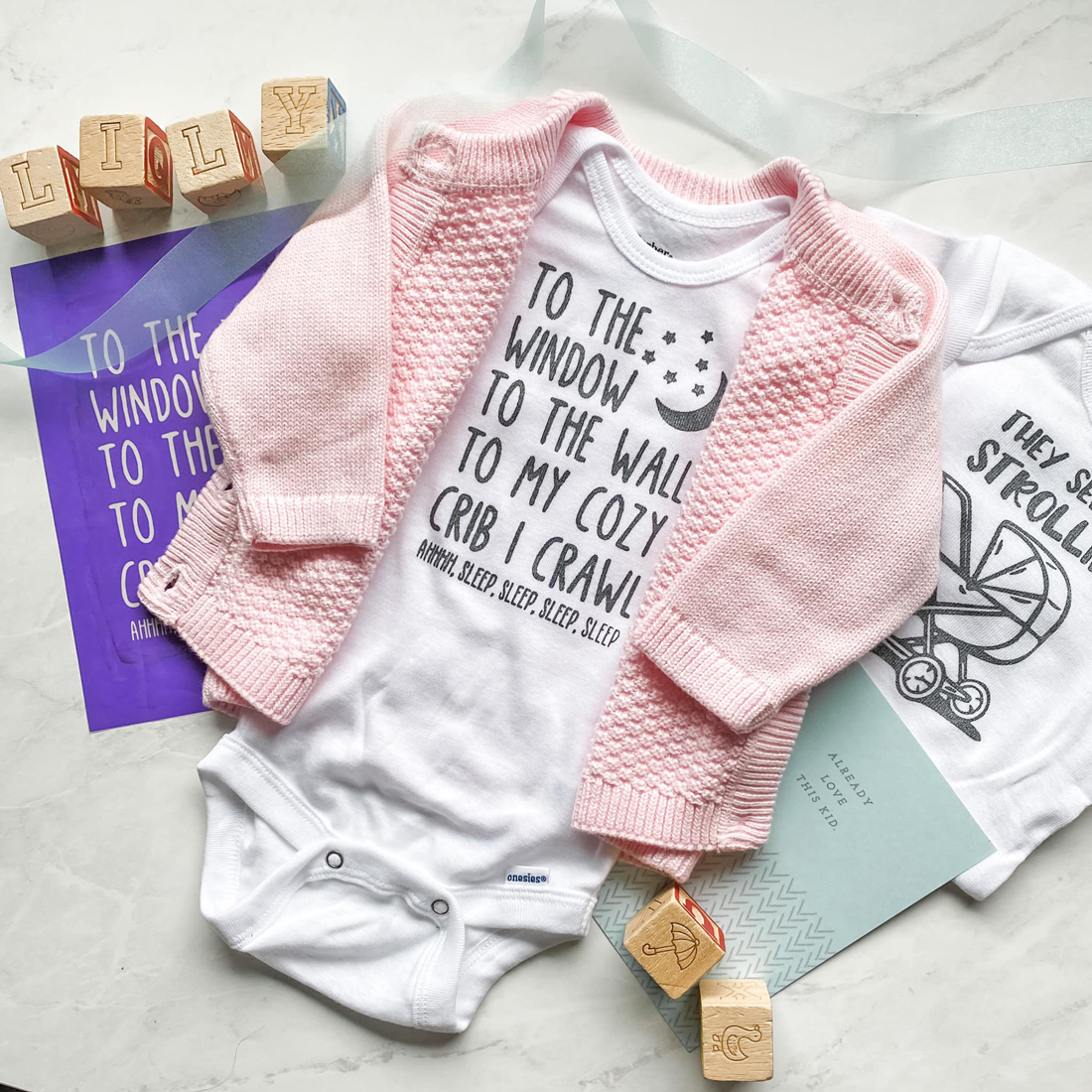 19. DIY Onesies for the Mom-To-Be
Let's not forget all the expecting moms out there on Mother's Day! One of my absolute favorite ways to use Ikonart is to make custom baby onesies like the ones I made above for my cousin. If you have a friend or relative who is expecting soon surprise them with a custom baby onesie for Mother's Day.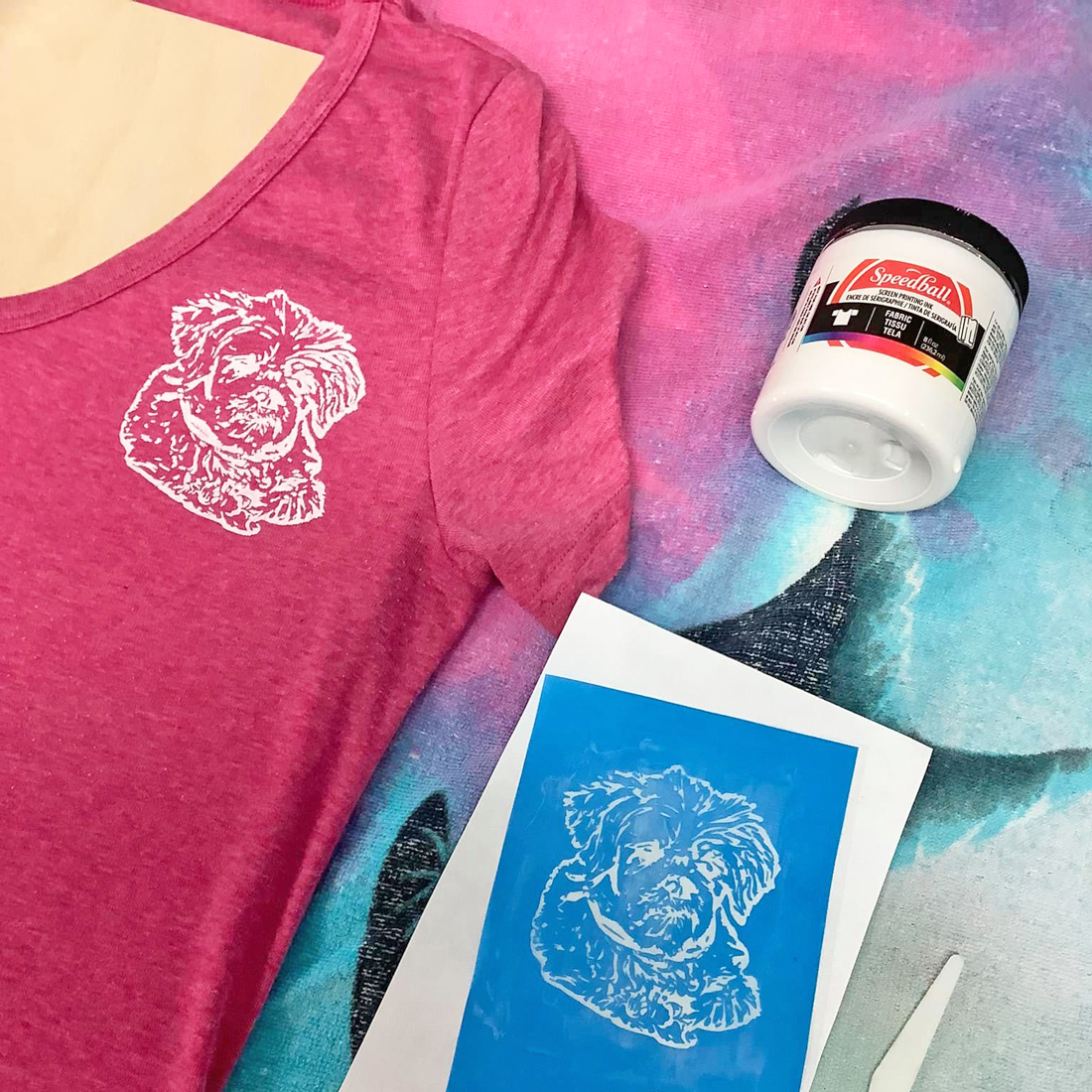 20. DIY Gifts for Dog Moms or Cat Moms
And of course we can't forget the dog moms and cat moms either!! You can turn a picture of a dog or cat (or any pet!) into an SVG to make an Ikonart stencil with, and then add their cute little face to anything you want. In the example above Rachelle added her sweet pooch to a shirt, but you can also add them to etched glasses, ornaments, welcome round signs, throw pillows, tumblers, wood signs, and shirts.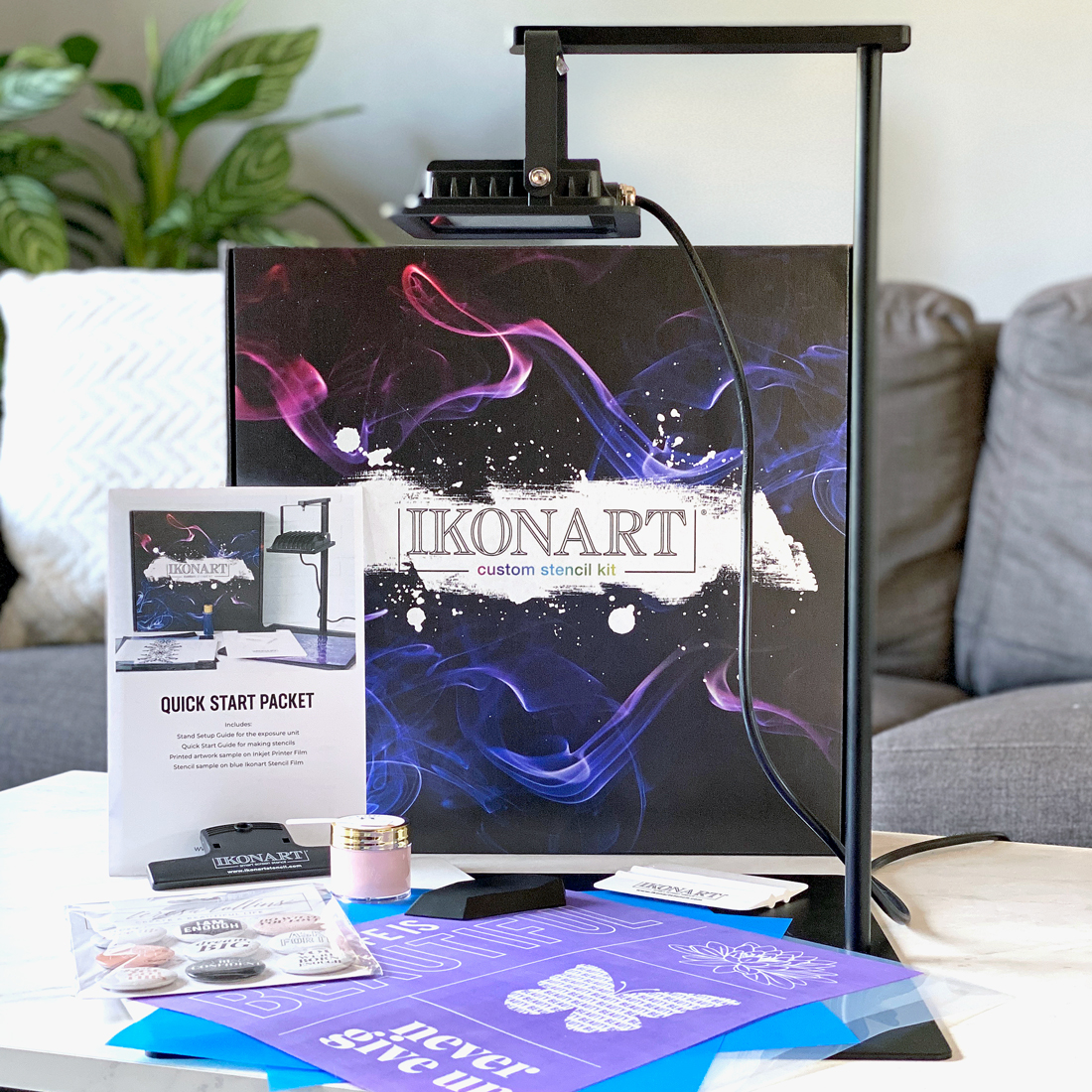 BONUS GIFT IDEA: Ikonart Craft Kit for Crafty Moms
Last but not least, if you have a mom who loves crafting get her the crafting tool she never knew she needed... the Ikonart Custom Stencil Kit! With this kit your mom will be able to unleash her creativity in so many new ways. Ikonart is the crafty Mother's Day gift that keeps on giving all year long.
---
These are our top 20 favorite Mother's Day gift ideas to make with Ikonart, but there are plenty more inspirational projects in our Ikonart Crafters Facebook Group so make sure to join us there for more crafty project ideas as well. If you have any additional questions about our Ikonart Stencil Films or the Ikonart Custom Stencil Kit, please contact us.