It's that time of year again! At the end of each year we like to shine a spotlight on some of the amazing Ikonart crafters and the unique ways they use the Ikonart Custom Stencil Kit to create their one-of-a-kind craft projects. We have an incredible group of crafters from all over showcasing Ikonart on their craft blogs, so we are here to show our love and appreciation by showcasing them on our blog as well.
In this post we will dive into 12 Ikonart crafters and the variety of ways they use Ikonart stencils for their small businesses. Bonus: many of the posts also contain discount codes, so keep your eyes out for those as well.
---

How To Make an Ikonart Stencil
Carrie Christenson is kicking us off with a stencil making how-to, walking you through the process of creating your digital artwork, and then using that artwork to then create your physical stencil. Carrie also shows you step-by-step how to use your freshly made stencil to apply the design to a t-shirt. Read Carrie's full blog post, How To Make A Reusable Mesh Screen Printing Stencil, on The Artistry for more details and photos of her process.
---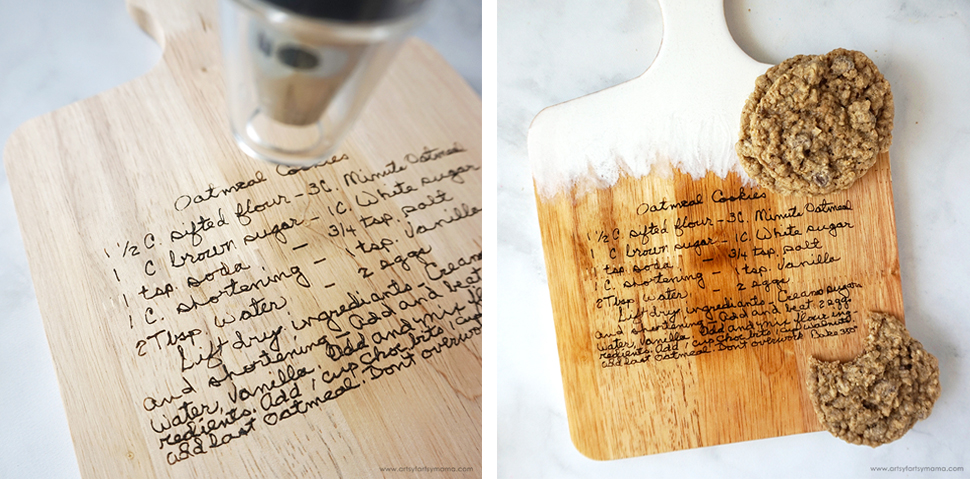 How To Use Ikonart for Handwritten Recipe Cutting Board
Lindsey Gilbert, aka Artsy-Fartsy Mama is always creating spectacular projects with her Ikonart Custom Stencil Kit. This fall Lindsay shared her Custom Printed Journal project with us for our back-to-school projects post, but this handwritten recipe burned into a cutting board using Torch Paste has got to be one of our favorites. Lindsay shares just how she turned this handwritten family recipe into an Ikonart stencil, and burned it into a cutting board as a family keepsake in her blog post, Handwritten Recipe Cutting Board.
---

Easy DIY Throw Pillows with Ikonart Stencils
When you combine hand painting with stenciling you get the best of both worlds. Use your stencil to quickly and easily add your design to your surface, then customize it by hand painting within the stencil lines. This is exactly what Amy Sadler, crafter and owner of Chateau Chic DIY and Amy Sadler Designs, did for this DIY throw pillow project.
Read Amy's blog post, Easy DIY Throw Pillow Covers, to see her process of creating a custom, hand-painted throw pillow in just a few easy steps using her Ikonart Custom Stencil Kit.
---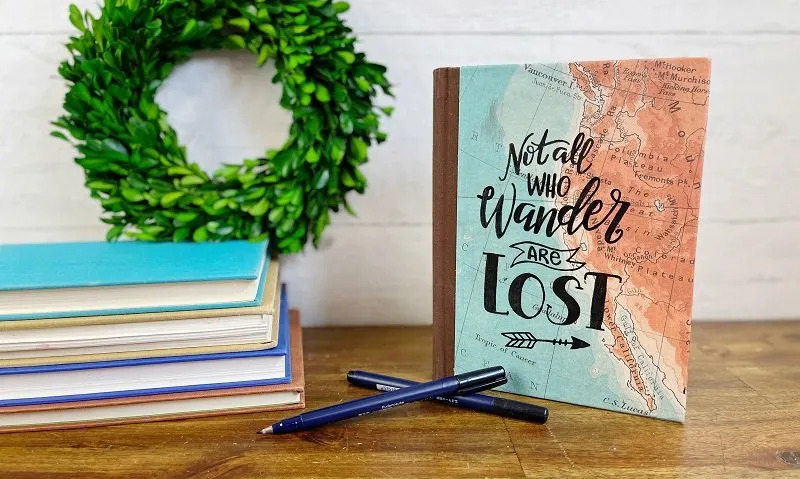 DIY Stenciled Journal with Ikonart
I can't be the only one that has a dozen old notebooks and journals with covers that don't quite speak to me anymore. Beth with Creatively Beth has found the best solution by refacing them with Ikonart! Beth drew this design and used her Ikonart Kit to create the stencil. Check out Beth's blog post, DIY Stenciled Journal with Ikonart, to see how she completed this project.
---

Screen Printing Girl Scout Troop Totes with Ikonart
Set your troop up for success with these adorable matching totes that Laura with Me And My Inklings created. This gives each Girl Scout a consistent place to keep track of all their troop essentials, whether it be a cookie order form, patches that haven't made it to the sash yet, or an extra clothing layer for the troop outing. The personalized element of the scout's signatures make it a lovely keepsake as well and really knocks this project out of the park. Head over to Laura's blog post, Screen Printing Tote Bags for Girl Scout Troops, for the full tutorial.
---
Using Ikonart Silkscreen Stencils for Polymer Clay Earrings
Catherine Morris, founder of Lunar Love Design Co., is an incredible polymer clay artist who uses her Ikonart Kit to create amazingly detailed stencils that she then applies to her polymer clay earring bases. Using this method Catherine is able to create a variety of earring styles using the same custom stencils. Catherine is in the process of creating a Youtube Channel to share her DIY polymer clay earring-making tips and tricks. For more information and further updates check out Catherine's Ikonart For Polymer Clay page.
---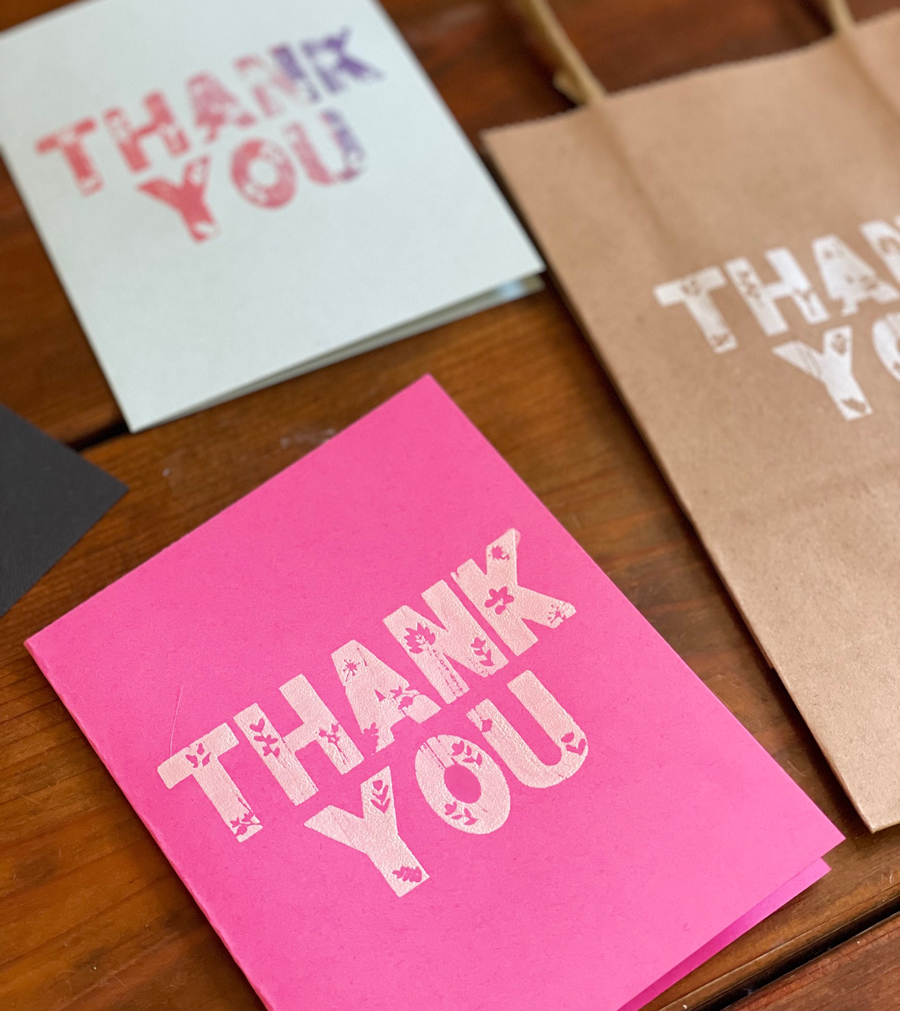 How To Use Ikonart Stencils for Paper Crafting
Custom thank you cards are such a fun project, whether you're responding to friends and family, or packing up orders for you small business! Laura with Hello Cute Crafts shows us how one custom stencil can make countless printed cards and gift bags in her blog post, DIY Thank You Cards with Ikonart. Laura uses the same stencil on different materials and/or in different colors so you can see just how versatile this sort of project can be. She also includes the design download for the 'thank you' design she made!
---

DIY Wood Sign with Ikonart
Angie from Knick Of Time created this beautiful stained wood sign with the classic 'It Is Well With My Soul' quote, and wrote a blog post, DIY Wood Sign with Ikonart, sharing just how she did it so you can too! With her Ikonart Kit and a few basic crafting materials Angie shows how easy Ikonart makes it to produce quality décor pieces at home.
---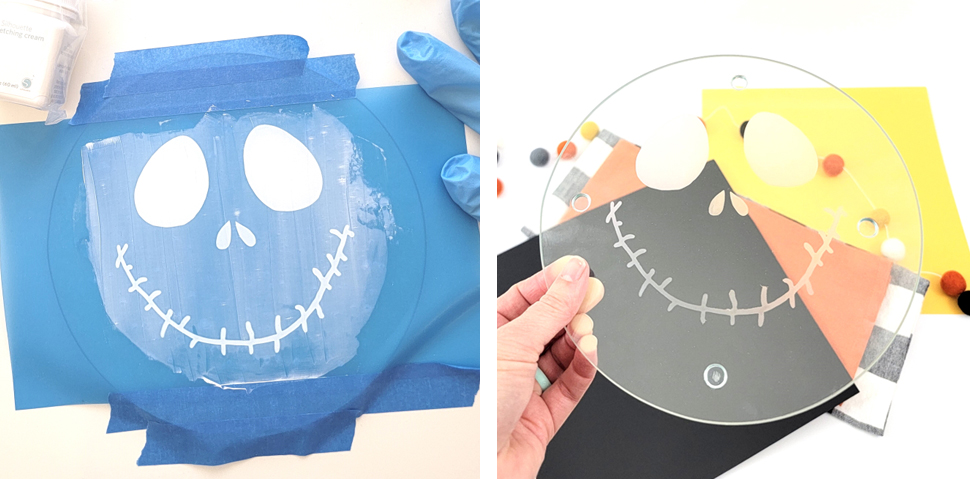 How To Etch Glass with Ikonart and Etchall
Elise of Polka Dotted Blue Jay tried her hand at glass etching with Ikonart, and it turned out incredible! Elise made this too-cute Jack Skellington plate as an addition to her Halloween décor and recorded her process to share with all of you. This tutorial is quick and easy to follow, and can be easily adapted to fit your project needs. Read Elise's full blog tutorial, Jack Skellington Etched Plate, to see more photos and details of this project.
---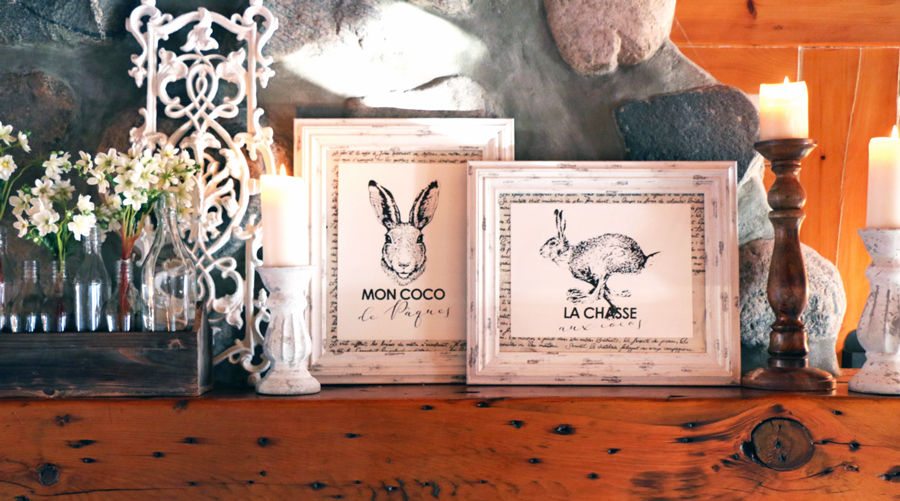 Creating Custom Reusable Ikonart Stencils in Any Language
One thing we love about Ikonart is that you can create reusable stencils in ANY language. Natacha with Natacha Creative is a fabulous French creator who creates the most incredibly detailed artwork for her Ikonart Stencil projects. Her blog tutorial, Fabrique tes pochoirs pour Pâques avec Ikonart, is in French but you can still look at the photos to get the idea on how she creates her beautiful crafts and she also includes free artwork files for you to use.
---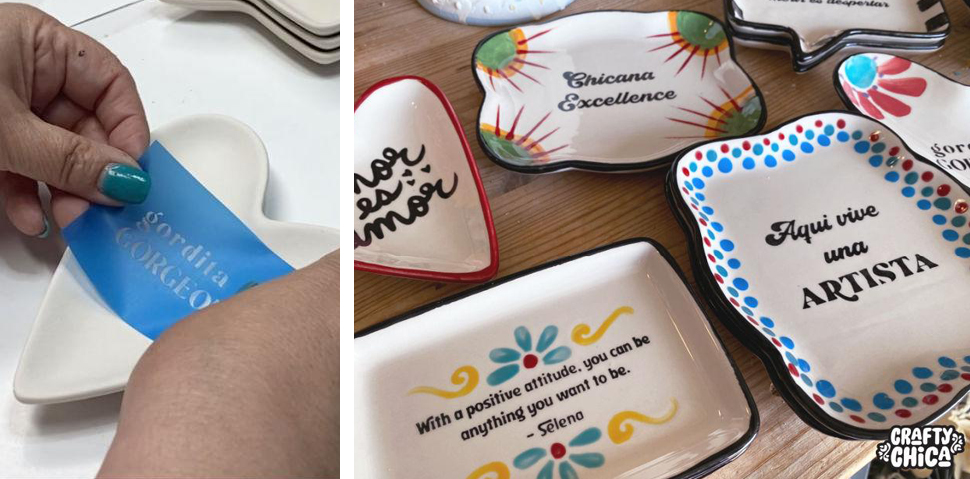 DIY Silkscreen Stencils for Fired Ceramic Using Ikonart
Kathy, also known as The Crafty Chica, specializes in Latina style DIY and craft projects. She uses her Ikonart Custom Stencil Kit to create custom silkscreen stencils in Spanish and English so she can customize her clay trinket dishes. Check out her blog post, DIY Silkscreens: Ikonart Review, for a tutorial on how she makes Ikonart stencils and then uses them to create ceramic ring dishes.
---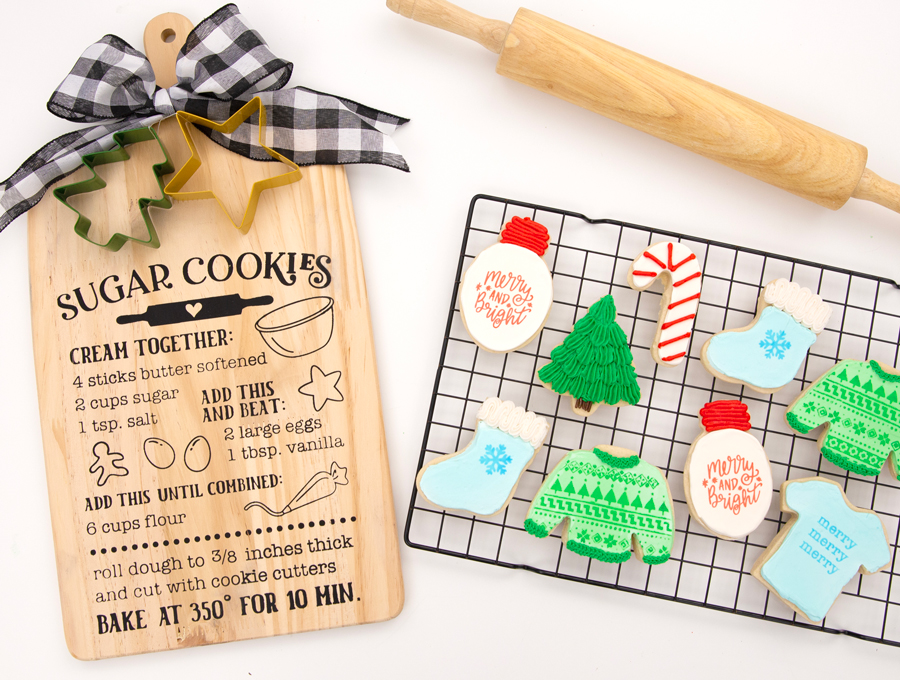 How To Screen Print Cookies with Ikonart
Did you know you can screen print on cookies? Jennifer with Pigskins & Pigtails is on a mission to screen print ALL the things and in this blog post, Screen Print on Cookies with Ikonart Stencil Kit, she shows how to make reusable food-safe stencils with her Ikonart Kit and Ikonart Stencil Glaze, then she screen prints cookies using royal icing. Bonus: Jennifer also used an Ikonart stencil to screen print the cutting board shown above. Watch the video on her Instagram page.
---
Starting out with your Ikonart Custom Stencil Kit can feel overwhelming at first, but it doesn't have to be. Check out our What To Buy Guide, Demo Videos, Gallery & Project Ideas, and Ikonart 101 page if you are new to Ikonart. If you feel like you need additional support, our Ikonart Crafters Facebook Group is full of Ikonart crafters willing to help you out with suggestions and advice. You can also check out our Ikonart YouTube playlists for how-to videos, or follow Ikonart on Instagram or TikTok for project ideas.
If you have any additional questions about our Ikonart Stencil Films or the Ikonart Custom Stencil Kit, please contact Ikonart today.
---