Calling all teachers, parents, and students... it's that time of year again! The first day of school is right around the corner which means it's time for new school supplies, a new schedule, new teachers and new opportunities. Squash those first day jitters with some custom craft projects you can easily make using the Ikonart Custom Stencil Kit.
---
10 Back-To-School Projects for Students and Teachers Using Ikonart
We've collected a variety of custom back-to-school projects created by both the Ikonart team and the Ikonart Crafters Facebook Group to inspire your creativity and help you prepare for the school year ahead. Keep scrolling for inspiration!
---
1. First Day of School Sign with Ikonart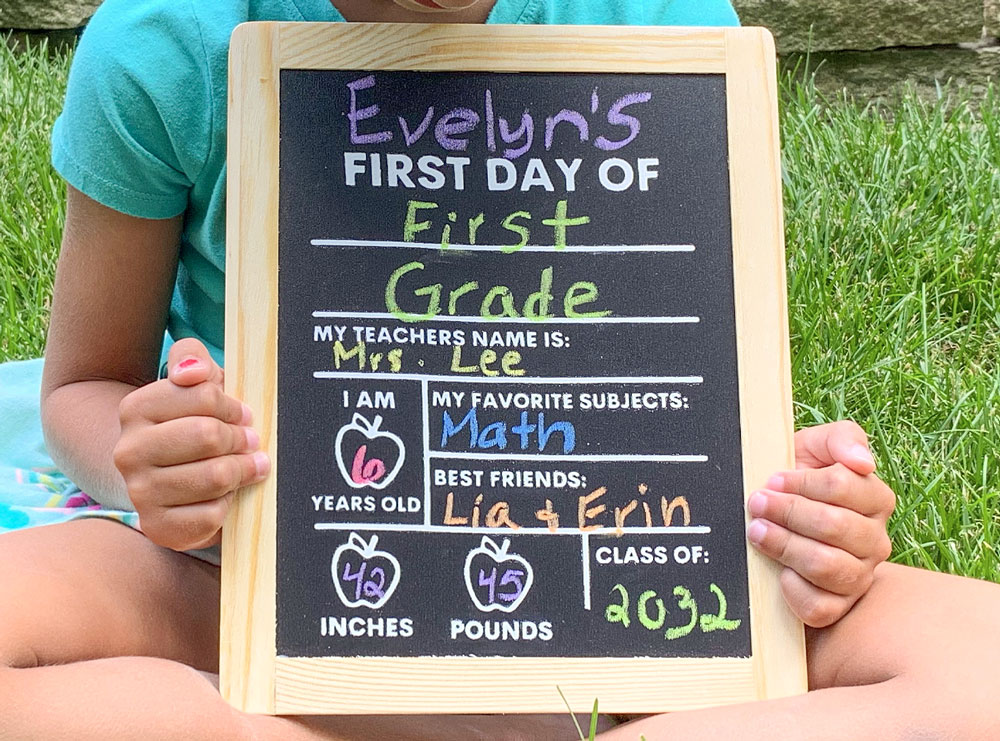 Is it even the first day of school if you don't get a picture celebrating it? We all know and love the classic "first day of school" photos. Use your Ikonart Custom Stencil Kit to create your own personalized reusable first day of school sign that your kids can fill in year after year. The sign shown above was sealed with clear chalkboard paint, so you can easily remove the chalk without ruining your stenciled design. Download this free First Day of School SVG from our Free Artwork page and customize it to your liking.
---
2. Personalized School Supplies with Ikonart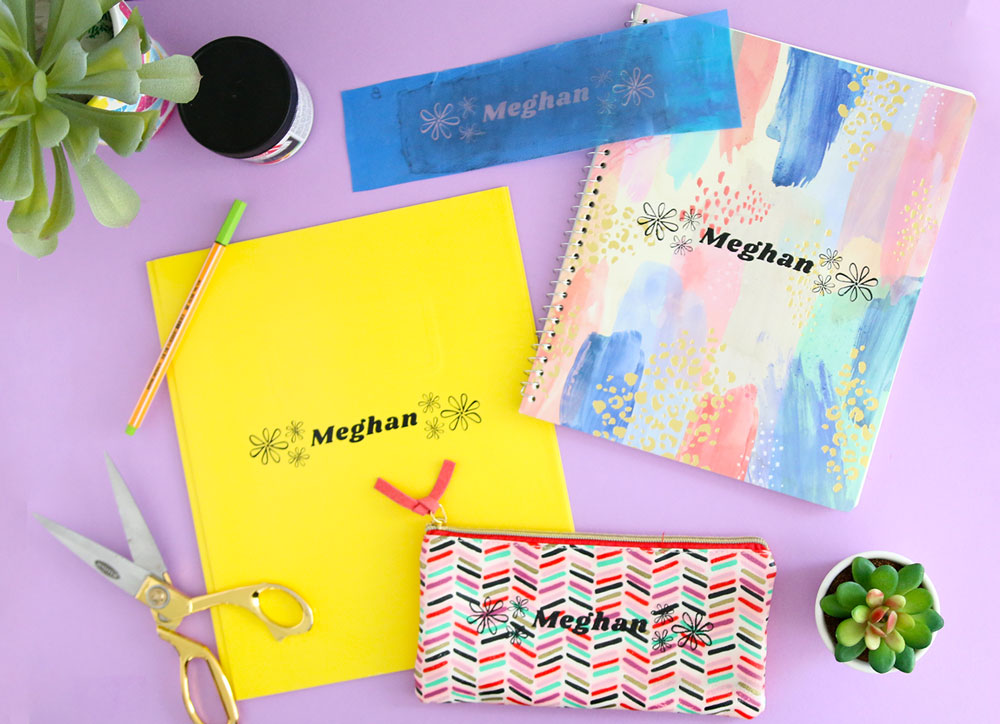 Now this is a MAJOR upgrade from the hand drawn last name that appeared on all of my school supplies growing up! With one simple name stencil, you can personalize any of your kiddo's gear, make it easier for them to keep track of and save time later when something is inevitably lost. As pictured above, a name stencil is perfect for folders, notebooks, and pencil pouches, though uses like applying the name to your child's sports gear, band instrument case and/or field trip bag might be your secret weapon.
---
3. Back-To-School Shirts with Ikonart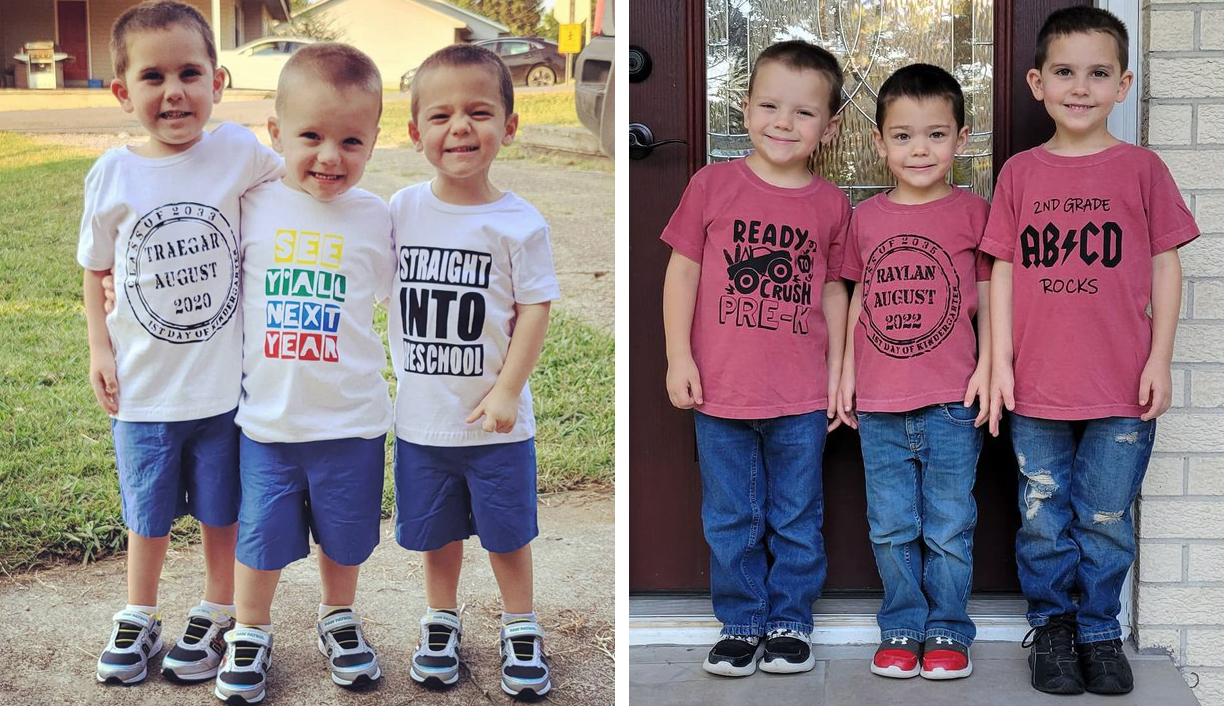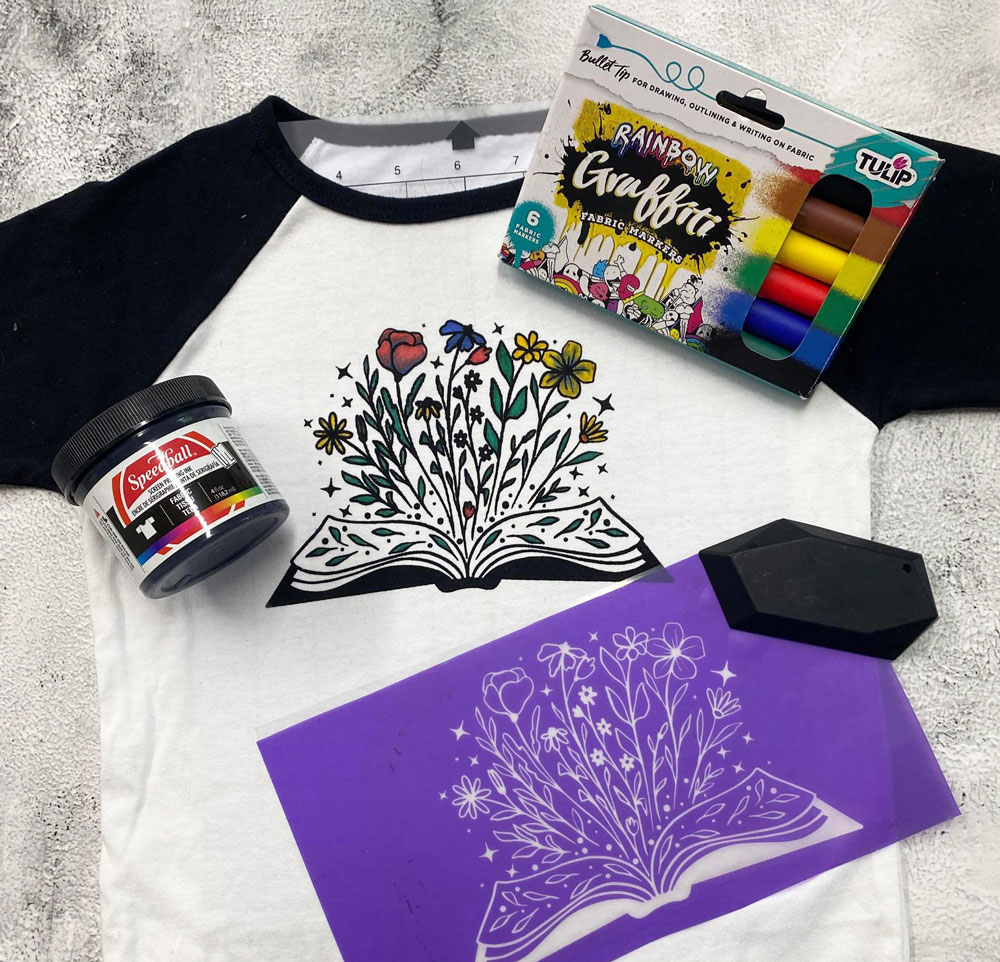 Back-to-school clothing and fashion are a huge part of school year preparation for many families. Make it easy on yourself this year with some plain tees in your child's favorite colors, and let them pick out a few designs that match their interests like Cassandra does for her three boys' custom school shirts each year (pictured above, top). Or have them color their own shirt for a one-of-a-kind design (pictured above, botttom). We screen printed this book flower tee live in the Ikonart Crafters Facebook Group using this Wildflower Book SVG from So Fontsy and our Textile Add-on Bundle, then we used Tulip Rainbow Graffiti Fabric Markers to color in the design. Just another way to make this project interactive, custom and fun for any age!
---
4. Custom Journals with Ikonart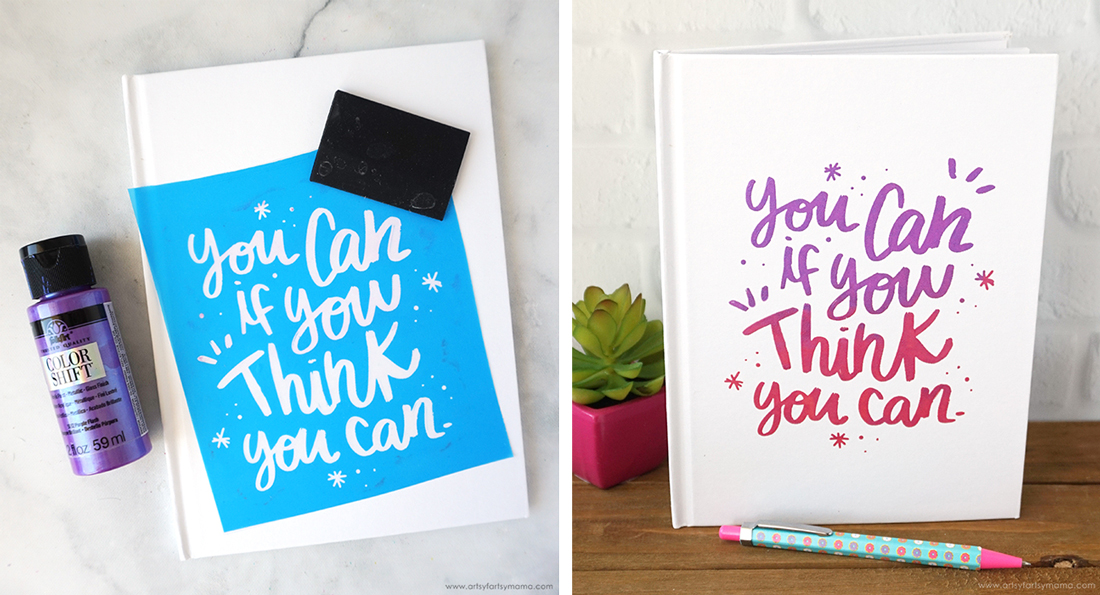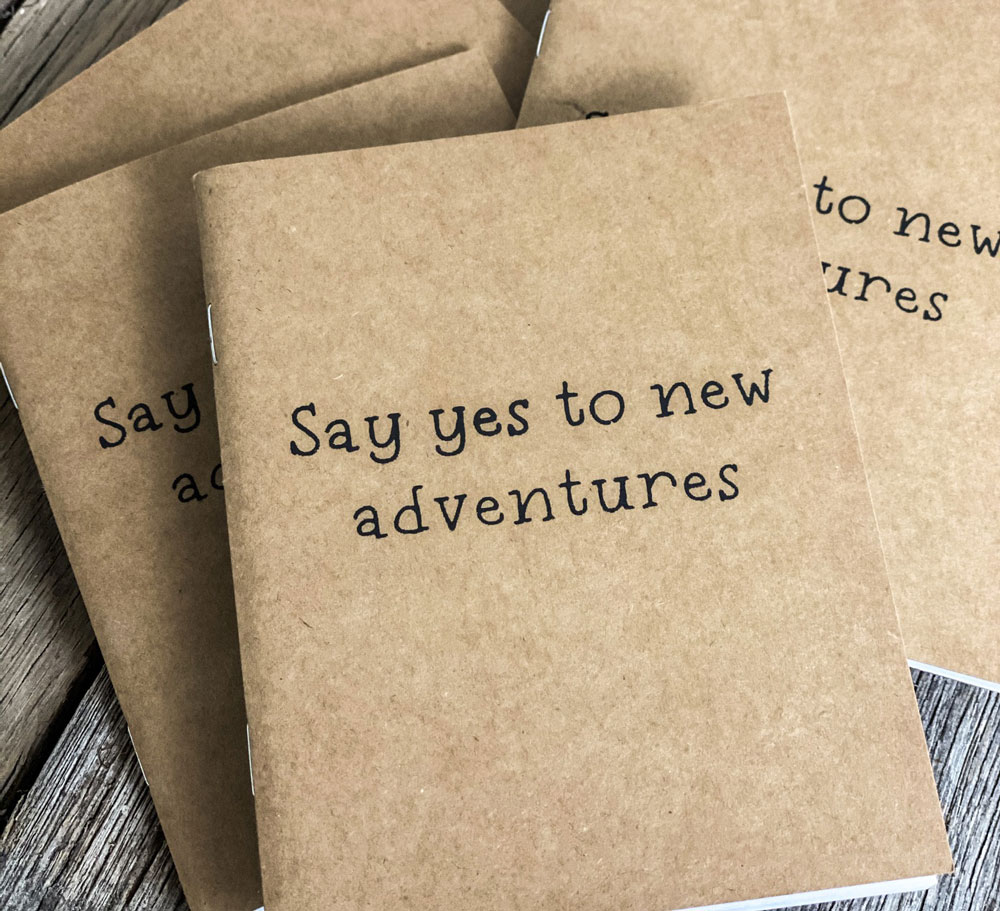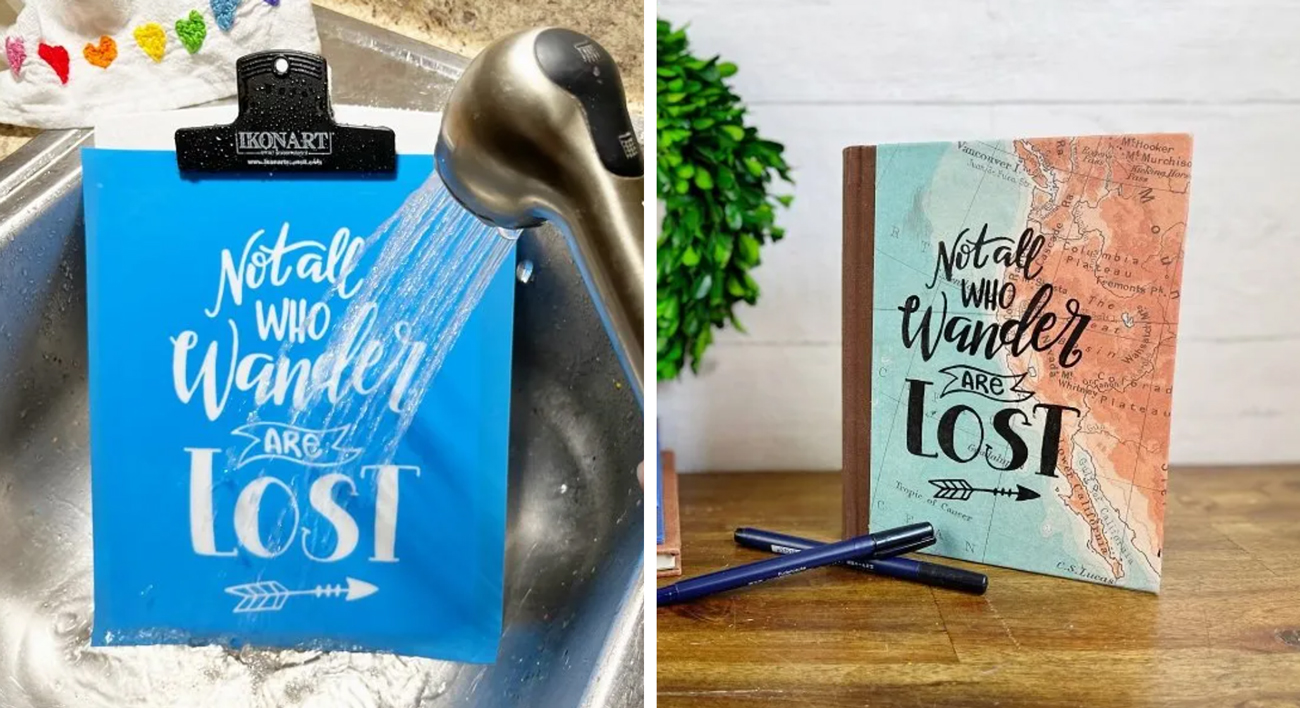 Notebooks and journals are a big part of going back to school for all ages. Customize a hard cover journal like Lindsay with Artsy Fartsy Mama did (pictured above, top) or add your favorite quote to a kraft paper journal (pictured above, center). Or take it one step further by adding your design to a map or scrapbook background and decoupage it onto a journal cover like Beth did for this custom Not All Who Wander Are Lost journal (pictured above, bottom). Any of these options would be great to customize for yourself, a friend group, field trip, birthday party or classroom event.
---
5. Custom Backpack or Bookbag with Ikonart

Custom backpacks and bookbags are just one more way you can ensure your kids are excited to return to the classroom. You can also make a back-to-school gift for your teacher using one of the designs from the Ikonart Design Shop on So Fontsy (pictured above, right). Just like custom t-shirts, blank bags are often much less pricey than those with trendy designs already printed on. Create a stencil with your child's favorite character or current obsession and make their day with a custom backpack like the Barbie backpack that Elissa made (pictured above, center) or tie dye a bookbag and screen print one of their favorite designs over the top like Amy did for this Soul Seeking tie dyed bookbag (pictured above, left). They'll be so excited to show it off to their classmates!
Note: Keep in mind, any and all trademarked designs or logos cannot be sold unless you own/have purchased the rights to use said design. Please be cautious when creating projects with brand names and/or classic characters, and be sure to do your research to ensure legal safety and avoid any copyright/trademark infringement.
---
6. Personalized Zipper Pouch with Ikonart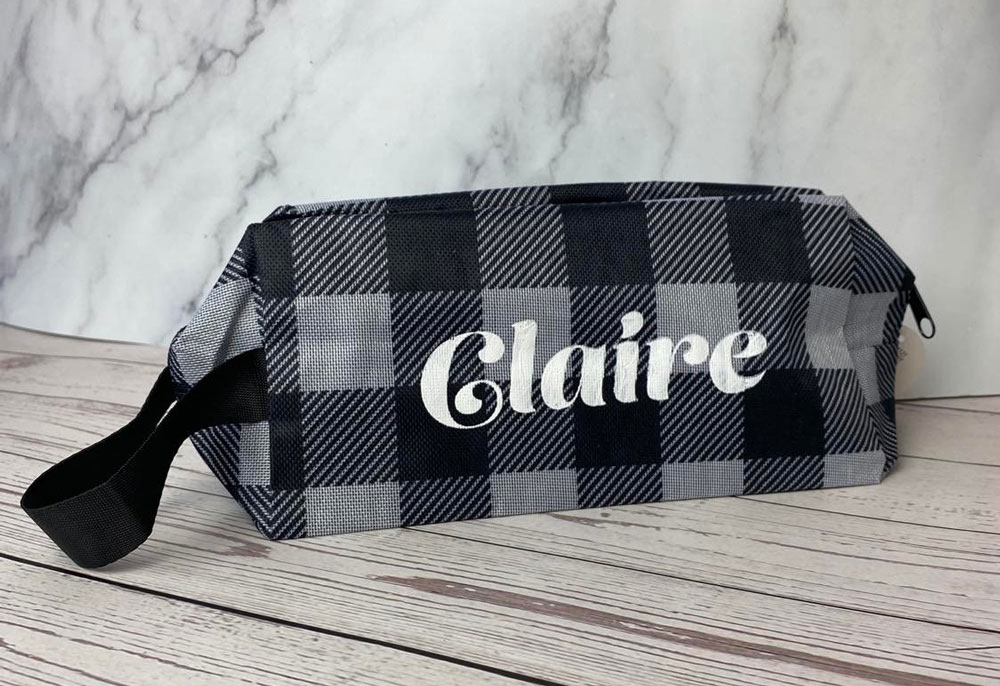 Just because they've grown up, doesn't mean they're any better and keeping track of their things! This personalized zipper pouch is another example of a simple name stencil using a fun font screen printed on a small polyester zipper pouch, the same material commonly used for basic backpack, lunch box and sports bag styles. This is a very versatile custom pouch that can be used in a variety of ways. Here are just a few possibilities:
pencil pouch
toiletry bag for sleepovers/vacations
feminine product bag
first aide
emergency car kit
storage for earbuds and chargers
snack bag
masks and hand sanitizer
---
7. Sports Team or Club Shirts with Ikonart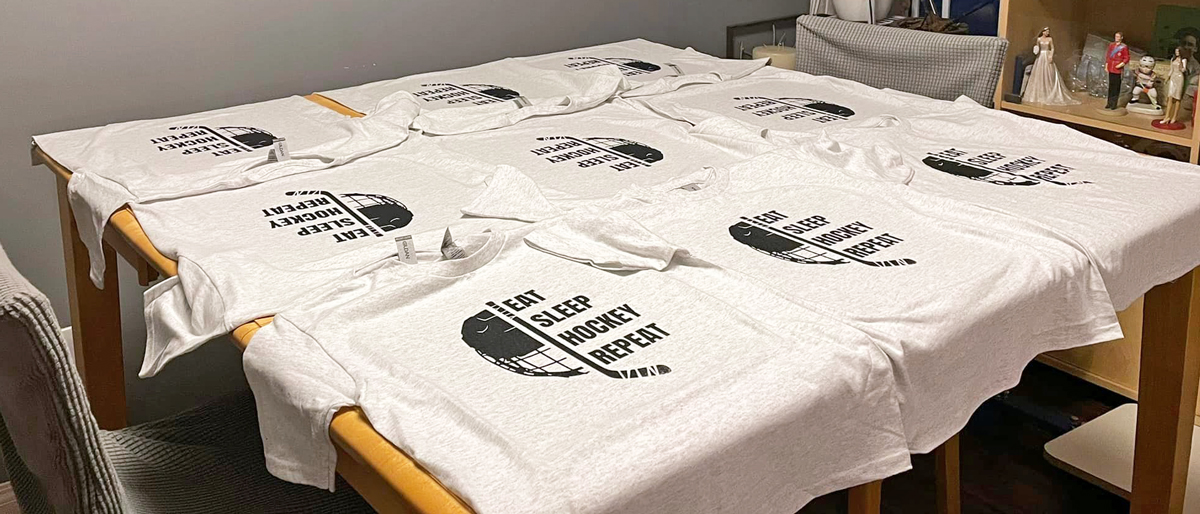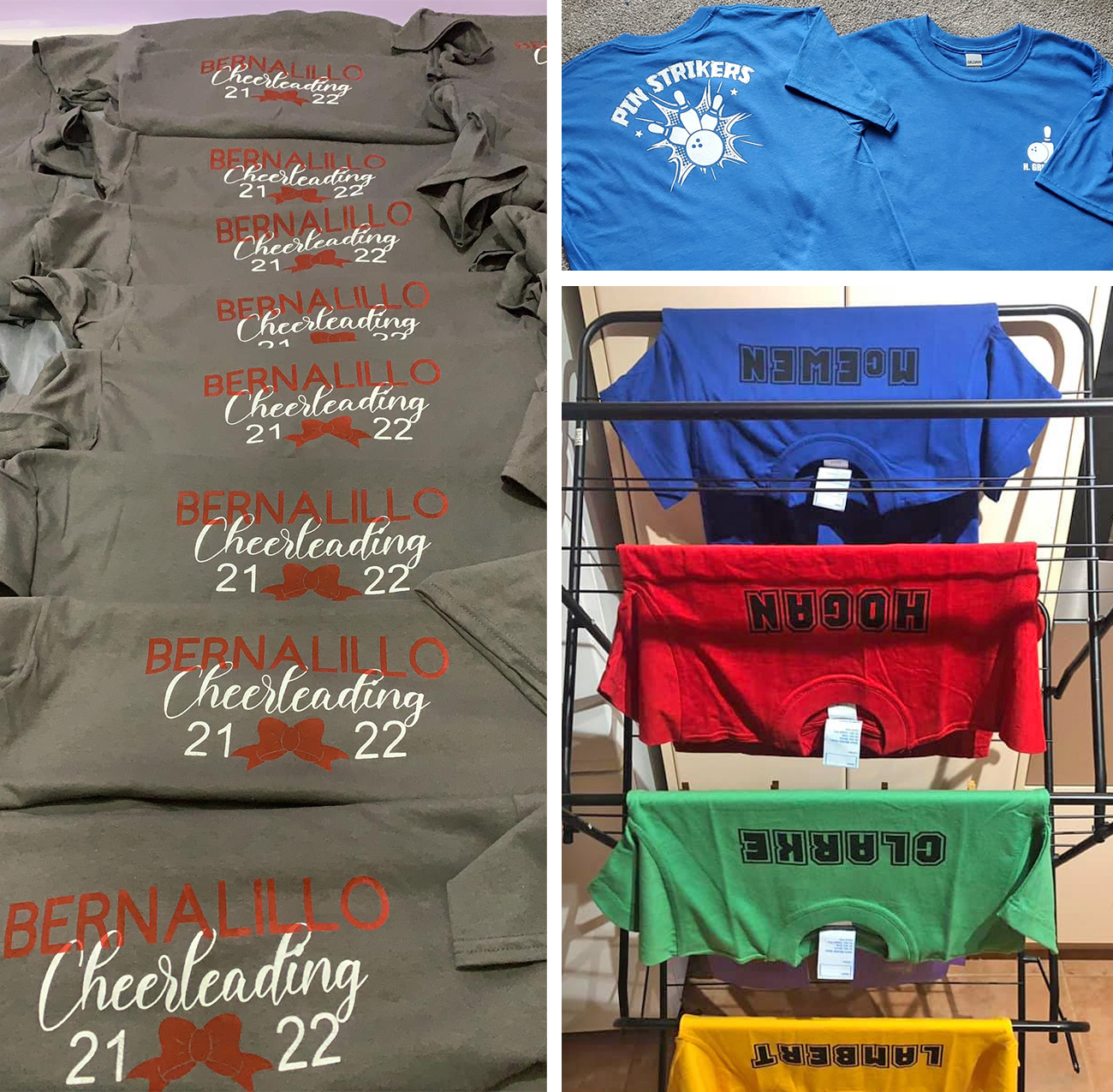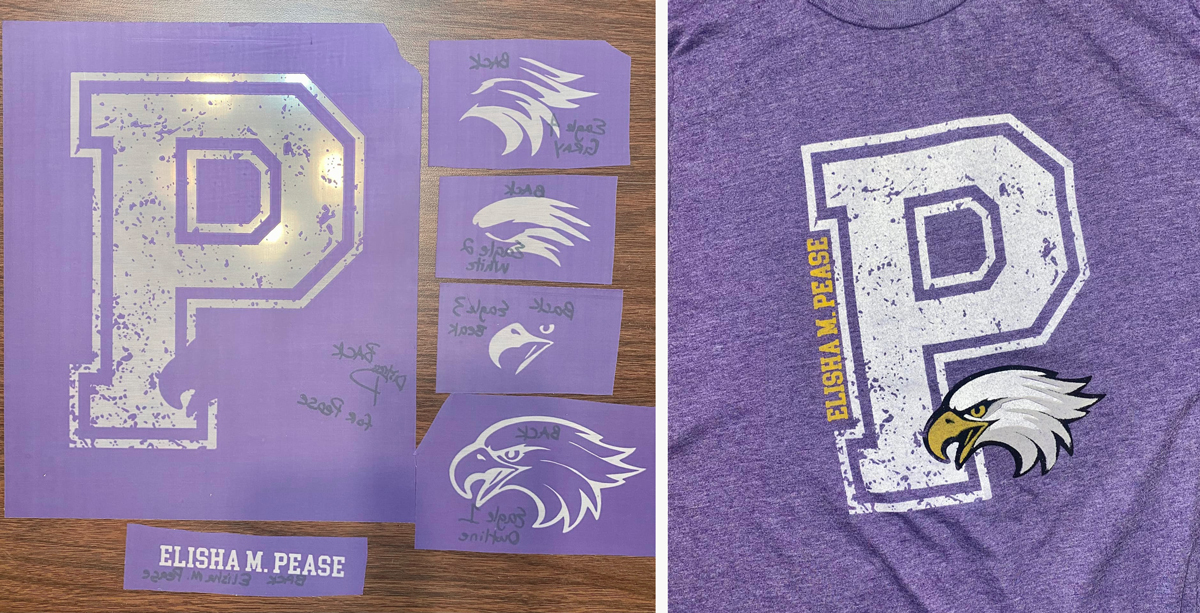 The reusable quality of Ikonart stencils make them perfect for creating custom apparel for your child's whole sports team or after school club. The projects above are just a few examples that were shared in the Ikonart Crafters Facebook Group, but you can apply the same concept to any sports team, school club, or event. Create custom shirts to promote specific school or team events, upcoming tournaments, or fan shirts for other parents and families. Check out the individual projects using the links below.
---
8. Custom Class Mementos with Ikonart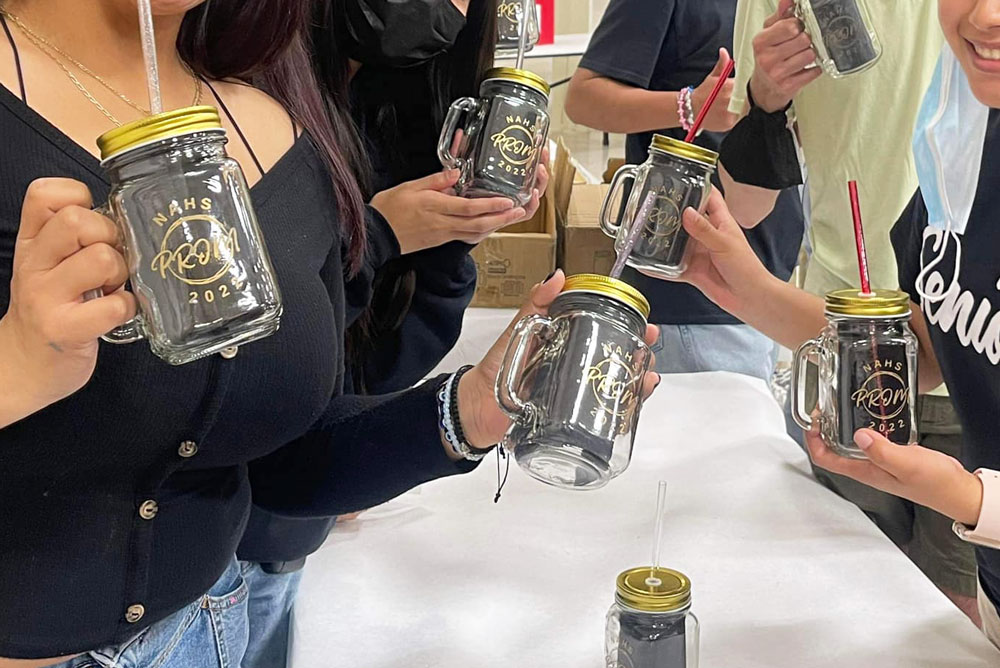 Make sure your kids remember those special grade school moments! In similar fashion to the previous project example, use your Ikonart stencils to create custom goodies and mementos for events like school dances, fundraisers, sports tournaments, or celebratory milestones. Extra tip: look for bulk-pricing on blanks if you plan to make enough for everyone! These fabulous etched glass prom jars pictured above were etched using Ikonart and Etchall Etching Crème for a high school's prom night. So fun!
---
9. Personalized Floral Pot for Teachers with Ikonart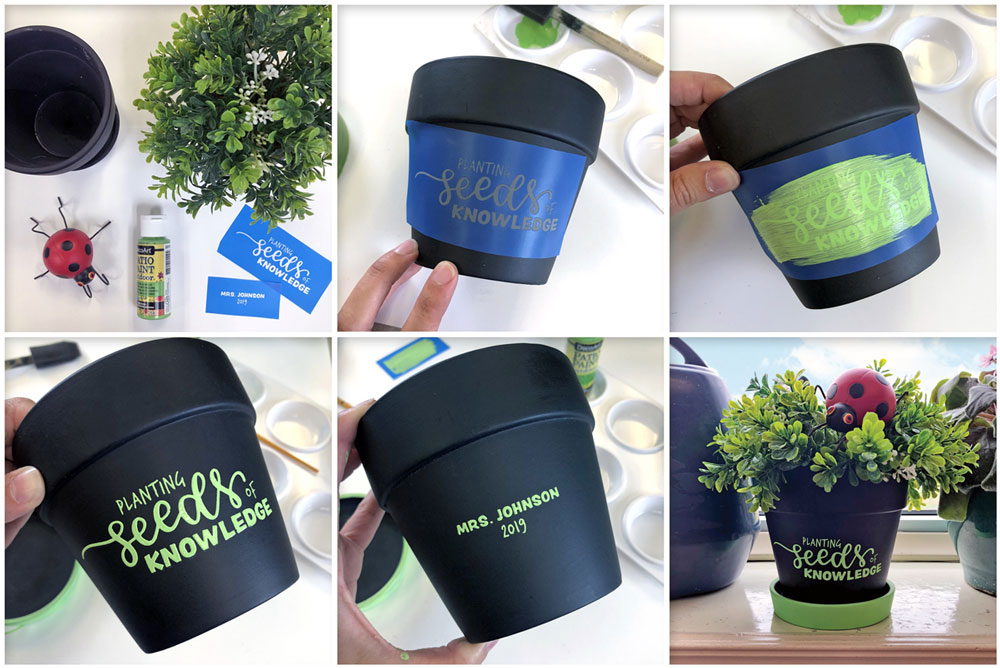 Not all back-to-school prep is for the kids! Those teachers need some love as well. The past few years our teachers have gone through so much as they continue to inspire their students to learn and grow everyday. Show them some love with a thoughtful gift like this personalized teacher planter pictured above. For this teacher gift we used some faux greenery, but you could totally swap that out for a live plant or fill it with other goodies and leave it's long-term contents up to the teacher's discretion. Want to make your own? Download this free Planting Seeds of Knowledge SVG from our Free Artwork page.
---
10. Custom Teacher Sign for Desk or Door with Ikonart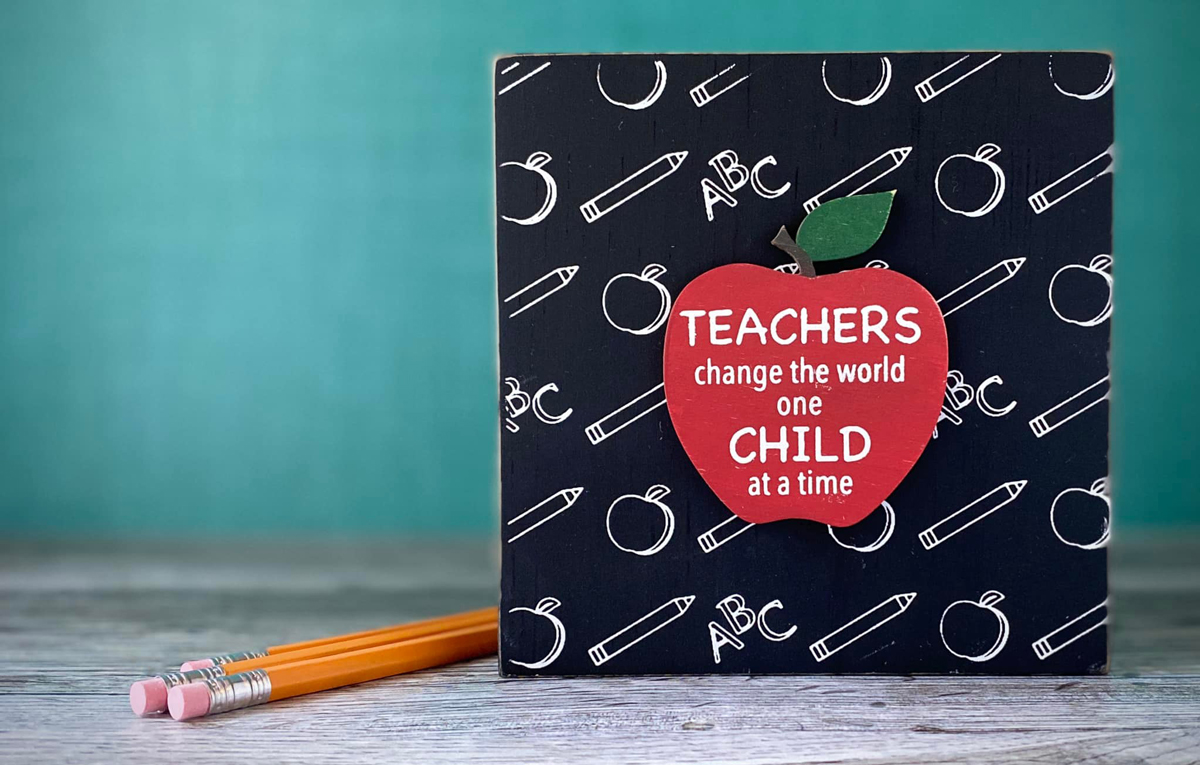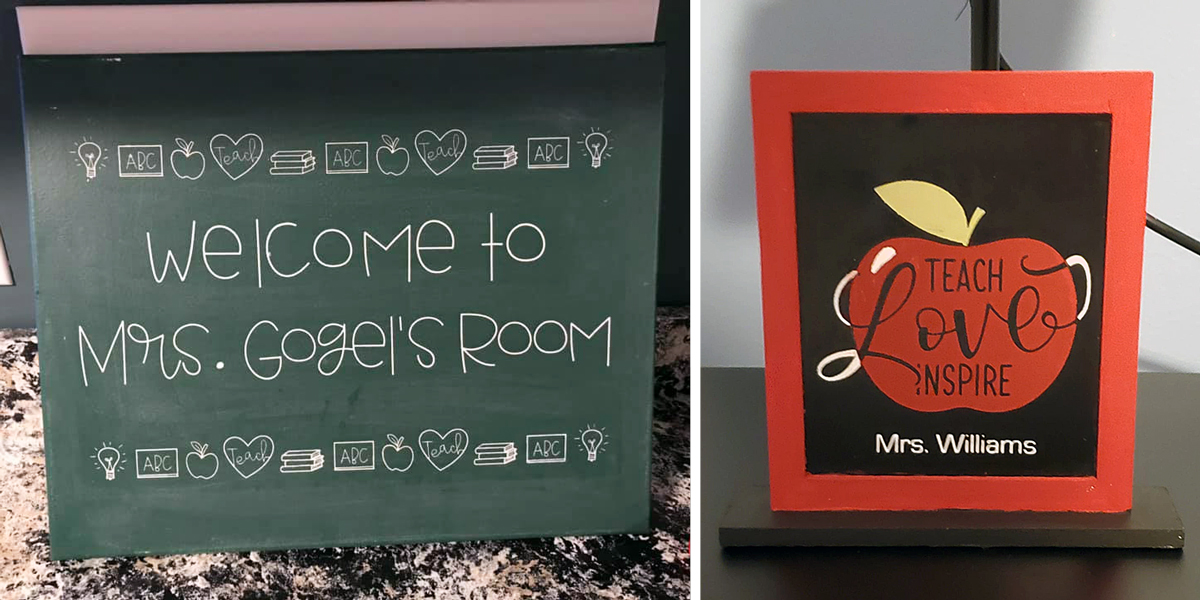 Whether you yourself are a teacher who wants to spruce up your classroom a bit or you are a parent who wants to give your teacher a back-to-school teacher appreciation gift, a custom teacher door sign (pictured above, bottom left), personalized teacher desk sign (pictured above, bottom right) with their name or a layered teacher desk sign (pictured above, top) is a great option. Thank you to all the teachers out there giving 1,000% every day!
---
We hope this series of projects sparks some inspiration as your kids get ready to go back to school. If you create any back-to-school projects please share them in our Facebook group or tag @ikonartstencil on Instagram.
Still need more back-to-school ideas? Follow along with other Ikonartists in our Ikonart Crafters Facebook Group for more ideas, troubleshooting help, and encouragement from the Ikonart Crafters community. If you have any questions about our Ikonart Stencil Films or the Ikonart Custom Stencil Kit please contact us.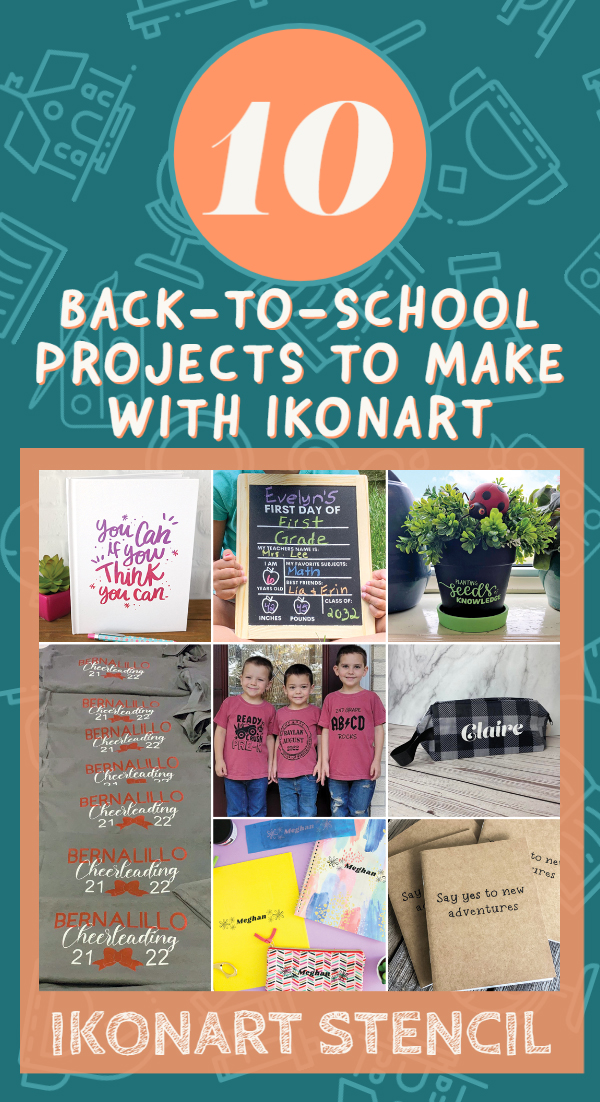 ---