When you want to tell your dad you appreciate him, do it with a handmade gift! With the Ikonart Custom Stencil Kit you can make a high quality DIY Father's Day gift that will make your dad feel like the hero that he is.
We've collected eleven of our favorite Ikonart gift ideas from our Ikonart Crafters Facebook Group to inspire you to make the perfect handmade Father's Day present. Whether you are making a last minute Father's Day gift or you gave yourself a little more time, there is an idea on this list for everyone.
---
11 Father's Day Gifts You Can Make With Ikonart
Create a thoughtful handmade gift to show your dad how much you appreciate all that he does for you. Most of these Ikonart project ideas can be made in less than an hour, so they are perfect for last minute Father's Day gifts. If you make one of these please post it in our Facebook group so we can see it!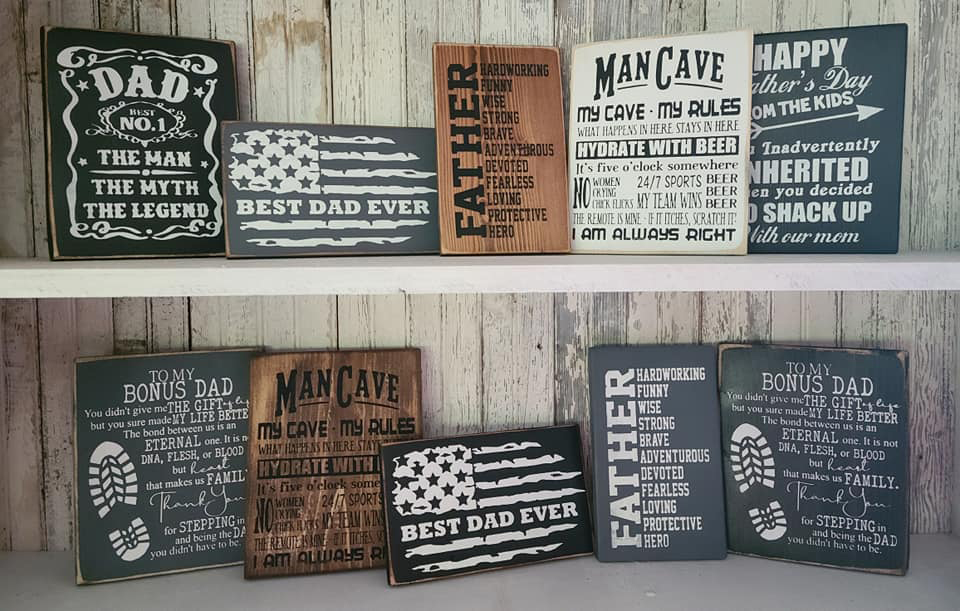 1. DIY Man Cave Signs for Father's Day
Does the dad in your life have a space he likes to call his own? Whether it's a basement, the garage, a bonus room, patio, or outdoor bar, a Man Cave sign is the perfect addition. Show your Dad some love with a custom man cave sign like the ones above that Julie made using Ikonart. If you haven't made wood signs before, check out our Tips For Creating Wood Signs With Ikonart blog post.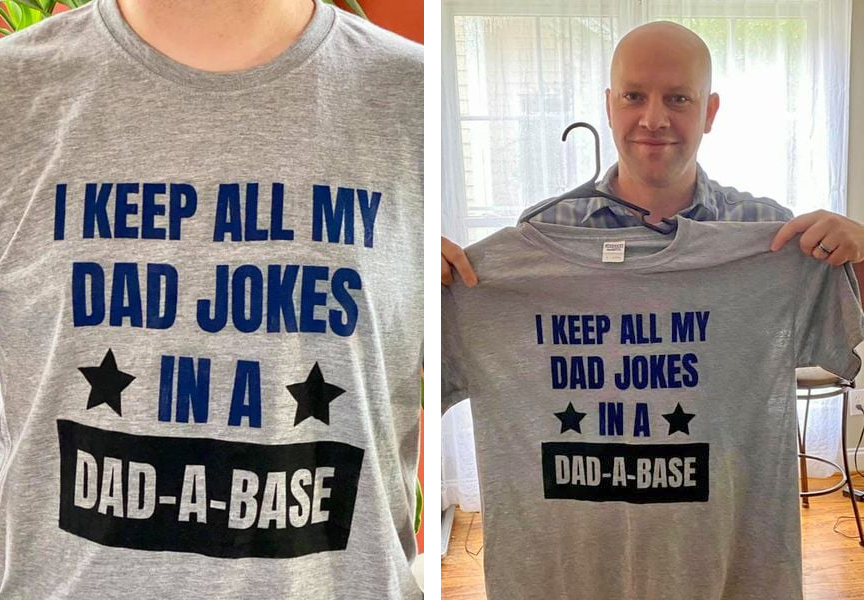 2. Custom Dad Joke Shirt
If you ask me, dad jokes are the BEST jokes, and as I like to say when I hear something funny, "Put it on a t-shirt!" Use the Ikonart Textile Add-on Bundle to easily add one of your dad's best dad jokes on a t-shirt like Sarah (above) for a custom Father's Day gift that is sure to make him smile. If dad jokes aren't your dad's cup of tea, you could add his face to a shirt instead. :)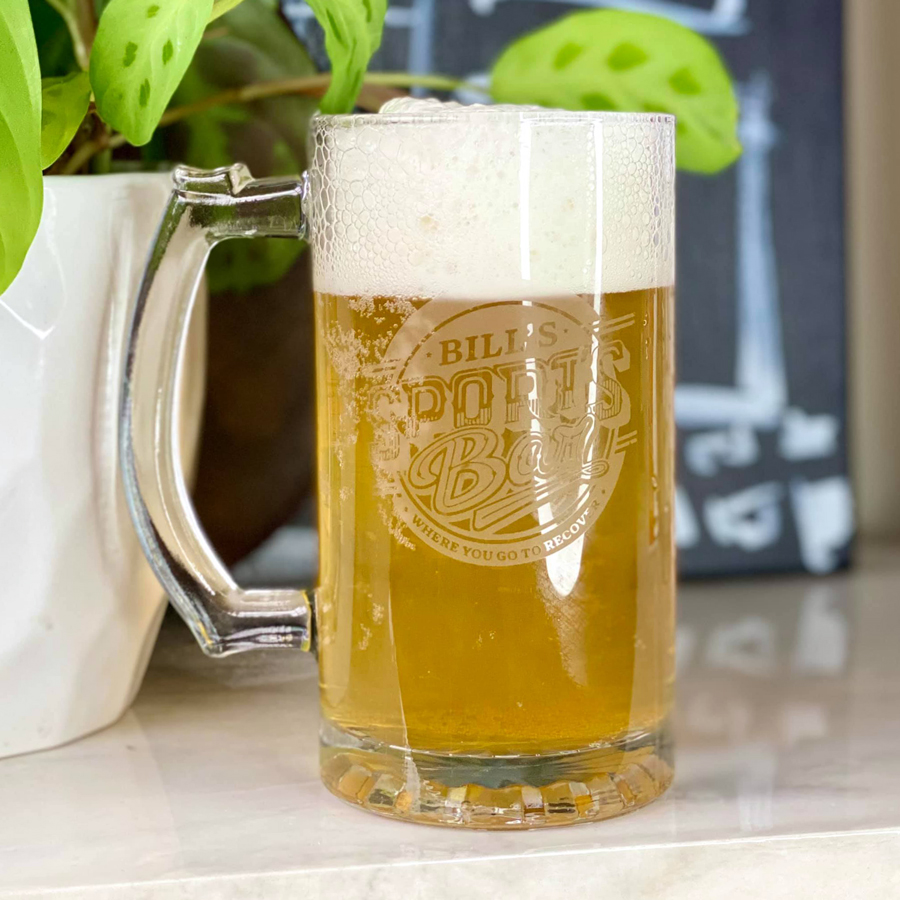 3. Etched Beer Mug for Dad
Etching glass mugs with Etchall Etching Crème is one of those Ikonart crafts that is really easy and ends up looking like it cost a lot more than it did. Make your dad a custom etched beer mug like the one above with his name on it, or make a custom set for his man cave or bar.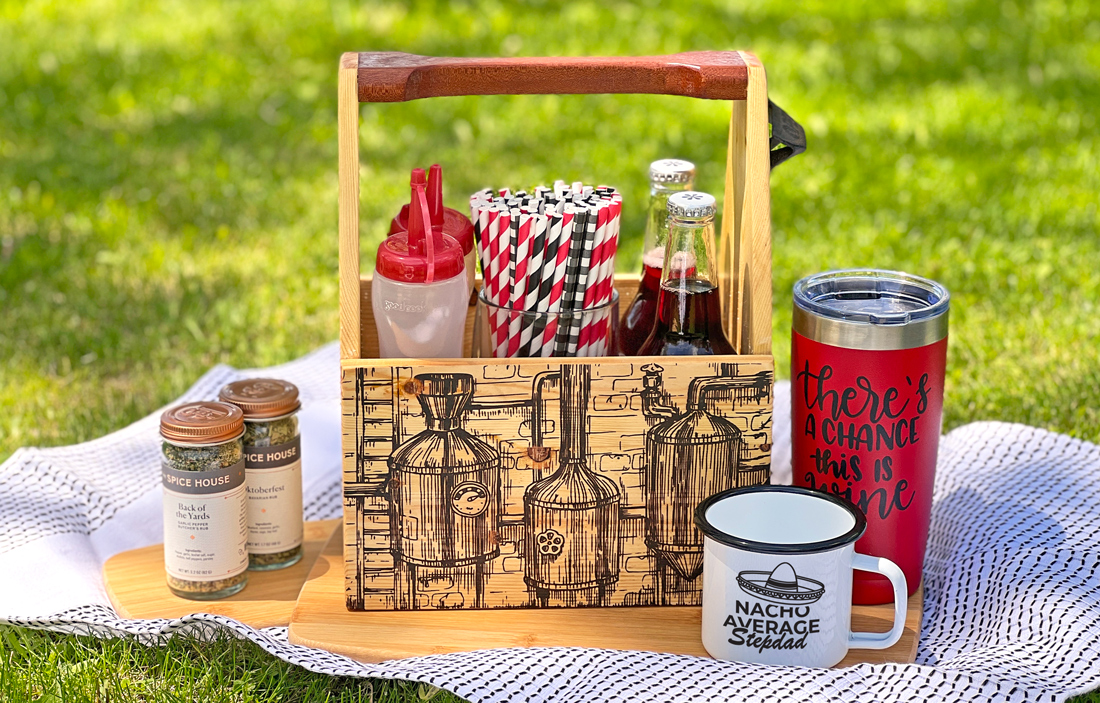 4. Six Pack Wood Caddy
A wood caddy makes for the ultimate gift basket for dads who love to barbecue. Fill it with a six pack of beer or soda, or make a mini gift basket by adding things like BBQ seasoning, BBQ sauce, and a personalized branding iron. Another great idea for an easy Father's Day gift basket is to customize a small white Styrofoam cooler like Sarah did. Check out our YouTube channel for a step-by-step tutorial on how to build the custom wood caddy pictured above and then wood burn it using Torch Paste.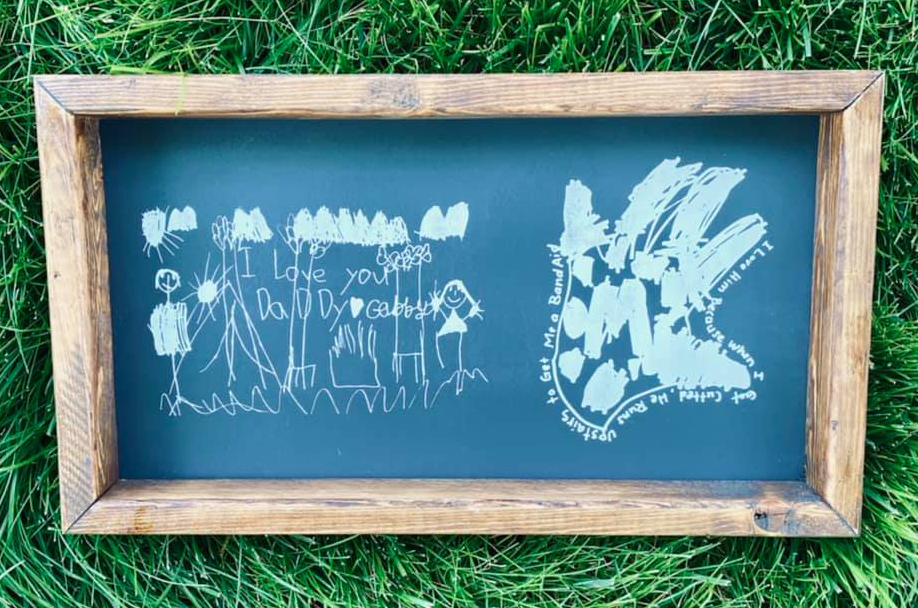 5. Kids Artwork Sign
Melt your daddy's heart with personalized art. For the sign pictured above Raelynn first converted her kids' drawings into a stencil, then stenciled the designs onto a custom wood sign for a unique Father's Day gift that any daddy would love. Once you have the stencil made you could easily make a matching shirt or mug to complete the gift. HOT TIP: Have your kids draw directly on the clear printer film with a sharpie marker, then use that to make your stencil. No computer needed!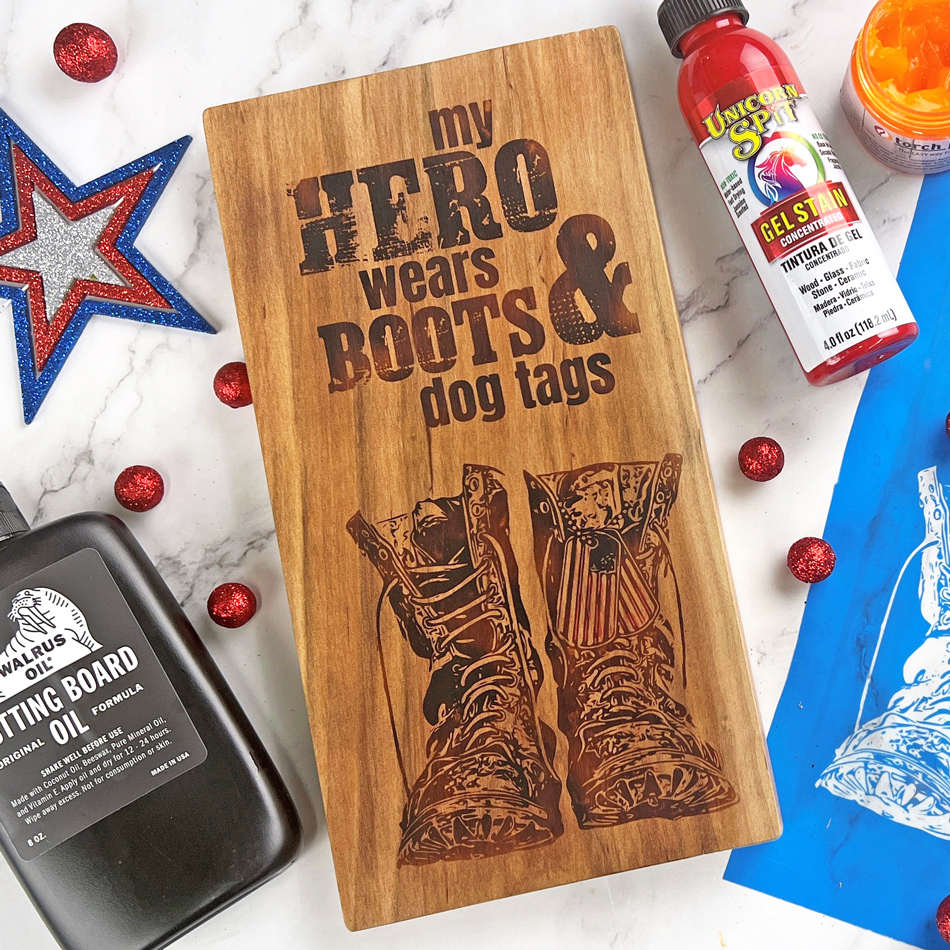 6. Custom Wood Burned Cutting Board for Dad
Is your dad a foodie dad? A custom wood burned cutting board makes a great gift! First wood burn your design with Torch Paste, then seal it with a food-safe oil. For the board pictured above we used our free My Hero Wears Boots SVG to make the custom wood burned cutting board. Another idea would be to add a favorite picture to a serving board.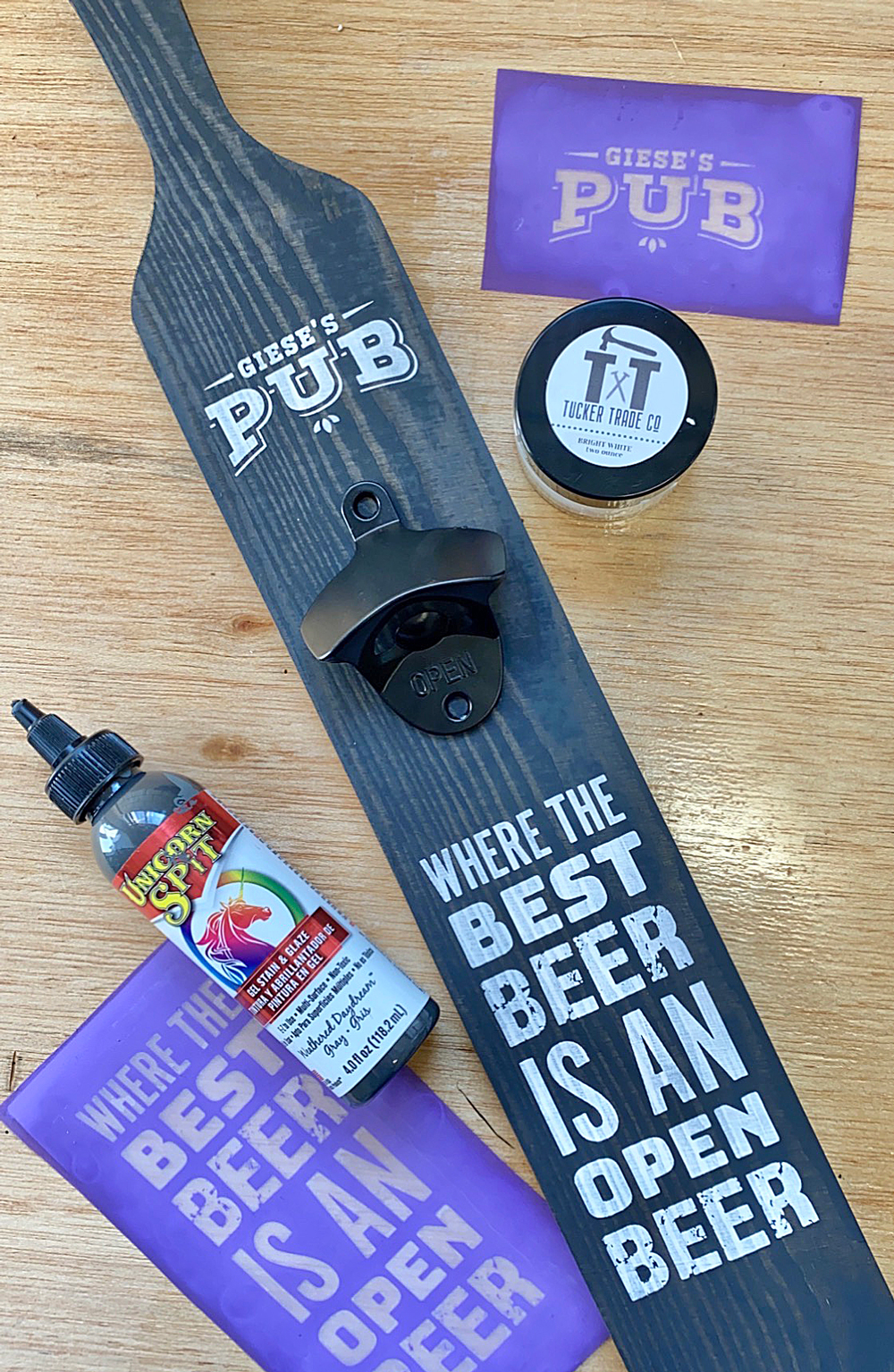 7. Beer Opener Paddle
A custom beer bottle opener is a super easy Father's Day gift to make using Ikonart. You can personalize it with your dad's name or last name, then add a quote that reminds you of your dad. I made the custom beer bottle opener paddle (pictured above) using Ikonart, Unicorn SP!T, and chalk paste for my dad a few years ago and he loved it! Bonus: make your own chalk paste using Coco's Chalky Powder for endless color possibilities.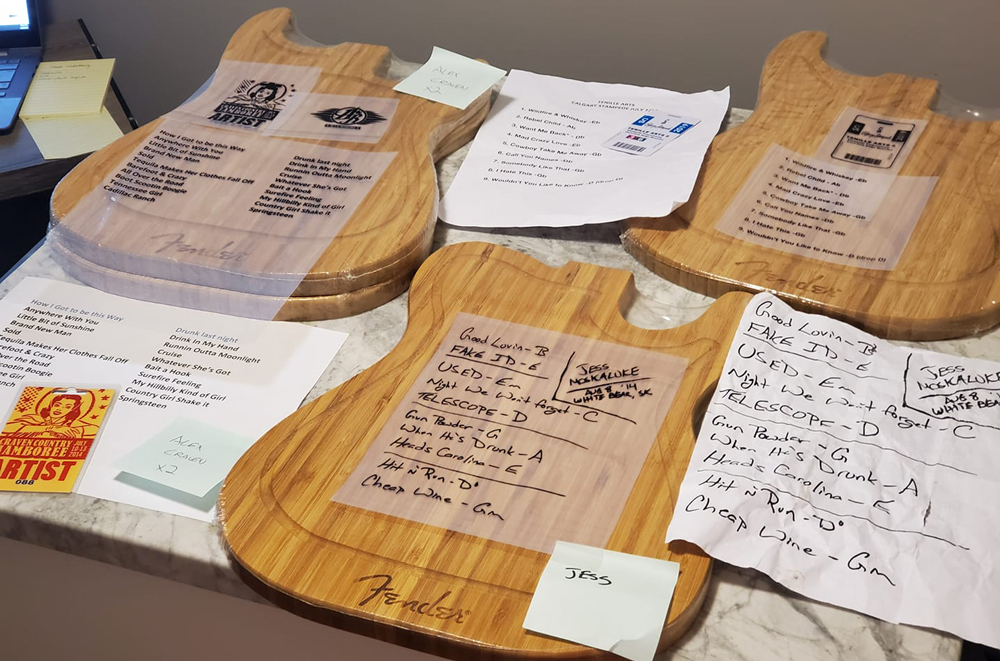 8. Unique Father's Day Gift For Music Lovers
If your dad is a music lover this is a really cool and unique Father's Day gift that he is sure to cherish. Turn his favorite set list into a stencil and then add it to a piece of wood that is shaped like a guitar like Candace did in the photo above. You could also stencil on lyrics, sheet music, a band poster, musician's face, or band logo. Love this unique idea!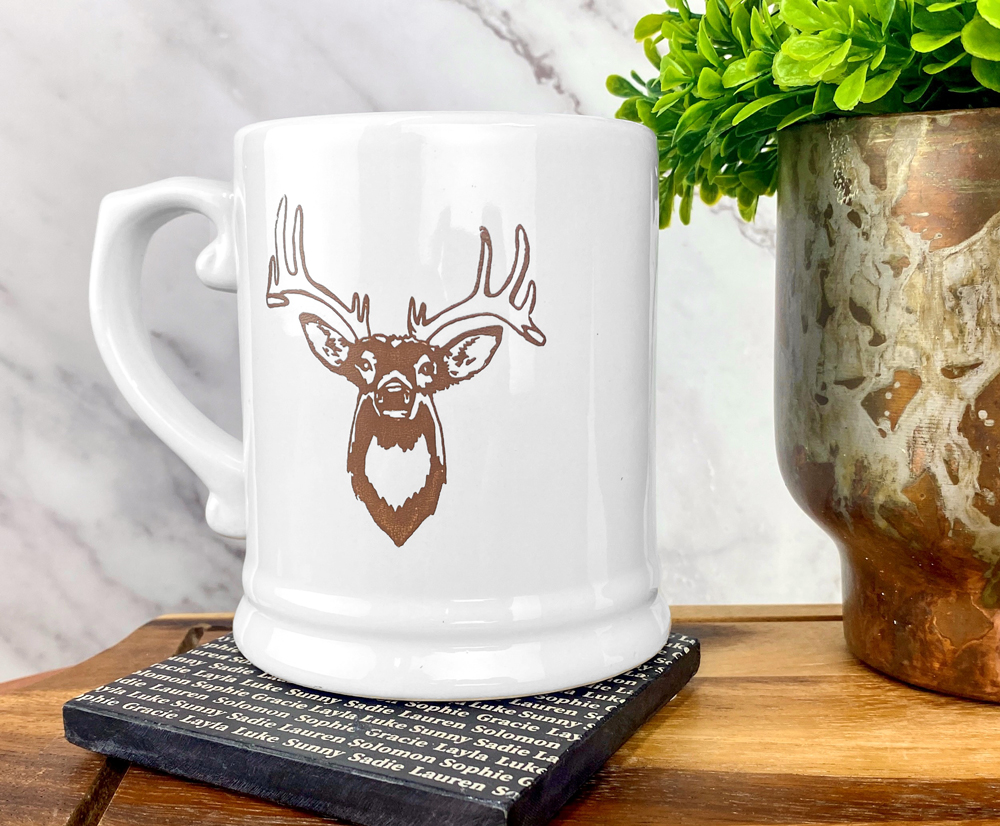 9. Custom Father's Day Ceramic Mug
You can add all sorts of fun designs to ceramic mugs using Ikonart and DecoArt Multi-Surface Paints. Once you bake the mug in the oven the paint cures and the mug is top-rack dishwasher safe. For the coffee mug pictured above Claire drew a picture of a deer that her dad has mounted and then converted her hand drawing into a stencil for a truly one-of-a-kind personalized gift. Pair it with a custom coaster to complete the Father's Day gift. You can download this free deer SVG on our Free Artwork page.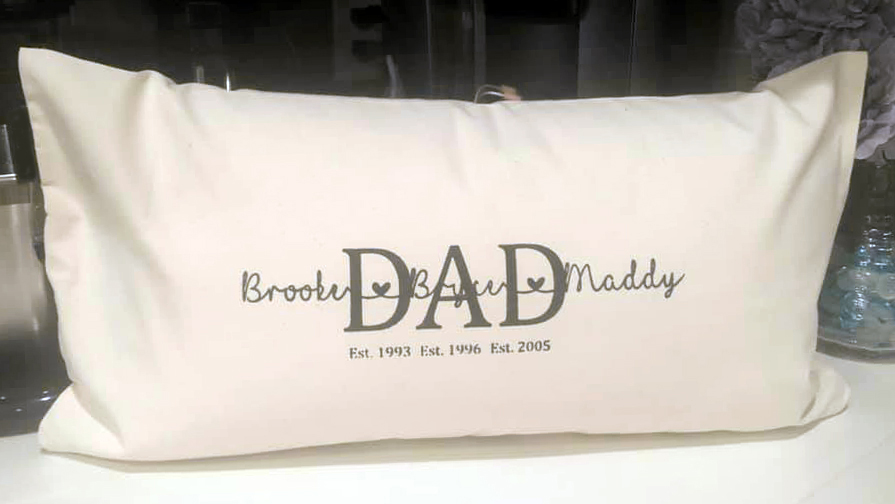 10. Custom Dad Pillow
If you want to combine your Father's Day gift with a little home decor a custom dad throw pillow like the one pictured above that Penny screen printed using Ikonart would make a cute gift. If you're not sure how to create artwork like this check out our YouTube video on how to connect names with hearts.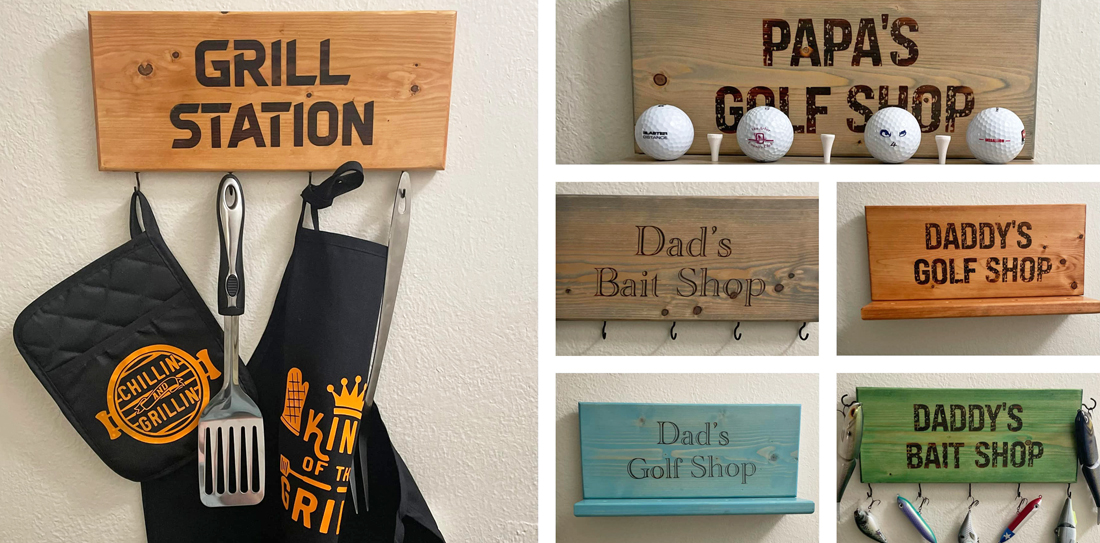 11. Grill, Golf & Fishing Wood Hook Signs for Father's Day
No matter what your Dad is into - grilling, golfing, fishing, a certain sports team, hunting, or anything in between - a custom wood hook sign or shelf is the perfect spot to gather his favorite items. The custom wood hook signs pictured above were made Amber using a combination of Unicorn SP!T Gel Stain and Torch Paste.
---
These are just a few of our favorite Father's Day gift ideas to make with Ikonart, but there are plenty more inspirational projects in our Ikonart Crafters Facebook Group so join us there as well for more handy dandy craft project ideas. If you have any questions about our Ikonart Stencil Films or the Ikonart Custom Stencil Kit, please contact us.