It has been a little over a year since we last highlighted some of our amazing crafters and all the unique ways they use the Ikonart Custom Stencil Kit to create one-of-a-kind projects. We have an amazing group of crafters showcasing Ikonart around the web on their blogs, so we wanted to return the love and showcase them on our blog as well.
In this post we will dive into 8 crafters and the wonderful things they've created. Many of the posts also contain discount codes, so keep your eyes out for those as well.
---

Ikonart Stencils on Clay
Sharon Clayton of Clayton Pottery shares her experience switching from weeding vinyl cuts to using our Ikonart Custom Stencil Kit for custom stenciled pottery. Sharon uses underglazes and a screen printing medium with our stencil film to create custom pottery pieces. She also mentions how one experimental pottery piece brought in several orders of business for her.
Read the full blog post for more details from Sharon.
---

Using Ikonart to Wood Burn Ornaments
Melissa Viscount is the blogger behind Silhouette School blog, the creator of Silhouette U, and the author of 10 books on the Silhouette cutting machines. Melissa partnered with So Fontsy to create these adorable wood burned holiday ornaments using Torch Paste and her Ikonart Custom Stencil Kit.
Read the full blog post to learn just how she made them.
---

How To Use Ikonart for a Porch Leaner Sign
Angie Chavez is the author of the blog Knick of Time. In this blog post she reflects on some past welcome signs she has made using the Ikonart Kit, and also takes you through the exact steps to create a super cute gnome welcome sign. The post also includes links to the designs so you can make these signs too.
Read the full blog post to see Angie share her process.
---

Custom Holiday Decor with Ikonart
Tara of Spot of Tea Designs was able to create this playful Halloween sign using an Ikonart stencil that a friend made for her. Tara shares her first experience using an Ikonart stencil and provides a free link to the design she created and used for this project.
Read the full blog post for more details on Tara's Halloween sign.
---

Add Your Logo to Wood Signs with Ikonart Stencils
Josh Woods, AKA The Stencil Dude, creates wooden sign art and also custom stencils using his Ikonart Custom Stencil Kit. In this post, Josh talks about adding his logo to the back of his signs using a custom stencil. He also links a YouTube video he made walking through his process for branding signs with Ikonart.
Read the full blog post for more details from Josh.
---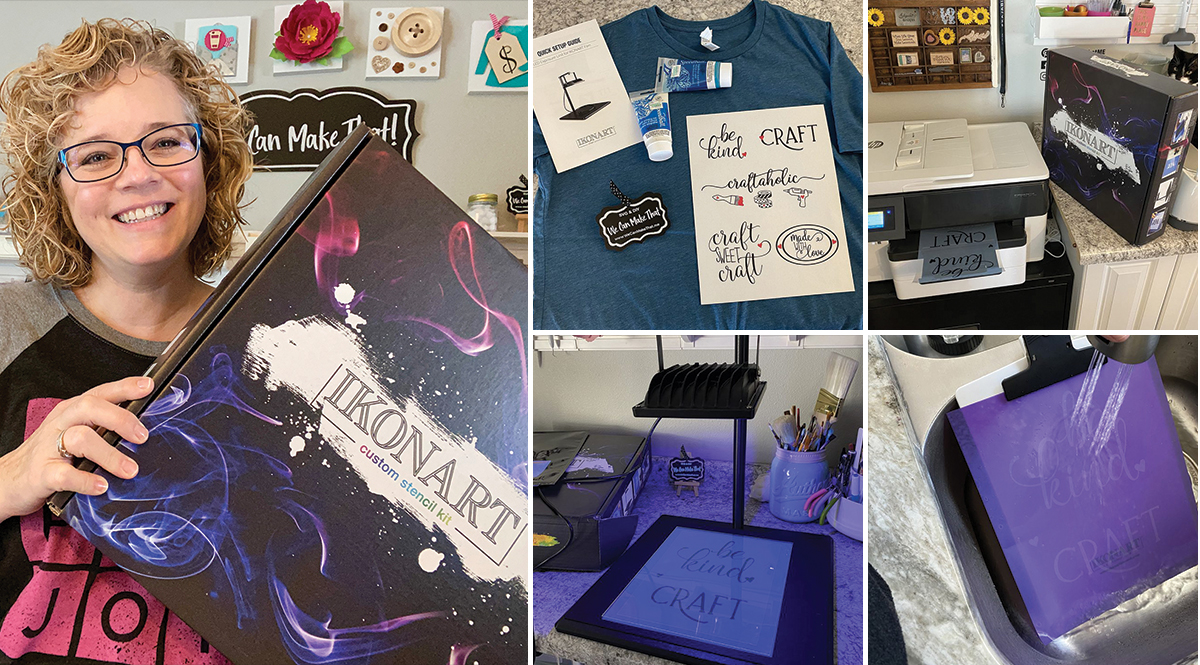 Easy Screen Printed Shirts with Ikonart
Chelly of the blog We Can Make That! goes in-depth on the steps of creating an Ikonart stencil for a screen printing project. Chelly explains some of the benefits of using the Ikonart Custom Stencil Kit for screen printing as opposed to vinyl.
Read the full blog post to see Chelly's process for creating her stencil.
---

Screen Printing Multiple Shirts with Silkscreen Stencils
In this screen printing tutorial from Jennifer Sanderson with Pigskins and Pigtails she shows exactly how to make matching family vacation shirts using Ikonart Textile Film. Jennifer walks you through everything from your initial set up of the Ikonart Custom Stencil Kit to making sure your shirt design lasts and doesn't fade.
Read the full blog post for Jennifer's detailed guide to screen printing with Ikonart.
---

Turn Scraps Into Art with Ikonart
Jan is a crafter and guest blogger on The Artistry, a craft blog by Creative Fabrica. Jan used her Ikonart Custom Stencil Kit to create these festive holiday tree decorations with some spare wood scraps and takes you through her entire process, from prepping the wood to painting the stencil.
Read the full blog post to see Jan share her process.
---
Starting out with your Ikonart Custom Kit can feel overwhelming at first, but it doesn't have to be. If you feel like you need additional support, our Ikonart Crafters Facebook Group is full of Ikonart crafters willing to help you out with suggestions and advice. You can also check out our Ikonart YouTube playlists for how-to videos, or follow Ikonart on Instagram or TikTok for project ideas.
If you have any additional questions about our Ikonart Stencil Films or the Ikonart Custom Stencil Kit, please contact Ikonart today.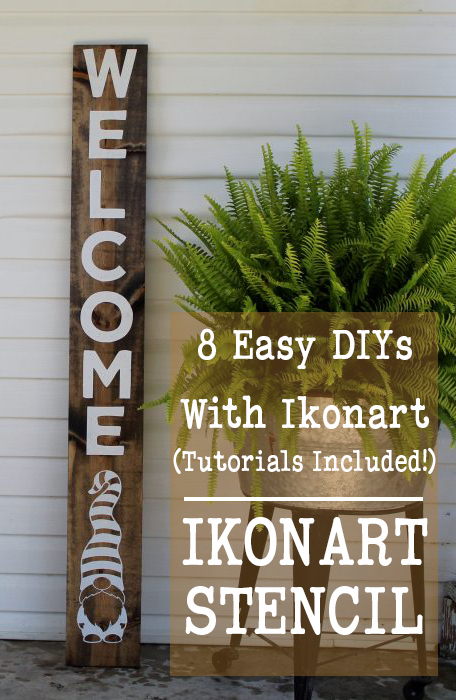 ---