Halloween is only a week away and if you are a master procrastinator like me you probably haven't put much thought into your costume yet. But just because you procrastinated doesn't mean your Halloween costume has to suffer. Dressing up in a group or as a matching couples costume can make it look like you put way more time and energy into your costume than you actually did.
When it comes to finding or making the right Halloween costume, you might be surprised with what you can come up with using materials stashed away in your closet or craft room. These thirteen simple group Halloween costumes and/or couple Halloween costumes only require a few supplies and you will look like you put way more thought into your costume than the five minutes it takes to make them.
Photo credits: All photos were taken from Pinterest unless otherwise noted.
---
13 Easy DIY Group Halloween Costumes to Make With Ikonart
If you feel like time is running out to find the perfect Halloween costume, then it's probably time to DIY your Halloween costume instead. All thirteen of these easy last minute DIY group Halloween costumes can be made with just a tshirt and your Ikonart Custom Stencil Kit. It's almost scary how easy they are!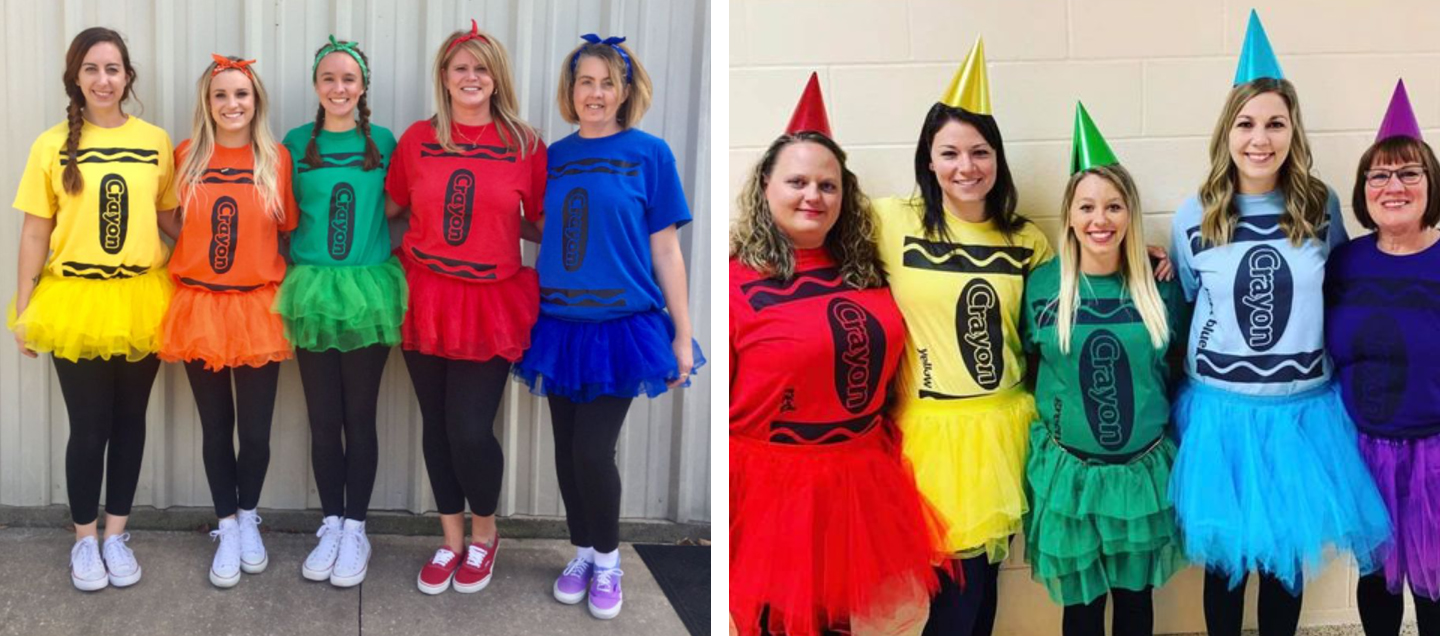 1. Box of Crayons Group Costume
Let's start off with a few costume ideas that require just one Ikonart stencil and a few different colored shirts, like this super easy Box of Crayons group costume. You can get the Crayon SVG from Etsy or create your own, and then screen print your DIY crayon shirts using the Ikonart Custom Stencil Kit. Bonus points for the skirts and pointy hats!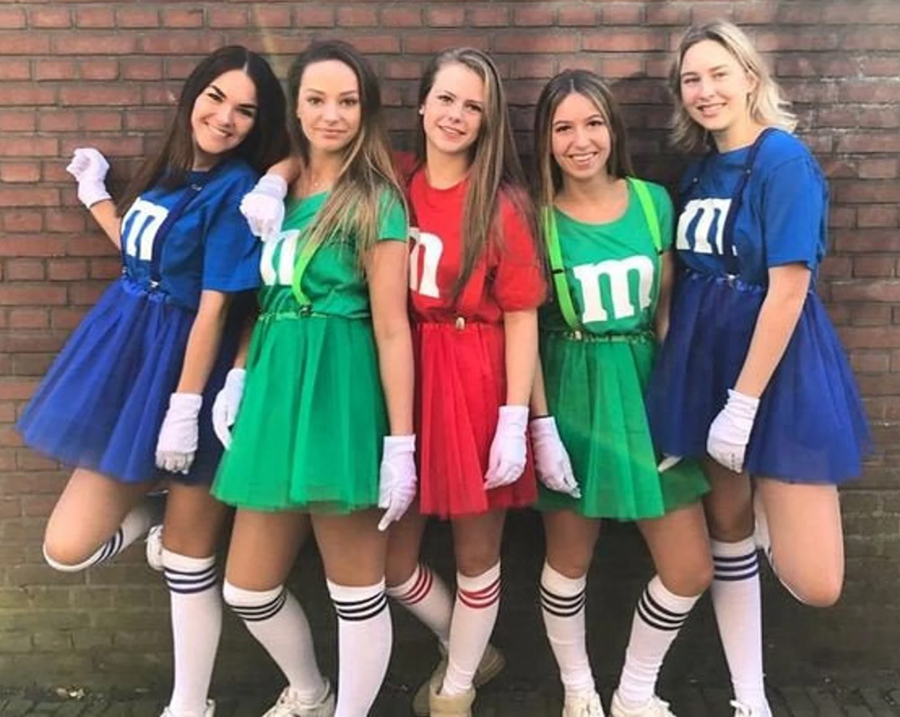 2. m&m's Group Costume
This m&m's group costume is not only super easy to pull together last minute, but it also has the added benefit of only requiring one Ikonart stencil. Use a slab serif font like Typo Slab Bold to make the "m" and then screen print all the shirts with just the one stencil. So easy!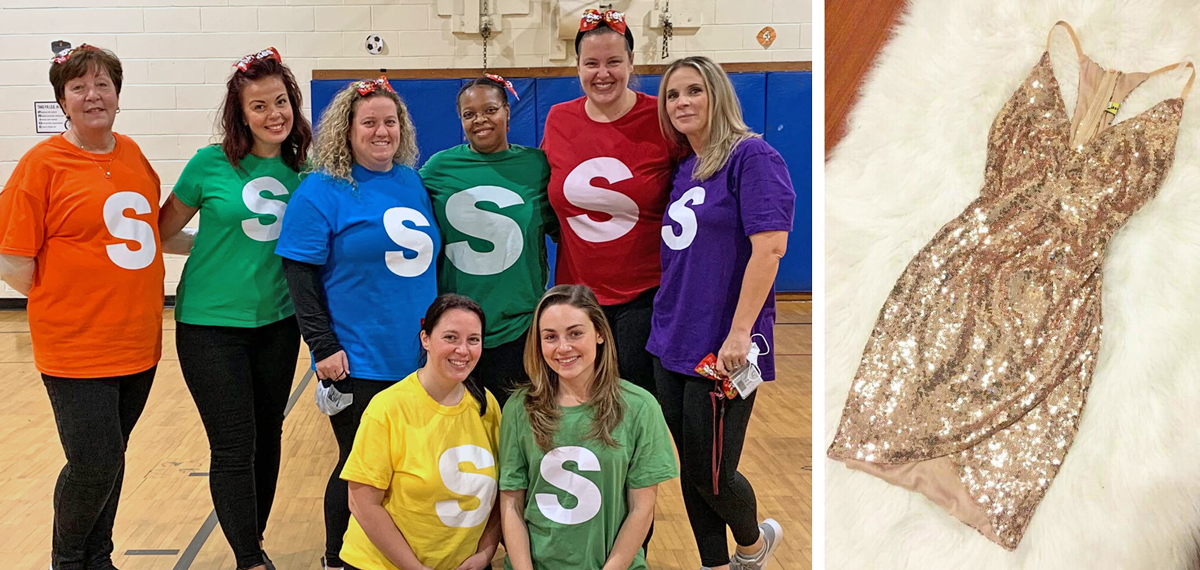 3. Skittles Group Costume
Similar to the m&m's group costume, this Skittles group costume would be another super easy Halloween costume to whip together at the last minute, and again you would only need one stencil. Just get some shirts in all the colors of the rainbow and make your Ikonart stencil. You can use a screen printing frame to make screen printing multiple shirts in a row easier, but it's not required. If someone in your group already owns as gold sparkly dress or skirt you could also add a pot of gold at the end of the rainbow for bonus points. Just add a tshirt that says "Taste The Rainbow" over the top.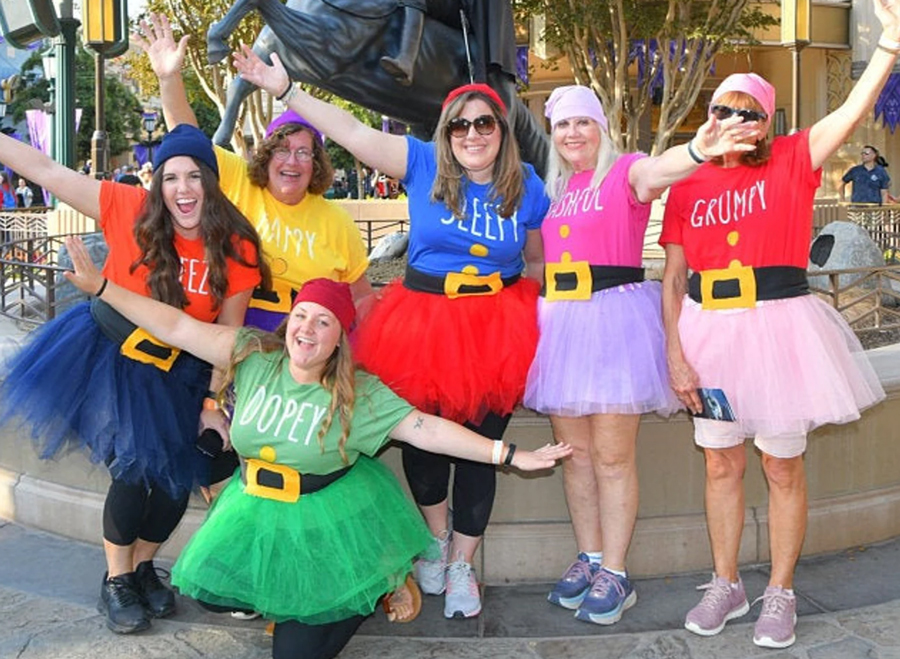 4. 7 Dwarfs Group Costume
All you need for this cute costume is a few different colored shirts from Hobby Lobby and your Ikonart stencils. You can create your own artwork using a font like Waltograph or download this 7 Dwarfs SVG from GlamandZen on Etsy. Bonus points for the skirts and belts, but this costume would still look cute without them!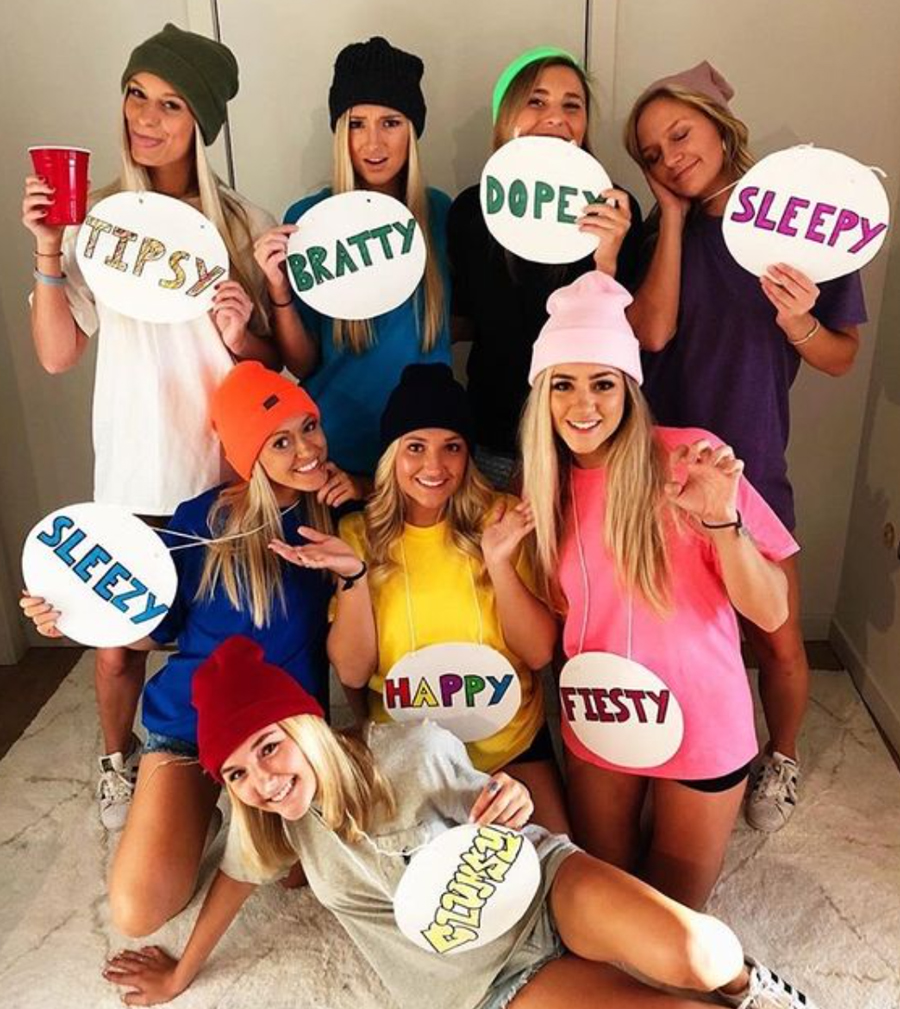 5. 7 Dwarfs Reimagined Group Costume
Or maybe you want to come up with your own dwarf names that fit your individual personalities a little bit more. These costumes look cute, but you could easily elevate them to the next level by screen printing the names directly on the shirts using some Ikonart stencils. That way you don't have to have something hanging around your neck all night.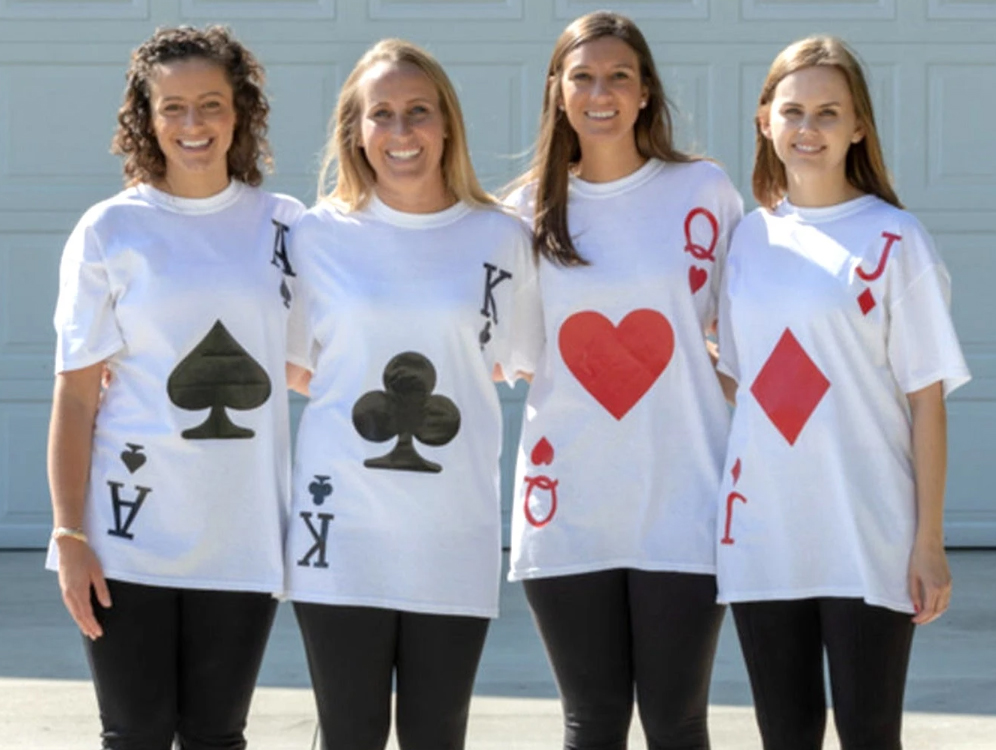 6. Deck of Cards Group Costume
If you have a white tshirt and some black leggings, you have a costume! This Deck of Cards costume is perfect for last minute Halloween costume for a group of friends or coworkers. You can download the free Card Deck Suits SVG from the our Free Artwork page.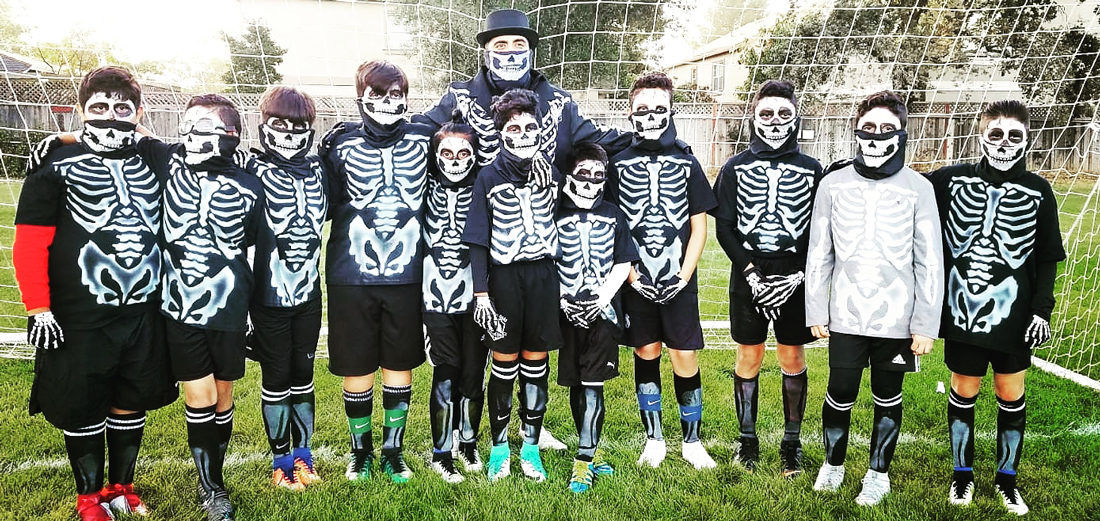 7. Skeleton Group Costume
Here is a perfect group costume for a sports team. Just get some black shirts and use a Skeleton SVG to screen print a skeleton on the shirts. You could make all these shirts in just a couple of minutes using the Ikonart Custom Stencil Kit. Kick it up a notch by adding glow-in-the-dark screen printing ink over the top of the white ink.
This costume is also perfect if you are needing a group costume with masks. Make your own with this no-sew face mask tutorial from Jennifer Maker, or check out our Last Minute Easy Halloween Costumes blog post for four more costume ideas that you can wear a mask with.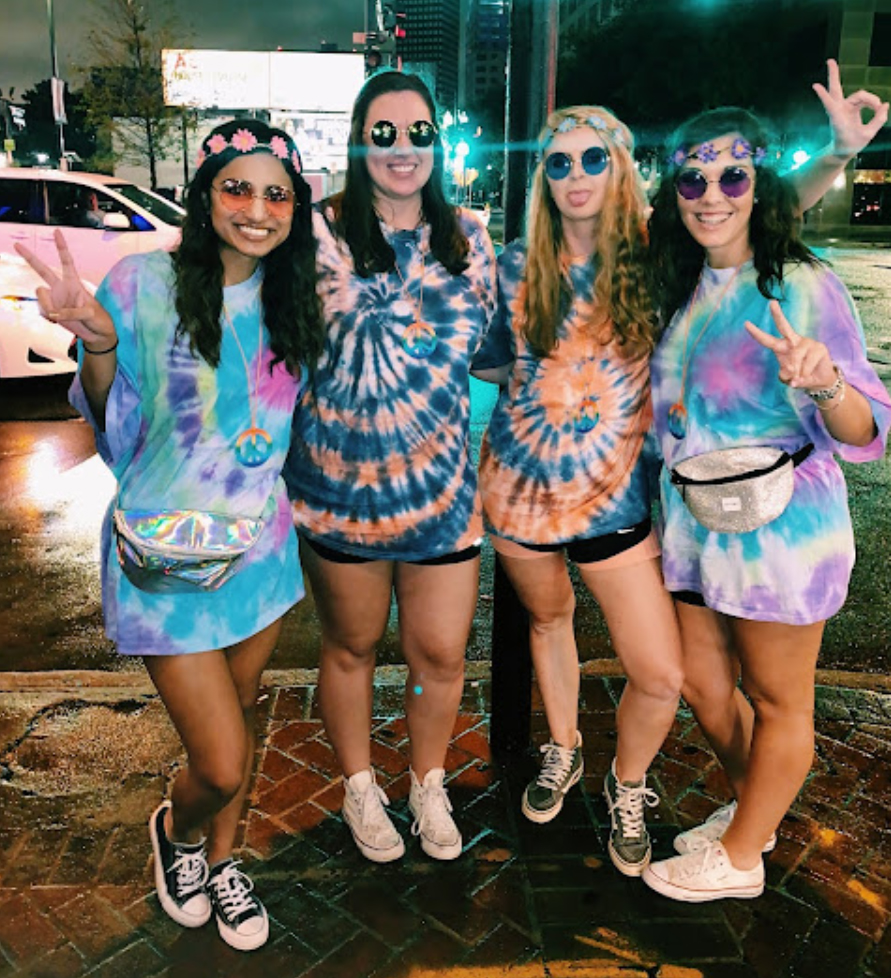 8. 70s Hippie Girls Group Costume
If you have a little more time on your hands and want to let your creativity shine, make some DIY tie dye shirts like Sarah and her friends did. You could take it one step further by using your Ikonart Kit to screen print a peace sign, mandala, or one of the other designs from So Fonty's Happy Hippie SVG bundle.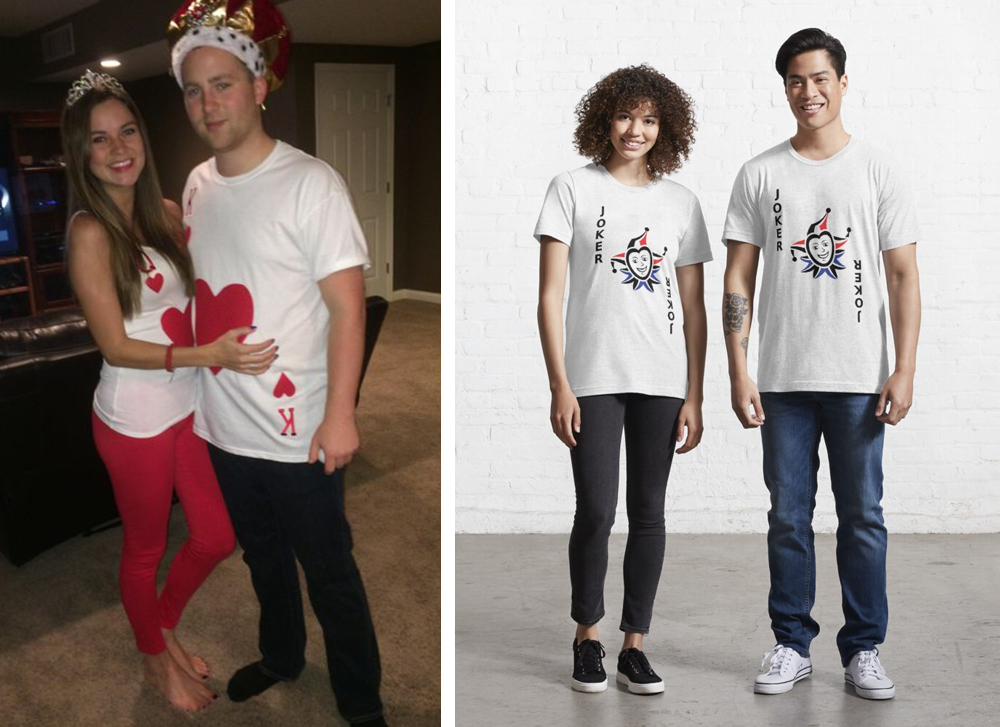 9. King & Queen Cards Couple Costume
Are you and your partner more of a King/Queen duo, or are you just a couple of jokesters? Either way you can make your own card shirts using the free Card Deck Suits SVG available on our Free Artwork page.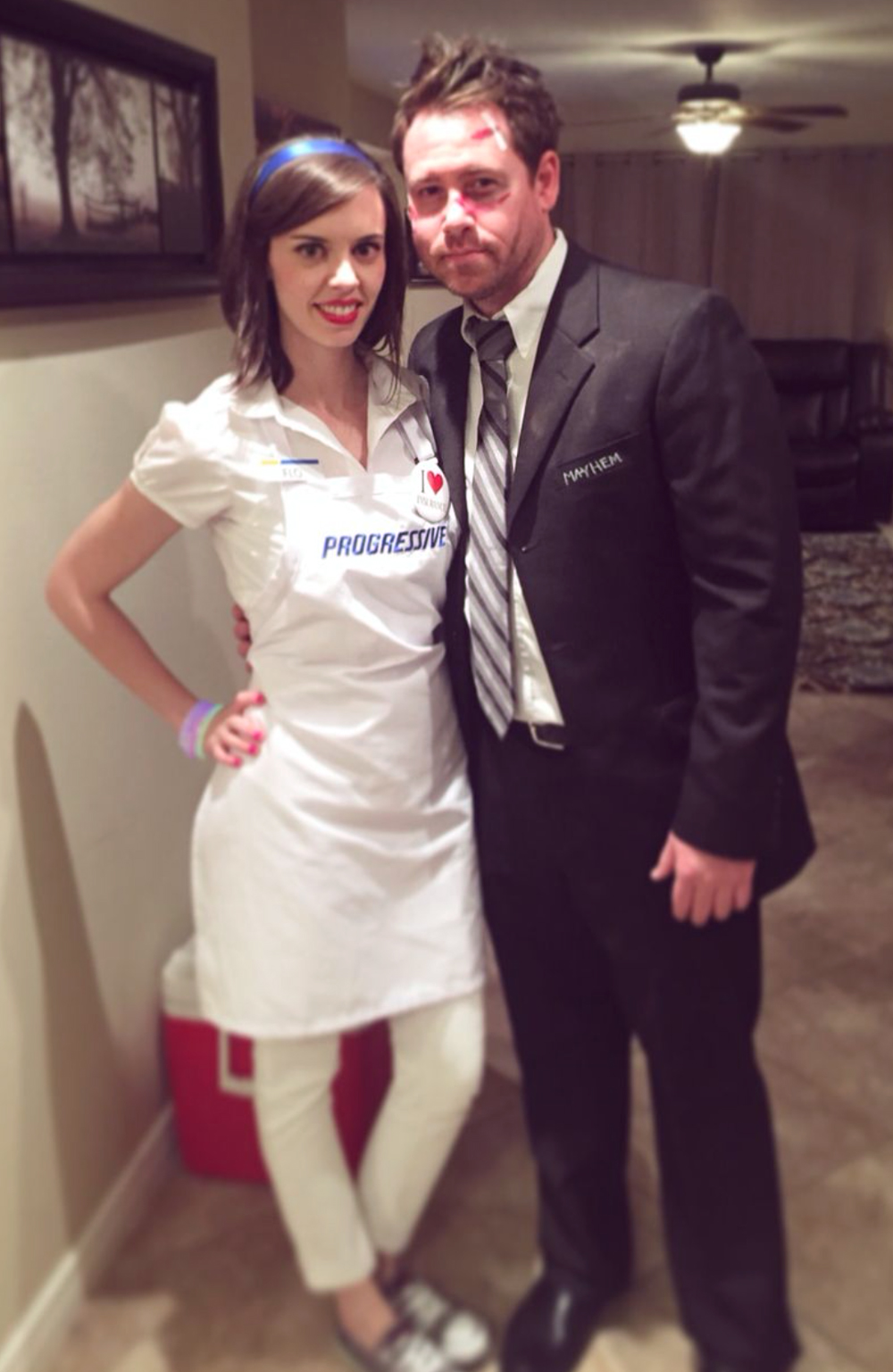 10. Flo and Mayhem Insurance Couple Costume
Flo loves insurance, and we love Flo! This costume would be super easy to recreate using the Progressive logo available via Brands of the World. If you don't have a white apron, no worries. The costume would be just as cute with a white tshirt in a pinch. Complete your last minute Insurance Couple Costume with Mayhem from AllState or Jake from State Farm.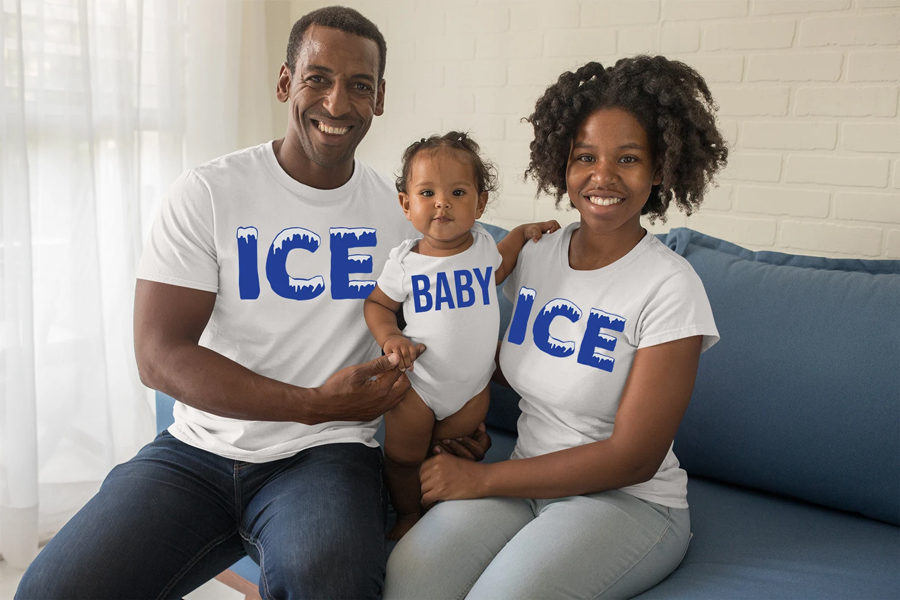 11. Ice Ice Baby Couple Costume
I guess this isn't technically a couples costume because you need a baby, but you could also use a doll, or even a friend! Make the shirts yourself using a font like Snowtop Caps and your Ikonart Custom Stencil Kit, or purchase the Ice Ice Baby Family Costume shirts shown above from ElevenThirteenENT on Etsy.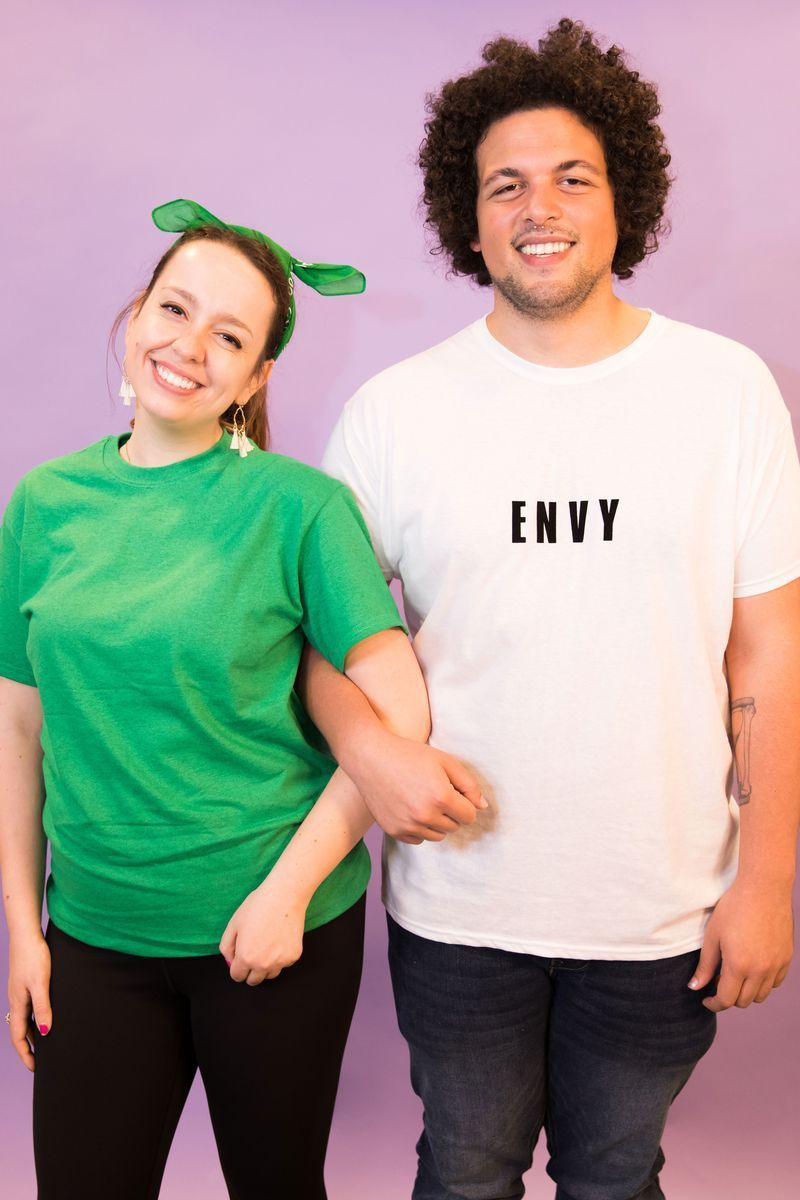 12. Green Envy Couple Costume
Well I don't think it get's any easier than this one! I love a good play-on-words costume and this last minute Green Envy Halloween couples costume hits the mark.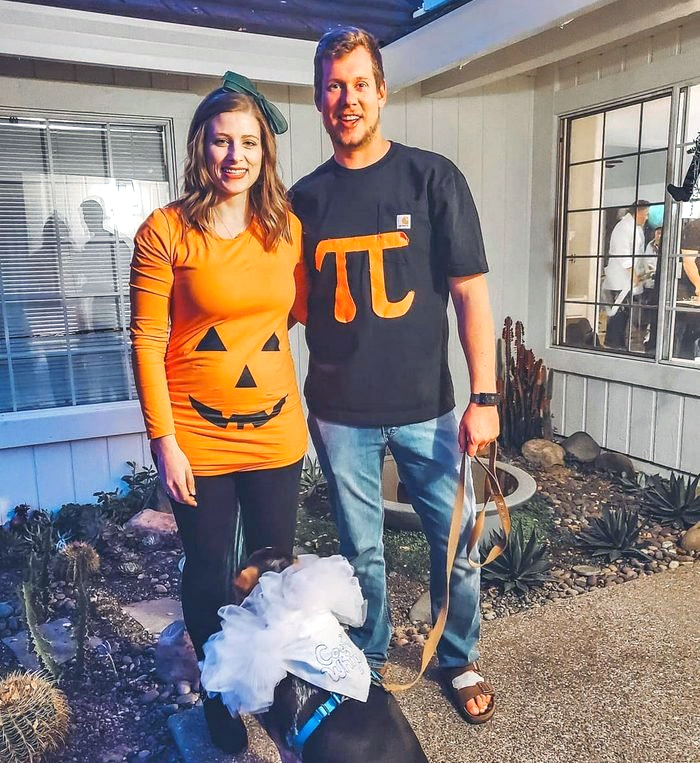 13. Pumpkin Pie Couple Costume
Last but certainly not least we have another last minute punny Halloween costume. Notice the doggo is Cool Whip! You can easily recreate this Pumpkin Pie couples costume using the free Pumpkin Face SVG that we used for our Pumpkin Patch Halloween group costume a few years ago and the Cool Whip logo available from Brands of the World.
---
If you were invited to a last minute Halloween party, Halloween pub crawl, Halloween work party, or just want to dress up last minute for trick-or-treating, whip together one of these thirteen last minute Halloween group costumes so you don't feel left out of the spooky fun. If you do use your Ikonart Custom Stencil Kit to make one of these costume ideas, please share it in our Ikonart Crafters Group on Facebook so we can admire your DIY handiwork!