Let's get a drum roll, please for our blog roll, please! We have an amazing group of crafters showcasing Ikonart around the web on their blogs, so we wanted to return the love and showcase them on our blog as well.
We've rounded up some of our favorite blog posts about Ikonart that cover everything from how to make an Ikonart Stencil to how to make your own chalk paste. Many of the posts also contain discount codes, so keep your eyes out for those as well. And now without further ado, badadadaddaddada (that is my drum roll), here they are!
---

Intro To Custom Stencil Making
Lynn Lilly with The Craft Box Girls is serious craft goals. She is an all around rockstar when it comes to all things crafty. Not only did Lynn post about Ikonart on her blog, she also created a detailed video for Ikonart beginners that shows you exactly what to do when you first get your Ikonart Stencil Making Kit.
Read the full blog post for more details from Lynn.
---

How To Use The Ikonart Custom Stencil Kit
If you prefer to read through instructions instead of watching a video then read this great blog post from Angie Holden with The Country Chic Cottage is for you. Angie gives a detailed breakdown (with pictures) on how to use the Ikonart Custom Stencil Kit.
Read the full blog post for more information on how to make your own reusable silkscreen stencils.
---

Reusable "First Day of School" Chalkboard Sign
School is starting soon and although that will look different this year for many kids, the first day of school is still exciting and something to be celebrated. Josh Wood, aka The Stencil Dude, created this reusable "First Day of School" chalkboard using our blue Ikonart Stencil Film.
Read the full blog post for more information on all the products Josh used to make this sign.
---

Crafting With Chemical Reactions
Have you ever crafted with chemical reactions? The first time you use your Ikonart Custom Stencil Kit it might feel like magic when your image starts to appear during washout, but in reality it's just science. :) Alexandra Stapleton-Smith with Hedgehog Hollow has two posts about Ikonart on her website. In the first post she uses the Ikonart Kit to screen print a unicorn tshirt, and in the second post she shows how to use Ikonart Stencils on canvas. As Alexandra says, if you can print it, you can stencil it! Both blog posts also have videos.
---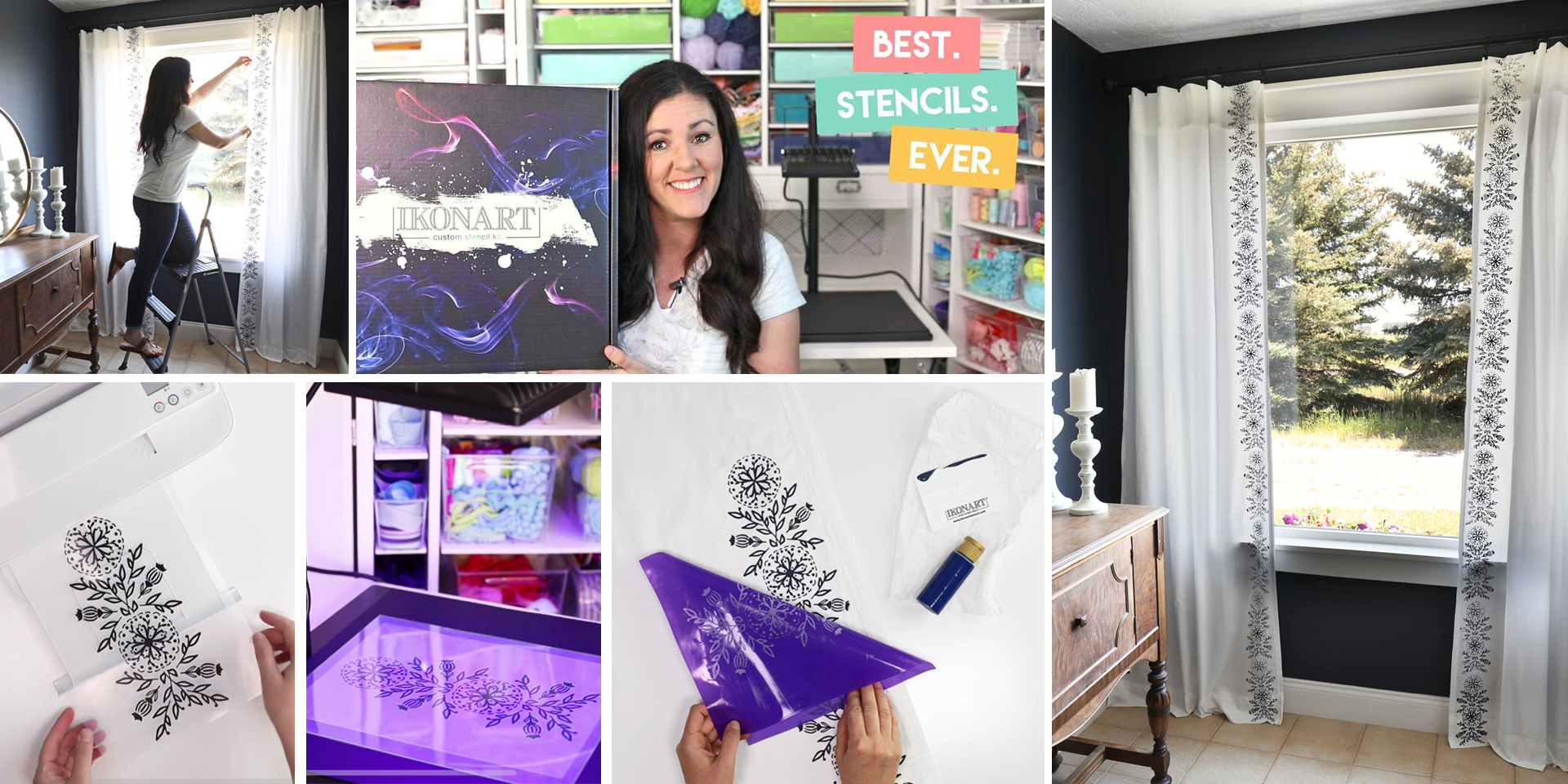 DIY Custom Curtains with Ikonart
Do you ever see something in a store and say, "I wish I could make that myself." Well with Ikonart you can! Jennifer Voelkel with The Craft Patch saw some curtains at Anthropologie that she loved but they sold out before she had a chance to buy them. Instead, she used her Ikonart Custom Stencil Kit to make a stencil with a similar pattern and made the curtains herself for a fraction of the price.
Read the full blog post for a step-by-step guide on how Jennifer made these DIY curtains.
---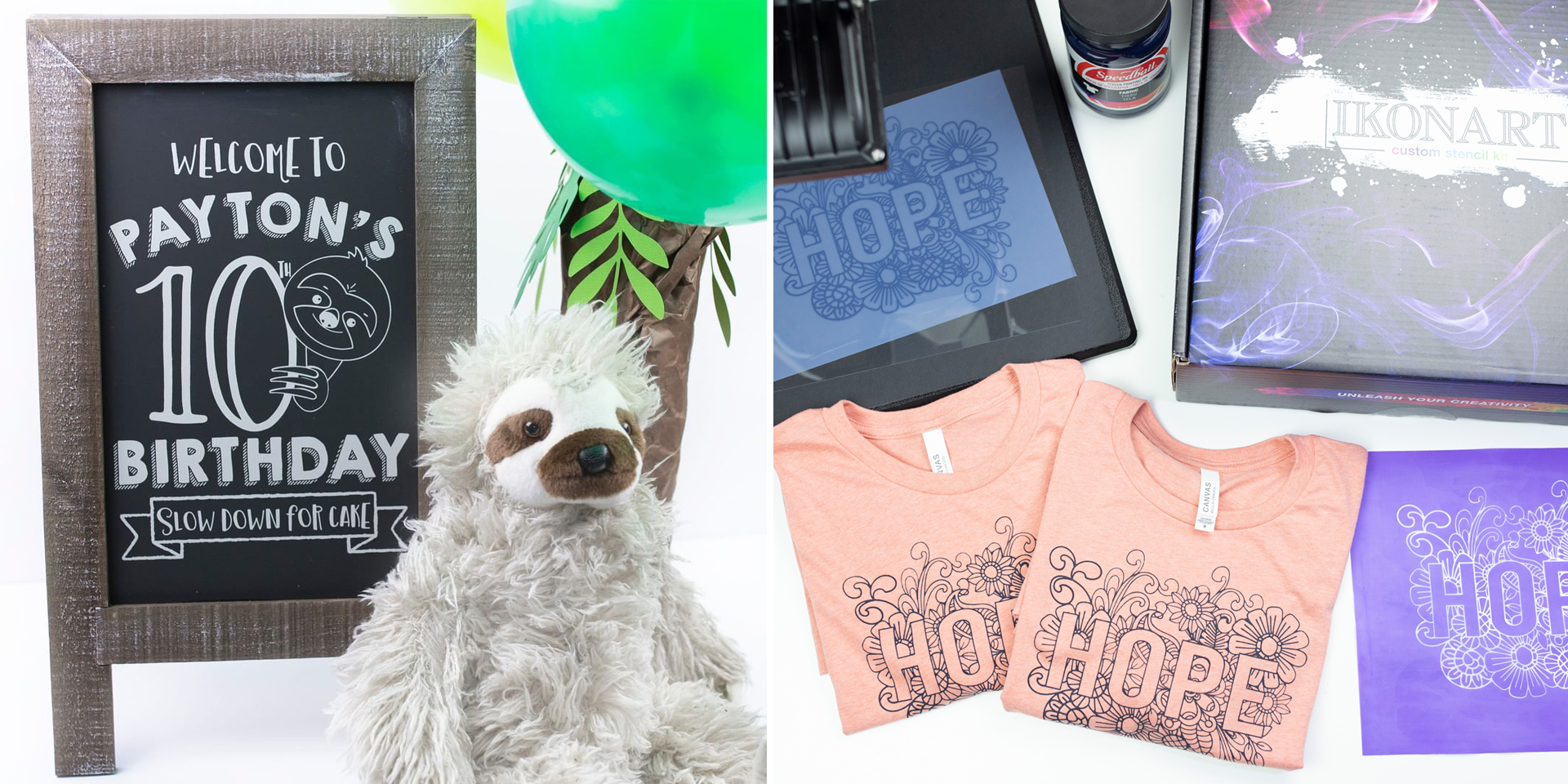 Screen Printing with Ikonart Stencils
When it comes to DIY screen printing, Jennifer Sanderson with Pigskins & Pigtails is the ultimate resource. She posts tons of great tips, project ideas and screen printing tricks on her website and social media accounts. Usually Jennifer uses vinyl to make her stencils, but after discovering Ikonart she found that making stencils with high detail is so much easier with Ikonart. Jennifer has two posts on her blog about using Ikonart for screen printing. In the first post she shows how to screen print a chalkboard sign for a birthday party, and in the second post she shows how to screen print a detailed design onto a shirt.
---
PiNCHiE Powder and Ikonart Stencils
If you are sick of bleeding, weeding, one time use, defuzzing, one time shot, transfer tape, gaps, stinky spray adhesive, vinyl cutting machines and plastic stencils that crack ... you are not alone! Michelle with Artistic Vivations loves using her Ikonart Stencils with chalk paste that she makes using her PiNCHiE Powder (now called Stencil Perfect Powder). Just mix the powder with her line of Unicorn SPiT Gel Stains to make your own chalk paste.
Read the full blog post for Michelle's Ikonart review and testimonial.
---
Using the Ikonart Custom Stencil Making Kit can feel overwhelming when you first receive it, but it doesn't have to be. If you still feel like you need additional support, our Ikonart Crafters Facebook Group is full of Ikonart crafters willing to help you out with suggestions and advice. You can also check out our Ikonart YouTube playlists for how-to videos, or follow Ikonart on Instagram for project ideas.
If you have any additional questions about our Ikonart Stencil Films or the Ikonart Custom Stencil Making Kit, please contact Ikonart today.