One of the best things about stencils that are made with the Ikonart Custom Stencil Kit is how versatile they are. You can make one stencil and because it is reusable you can then use it on multiple different surfaces to create a unique matching gift.
This matching trio is the perfect gift for a senior who is graduating high school and starting college in the Fall. Just add a succulent to the mug and a little spending money in the card to complete the gift. Today we are making a graduation gift, but this would also be great for a Mother's Day gift, birthday gift, thank you gift, or a gift just because. If you would like to follow along with this tutorial you can download the free Succulent Plants svg file and watch our "One Stencil, Three Ways" video.
---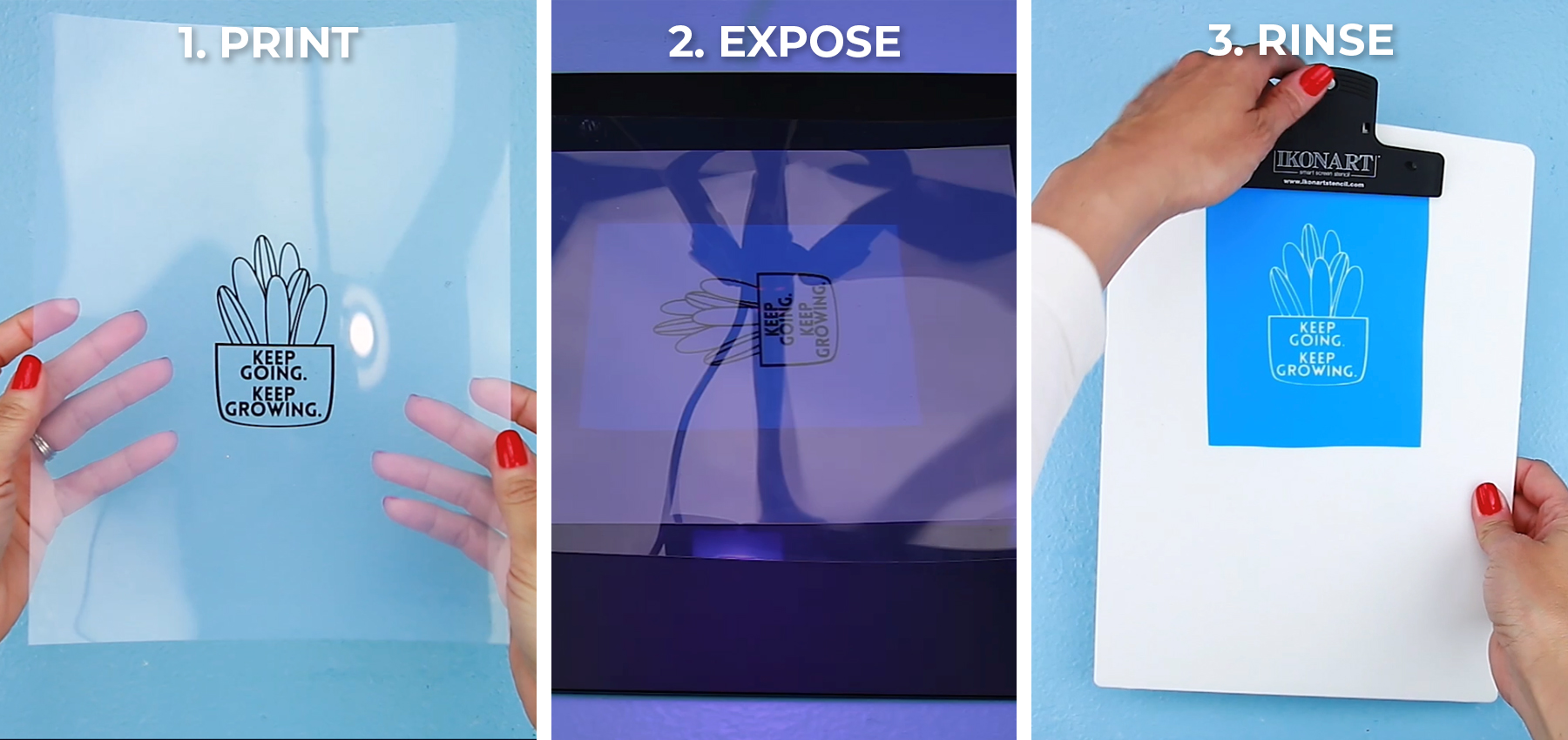 Make Your Reusable Ikonart Stencil
Making Ikonart stencils is easy! All you have to do is print your custom design on our clear printer film (inkjet or laser works), expose your artwork onto your stencil film for 35 seconds using the Ikonart Exposure Stand, and then wash out your stencil film to reveal your design. After the stencil dries put it back under the exposure light for a minimum of two minutes to finish curing the emulsion (this makes the stencil more durable). Once that is done you are left with a reusable silkscreen stencil.
> Watch Video: Beginner Guide to Ikonart
---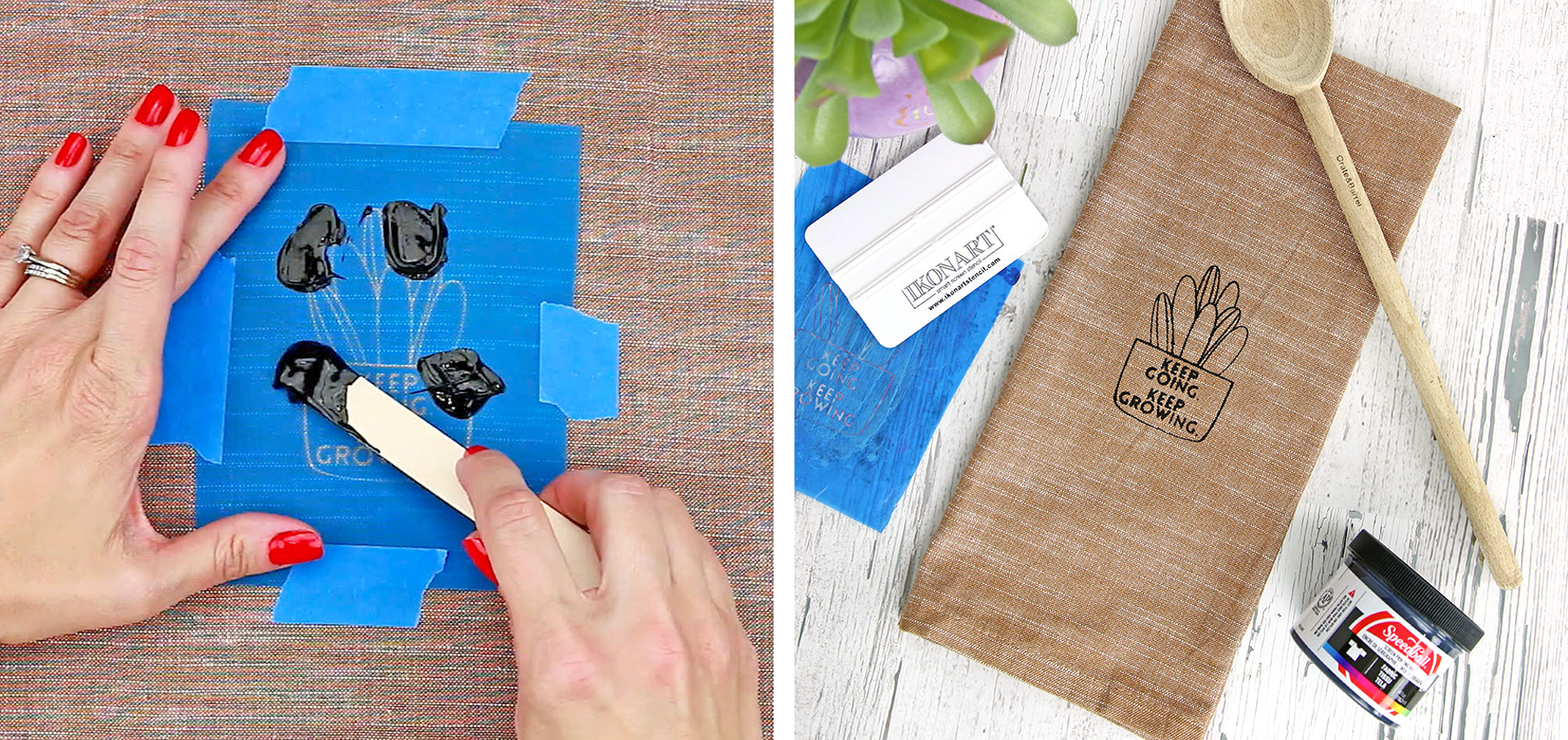 Project 1: Tea Towel with Ikonart Stencil
Today we are using the blue Ikonart Stencil Film because it works best for cards and ceramic. We normally recommend our purple Ikonart Textile Film when stenciling on fabric but our blue film can be used. You just have to be a little more careful.
Tips for screen printing a tea towel:
Use a Tacky Textile Mat to hold the tea towel in place
Use a screen printing ink that is meant for fabric; we recommend Speedball Fabric Inks
If using the blue film, you can tape down your stencil so it doesn't move around
Practice to find the right amount of pressure; if you push too hard the stencil might move or cause bleed, but if you don't push hard enough the ink won't go through the screen
After your design dries, you can heat set it with a heat press or household iron to make it last longer in the wash
---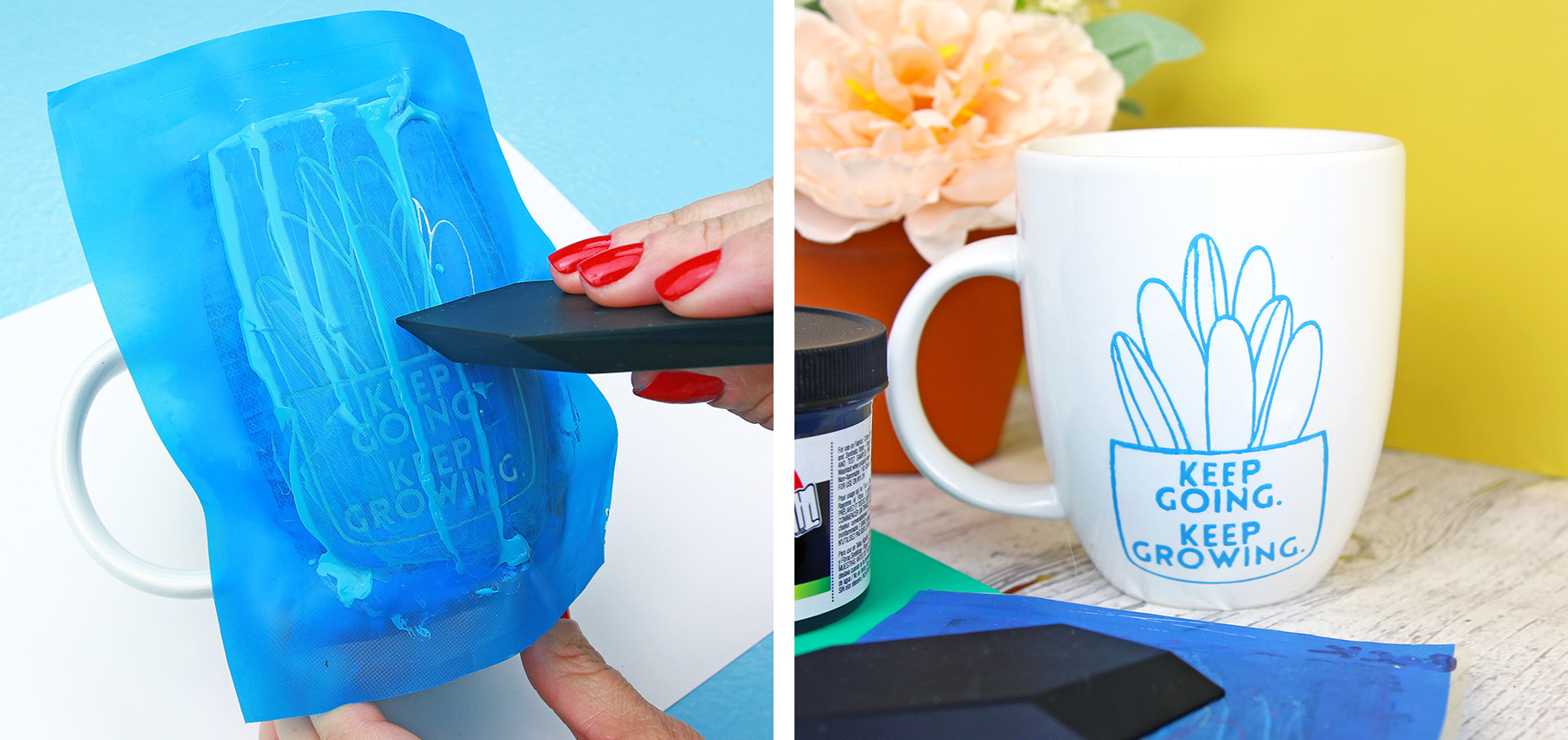 Project 2: Ceramic Mug with Ikonart Stencil
Every college kid needs their own mug! You could easily personalize this even further by adding a name or leave as is for a cute coffee mug or tea mug. Make the graduation gift extra special by adding a little succulent plant to the mug or giving it as a gift on the side.
Tips for stenciling on a ceramic mug:
Clean your mug before adding your paint
Use a multi-surface paint meant for ceramics; we use DecoArt Americana Multi-Surface paint and bake in the oven according the instructions on the bottle in order to make it top rack dishwasher safe
Make sure your stencil is completely dry otherwise the adhesive will stick to the ceramic like glue
Use a squeegee or sponge brush to apply the paint; practice to find out which one your prefer
Practice to find the right amount of pressure; if you get bleed you can wipe off your design before it dries and try again
---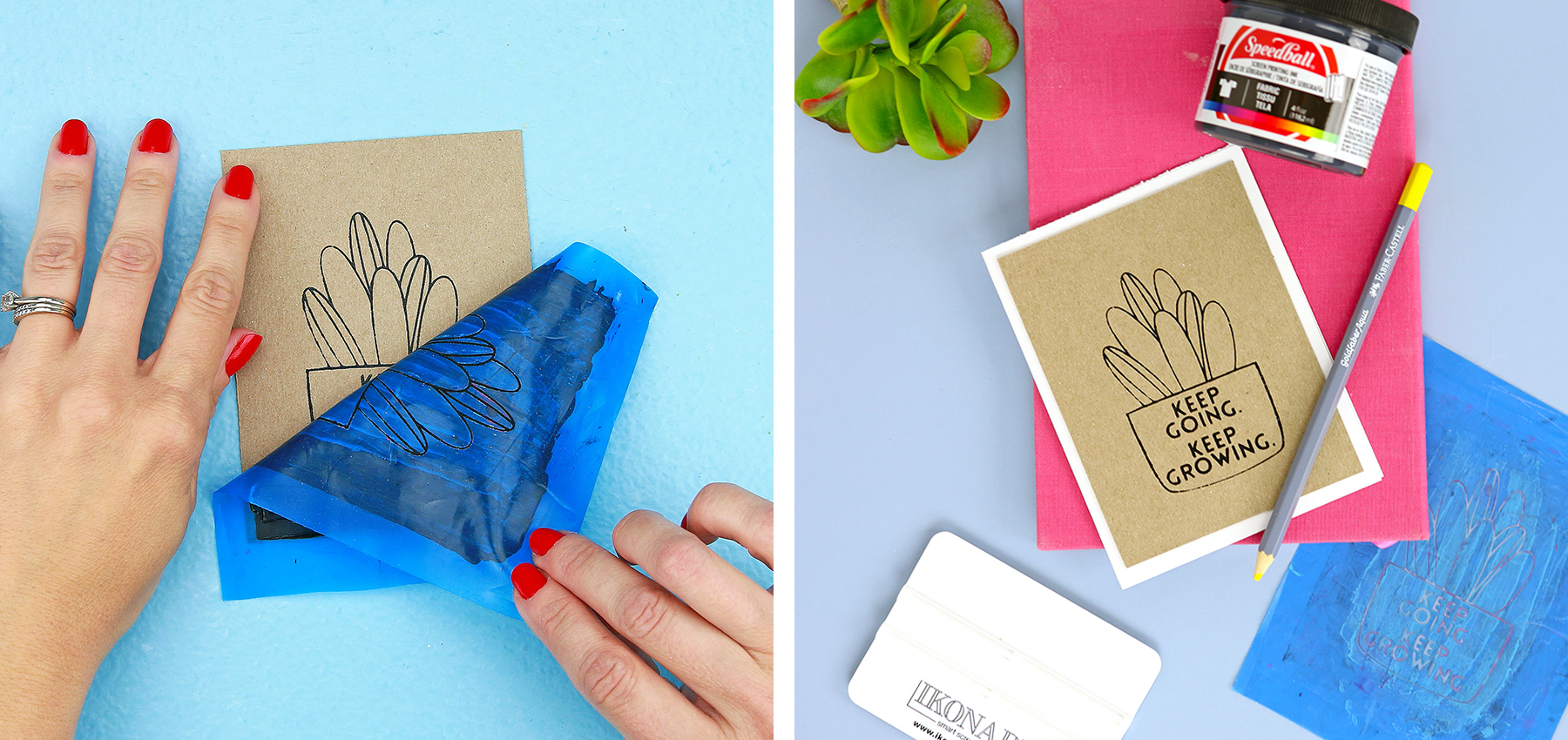 Project 3: Custom Card with Ikonart Stencil
Nothing says homemade gift quite like having a card that matches the rest of the items you are giving. Our blue Ikonart Stencil Film works great on cardstock.
Tips for stenciling on cardstock:
Make sure your stencil is completely 100% dry; if the adhesive is even a little bit wet it will stick to the cardstock and may rip the cardstock when you remove the stencil
If needed you can "fuzz" your stencil first by dabbing the adhesive side with a cloth to make it less sticky
You can also add baby powder to the adhesive side to decrease the tackiness if needed
You can use chalk paint, acrylic paint, or regular screen printing ink (not the kind meant for fabric)
Practice and explore to see what type of ink/paint/paste you prefer on cardstock
You can also stencil on our Laser Printer Film to embellish your cards (our laser film is similar to vellum; 5 sheets come in the Ikonart Kit)
---
I absolutely love this matching graduation gift trio and it was so easy to make with just one Ikonart stencil. You could easily change the design to make it more personalized, use a hand drawn design, or customize this gift with the college they are going to.
When it comes to Ikonart and DIY gifts, your only limit is your own imagination. If you have any questions about DIY screen printing or our DIY screen printing kit, contact us or join our Ikonart Crafters Facebook Group.