A blank canvas is a blank slate, ready for your beautiful works of art. Of course you can just take a brush and start painting, but if you are not very confident in your drawing skills then using a stencil is a great way to still get the design you want on your canvas.
Stenciling on canvas can be tricky because of the texture. There are a few things you need to know about stenciling a canvas before you jump into this technique. Here are our top tips to help you get nice crisp lines on your canvas when using Ikonart stencils.
---
Tips for Stenciling On Canvas Using Ikonart Stencils
When you apply paint to canvas it can spread or soak into the canvas because canvas is porous. This can cause your design to look blurry and small details may bleed into each other. The porous surface can also cause paint to bleed under the edges of your stencil during application. Use the following tips to avoid bleed.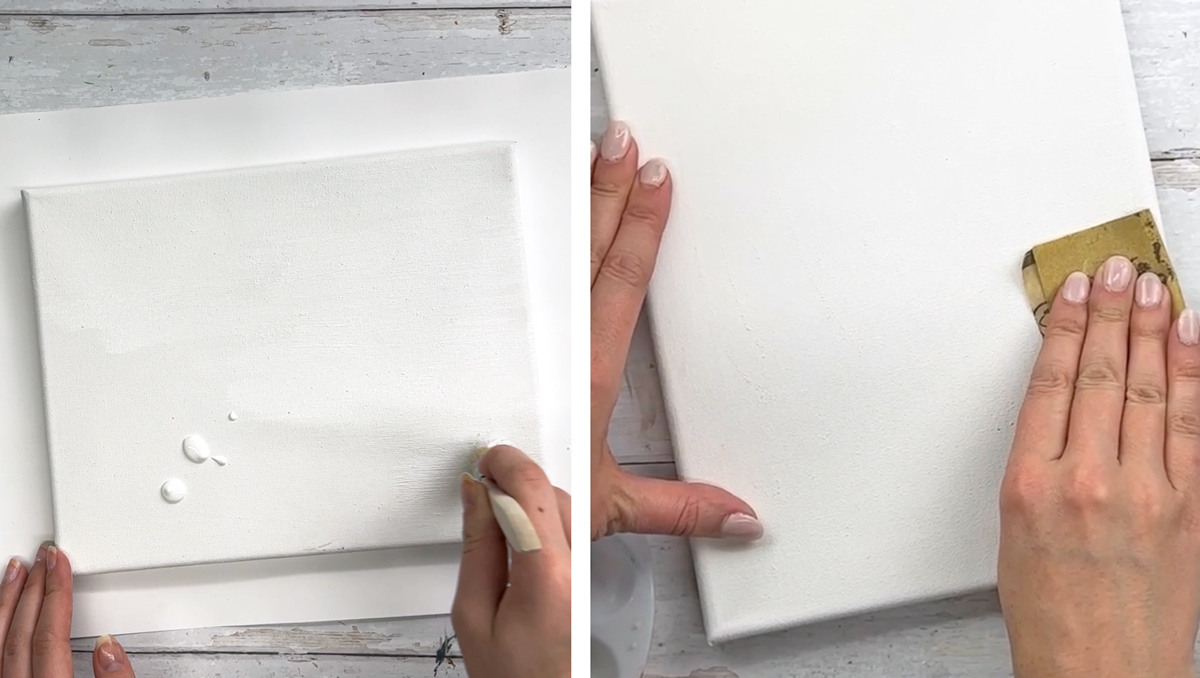 Prep Your Canvas Surface Before Stenciling
Prepping your canvas surface is key to creating beautiful stenciled designs. There are a few ways you can prep the surface of your canvas to get ready for stenciling. One way is to layer something over the top of the canvas like paint, Mod Podge or gesso.
Just brush a thin coat onto your canvas using a foam brush. The foam brush should help to spread the medium evenly onto your canvas surface without leaving brush strokes, but if you do see brush strokes after application then we recommend sanding a little bit to create a nice smooth surface to add your stencil to.
Even if you don't add paint, sanding your raw canvas is another way to prep your surface. Use sandpaper that is 220 grit or higher and lightly sand the surface of your canvas. This can help to remove texture and smooth out the surface.
One more way you can prep your surface is by spraying it with a clear sealant, like Rust-oleum 2X in a matte or glossy finish. This also adds a protective barrier to your canvas so if you mess up stenciling you can just wipe off your design, wash your stencil, and redo the whole thing.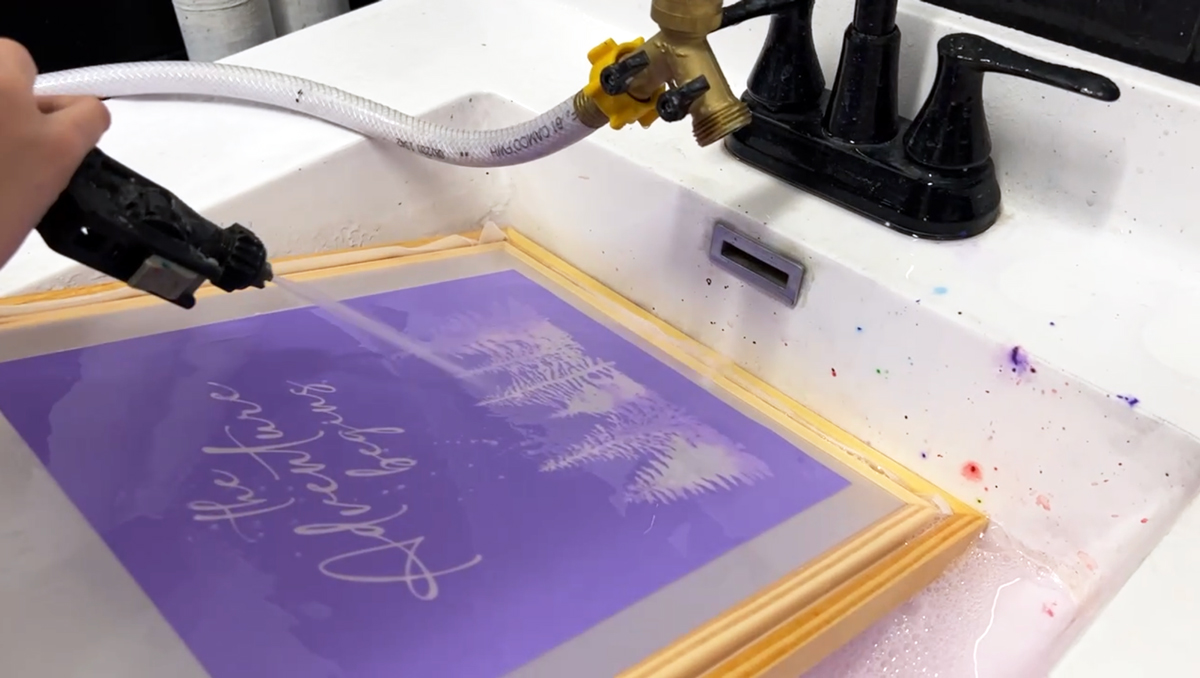 Which Stencil To Use On Canvas
There are a couple different options available for which stencil to use on canvas. You can use a pre-imaged stencil that you purchase already made, or you can turn your own design into a stencil using either a cutting machine (like a Cricut or Silhouette) or the Ikonart Custom Stencil Kit.
We prefer making our own stencils using the Ikonart Custom Stencil Kit because we have complete freedom over what design we choose and the size of the design. The embedded mesh also allows for distressed designs and super high detail designs like the trees pictured above which would be difficult with vinyl. Plus you don't have to weed any vinyl with the Ikonart Kit, which is always a plus!
We recommend using the purple Ikonart Textile Film on canvas because it is stickier than our blue stencil film. If you want to see my 14 year old niece Destiny make the Ikonart stencils pictured above, check out this stencil making video in our Ikonart Crafters Facebook Group. If you would like to follow along with her and make your own stencils, you can download the free Wild Free Adventure SVG on our Free Artwork page.
>> WATCH VIDEO: How To Make Ikonart Stencils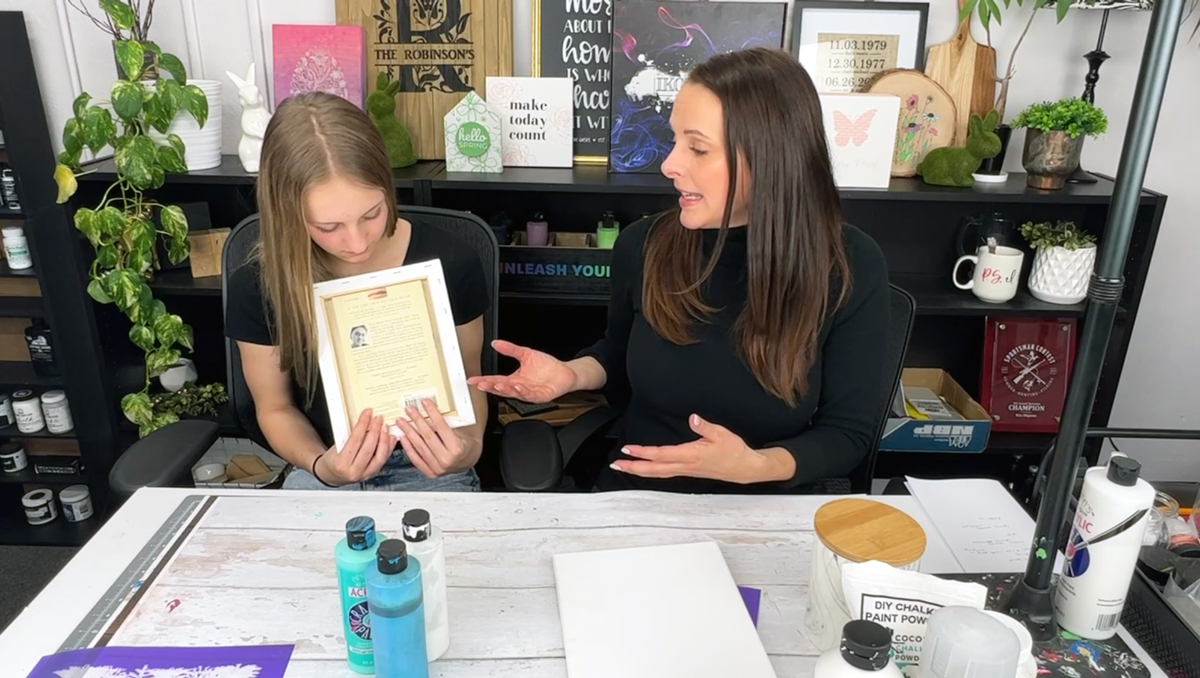 Add Support Behind Your Canvas When Using Stencils
Once the canvas is prepped and you have your Ikonart stencil made, it's time to add the stencil to your canvas and start painting. If you are using a canvas on a frame we recommend putting something sturdy behind the canvas to create a hard surface to stencil on. You can use either a book or a piece of wood that fits within the frame to achieve this.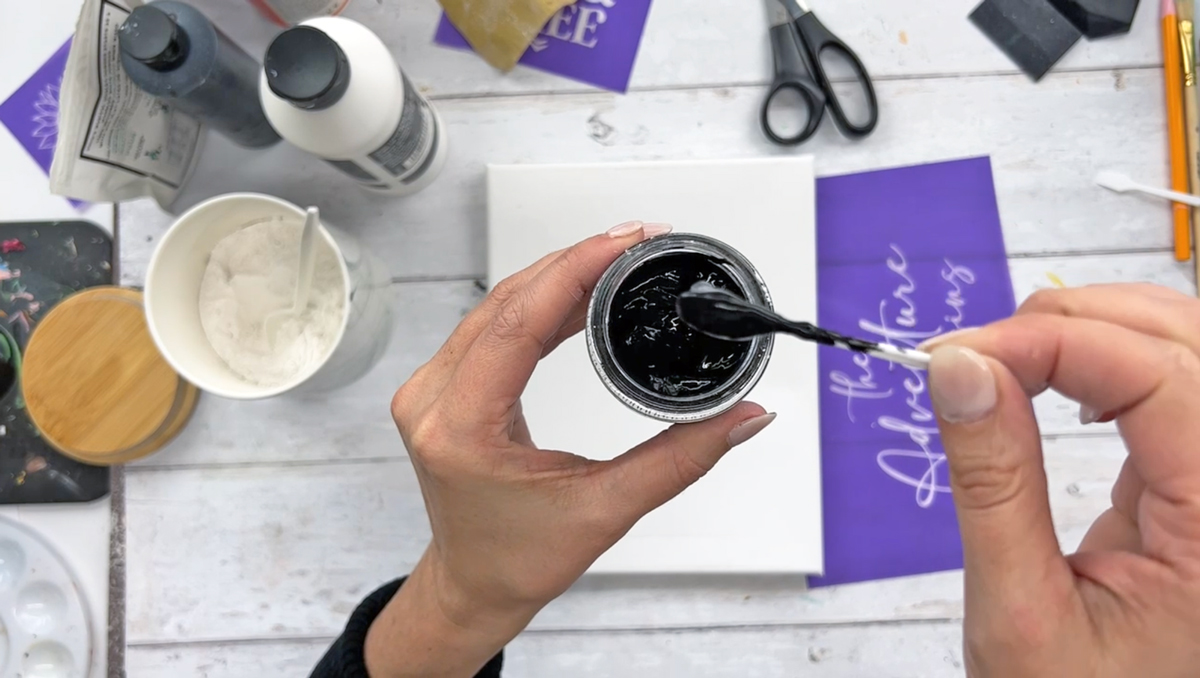 DIY Chalk Paste: Thicken Your Paint Before Stenciling
We have found that thickening our acrylic paint with Coco's Chalky Powder before stenciling has made the biggest different in our stenciled designs. When you add Coco's Chalky Powder to your paint you are essentially making your own DIY chalk paste. You can buy pre-mixed chalk paste as well, but we like making our own because then we can control how much we make as well as the consistency of the chalk paste.
Making your own chalk paste is super easy. You just take any acrylic paint and mix in the powder. We usually start with a 1:1 ratio, but how much powder you add will depend on how thin your acrylic paint is and what consistency you prefer.
>> WATCH VIDEO: How To Make DIY Chalk Paste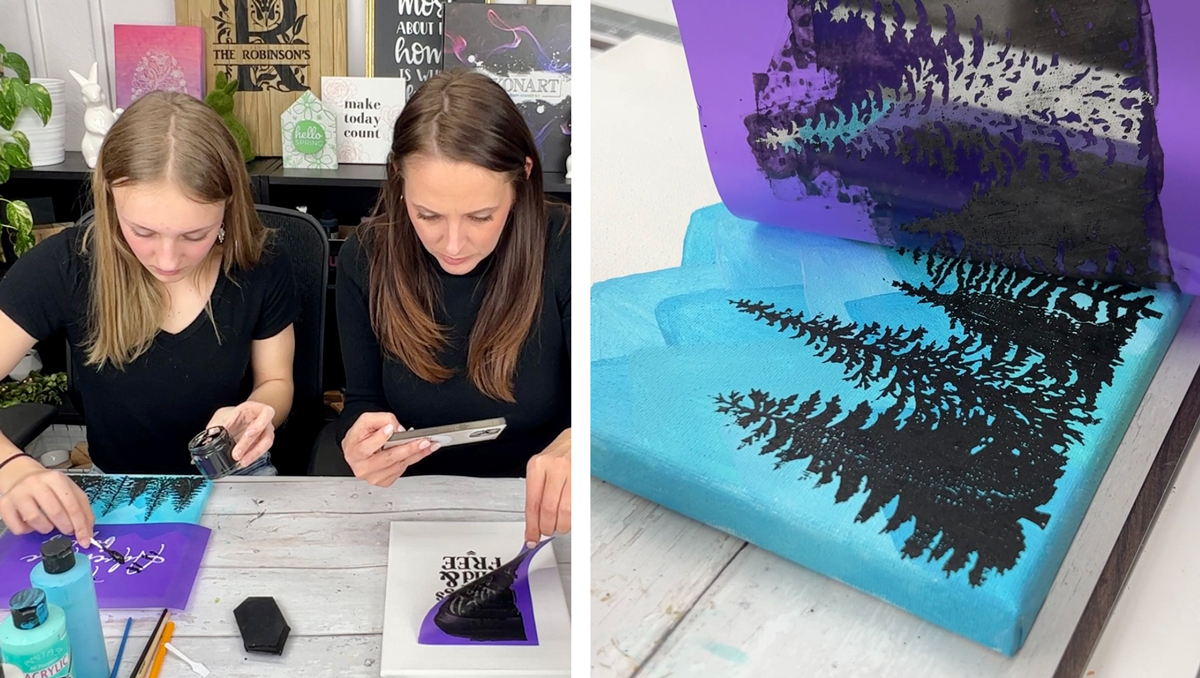 How To Apply Paint To Canvas With Stencils
When using chalk paste or a thick paint, a silicone squeegee works great to apply the color to your canvas. You shouldn't have any issues with bleed if you prepped your canvas and thickened your paint.
However, if you are using a thinner acrylic paint then we recommend using a foam brush to apply the paint using a dabbing motion. When using this method, the less paint the better. This will help to prevent bleeding.
As soon as you are done applying the paint or paste to your stencil, remove the stencil slowly using the lift and look method. If you notice any spots that need more paint as you are slowly removing your stencil, just lay your stencil back down and add more paint before removing your stencil completely. Ikonart stencils are reusable, so at this point you can rinse the paint off your stencil and return it to the clear carrier sheet to dry.
---
Those are our best tips for stenciling on canvas. Here's a recap:
Prep the surface with acrylic paint, Mod Podge or gesso paint
Sand the surface with 220 grit sandpaper
Use the purple Ikonart Textile Film to create your reusable stencil
Add support behind your canvas with a book or wood block
Thicken your paint with chalk powder
Use the Lift & Look method when removing your stencil
---
If you have any additional questions about using your Ikonart stencils on canvas you can contact us directly anytime, or join our Ikonart Crafters Group on Facebook for more tips and examples from other Ikonart crafters. If you learned something here be sure to pin this post!