Have you ever wanted to create your own custom fabrics? The Ikonart Custom Stencil Kit makes it all possible. Easily create single color patterns that repeat or layer multiple stencils and colors for a truly unique fabric.
Leah Mask, creator of the Lovely For Life blog, is a seamstress and Ikonart crafter. Leah uses her skills to help others by creating easy to follow blog post tutorials. She also sells her sewing patterns in her Lovely For Life Etsy shop. In this guest blog post Leah will be showing us how she made an adorable printed skirt using her Ikonart Kit and one of her custom sewing patterns.
---
Make Custom Fabrics with Ikonart Stencils
Hello, my name is Leah. I am a seamstress and a bag maker so it probably goes without saying that I love fabric!! There are always so many fun new fabrics (and trust me I have a huge collection!) but sometimes I just want something no one else has. I like techniques that help me make my own fabric, like when I embroidered this skirt full of flowers.
But don't worry, I have a new technique to create custom fabrics that does not include an expensive embroidery machine. For the custom fabric that I created for this blog post I used the Ikonart Custom Stencil Kit to turn my custom designs into reusable stencils.
I am sure you have heard of other stencil companies that sell pre-imaged mesh stencils, but Ikonart is better in my opinion. The thing I like the least about pre-imaged stencil companies is that you are locked into using the same designs as everyone else, but what I do like about them is they use a mesh silkscreen, which is a better way to stencil with (compared to mylar or vinyl). The mesh helps give you crisp clean edges and great detail.
Remember those days of putting a lot of work into stenciling something only to lift it off and there being a mess of paint? Don't tell me I am the only one! Ikonart stencils use a mesh silkscreen in their stencil film, but the difference with Ikonart is that the designs are totally customizable. You create your own silkscreen stencil using your own unique designs.
---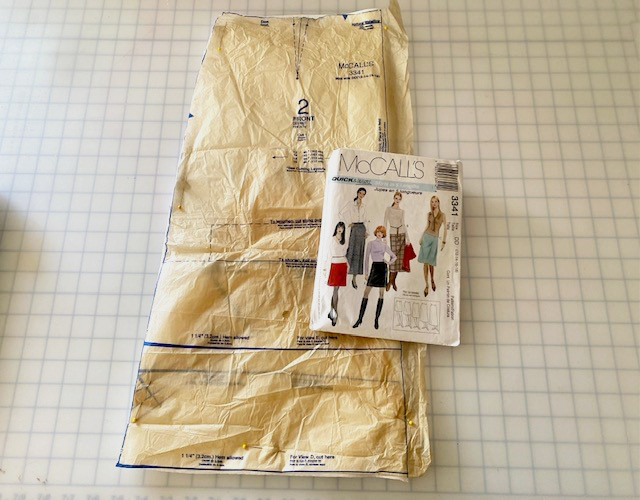 Sew a Custom Skirt
I wanted to make a skirt with large tropical florals in bright colors splashing across a plain white skirt. I used McCall's 3341 View D skirt as the pattern for the base and a white denim from Joann's as my fabric. I wanted a fabric thick enough that the paint would not go through the fabric yet would remain very bright. If you have any questions about how to sew a custom skirt you can check out my Lovely For Life blog for tons of sewing tips.
---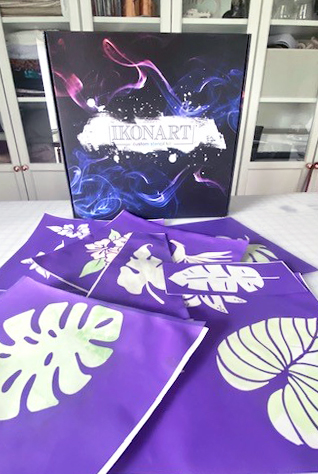 How To Make A Custom Ikonart Stencil for Fabric
The Ikonart Custom Stencil Kit and Ikonart Stencil Films are very easy to use. The kit includes the UV LED light that you need to expose your stencil film, the exposure stand, Ikonart Stencil Film, printer film for both inkjet and laser printers, clipboard, squeegee, and the Ikonart Quick Start Guide with detailed instructions.
With this kit you can turn any art you want into a reusable stencil, so you can really customize your designs. It is so easy and the customer support is fabulous if you do have any questions or need help troubleshooting. They also have an Ikonart Crafters Facebook group that allows the community of users and the company to interact, help each other, and share their finished projects to inspire others.
Make your Ikonart silkscreen stencils in 3 easy steps:
1. Print your artwork
2. Expose the stencil film
3. Washout and watch the magic
Check out all the Ikonart Demo Videos for a full tutorial on the process of creating your own stencils.
---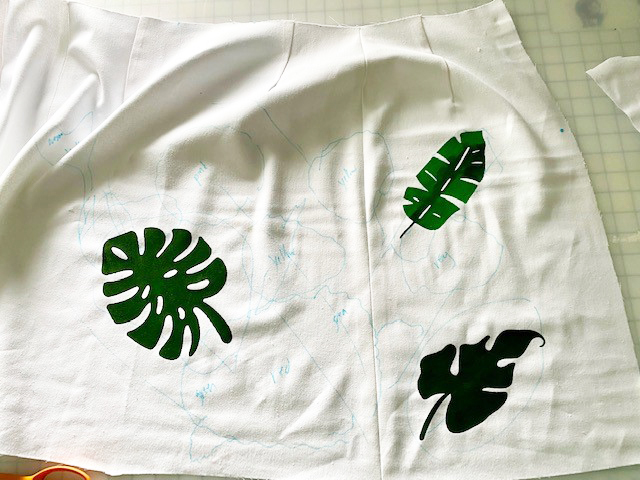 How To Screen Print Custom Skirt Fabric
It will be up to you and how you want your design to determine if you will stencil your fabric before you make the garment or after. In my example I put the main pieces together because I wanted the flowers to flow across the front and over the side seam. I drew out a rough sketch of my design with an erasable fabric pen approximately where I wanted my tropical flowers and leaves to go so I would have a guide for placement (shown below).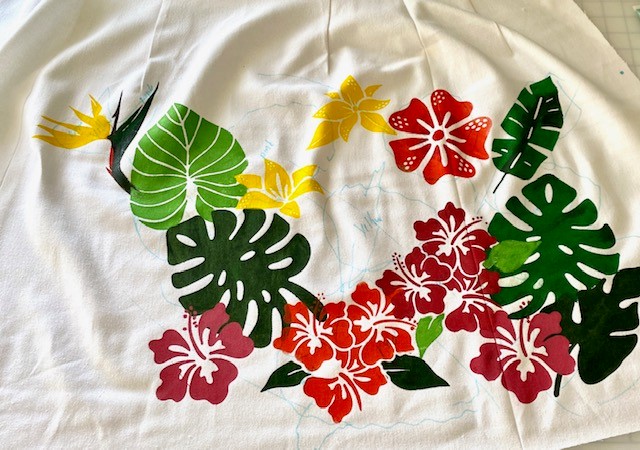 As recommended by Ikonart I used Speedball Fabric Inks and mixed colors to create custom shades. I let the bottom layers of ink dry completely before I stenciled on any overlapping flowers. Be sure to think about your color choices as you don't want to lay light paint over dark as it will show through. I made that error in a couple spots, but overall let your creativity go wild with this.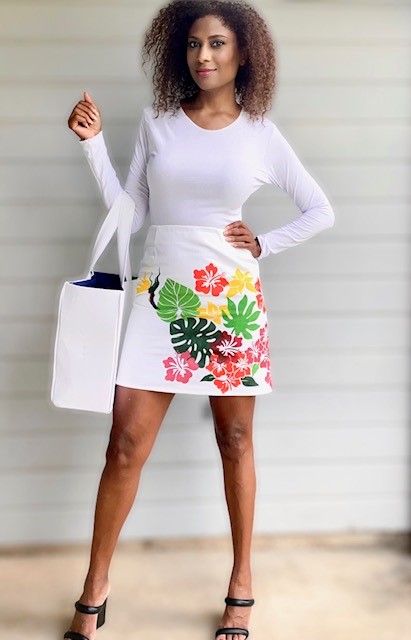 I can only imagine the possibilities! I would love to try a large animal print motif going up the back of a shirt or some other fun large print. After I finished stenciling everything I let it dry completely and the next day I came back and used a heat press to heat set the ink (you can also use a household iron). I put a pressing cloth over the flowers but you can also use butcher paper. I finished the skirt by adding the zipper and the facings. And voila'! I have a personalized tropical floral skirt. I will never see a skirt exactly like this one anywhere!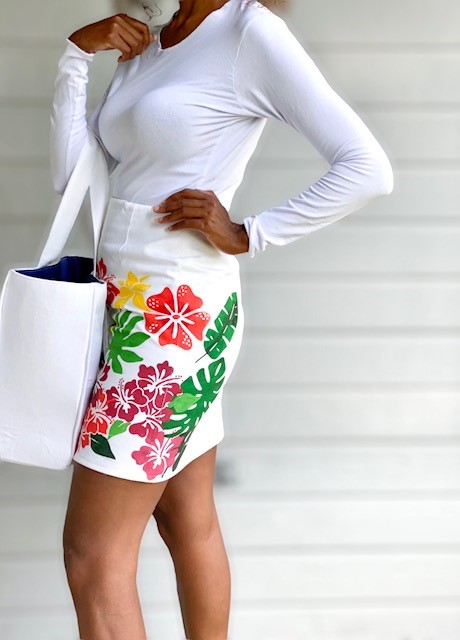 ---
Benefits of Ikonart Stencils
I love making my own stencils! Here are just a few of the reasons why:
Ikonart stencils are reusable and repositionable
Crisp clean edges and details every time
No weeding like when you use vinyl to make stencils
Use your own art, purchase files from artists or use the designs on the Ikonart Free Artwork page ... either way you create exactly what you want to create
When you order your kit, I made a file you can use to remember the steps for making Ikonart stencils. You can use it printed out or you can make a stencil with it (remove my logo before printing) and apply it onto a surface or a tea towel you use to clean in the craft room. You can grab this free file in my Lovely's Sewing Freebies Library.
I hope you enjoy making your very own fabric!
Leah Mask, Lovely
Website: Lovely For Life
Facebook: Lovely For Life Designs
Instagram: @lovelyforlife1
Etsy Shop: Lovely For Life Designs